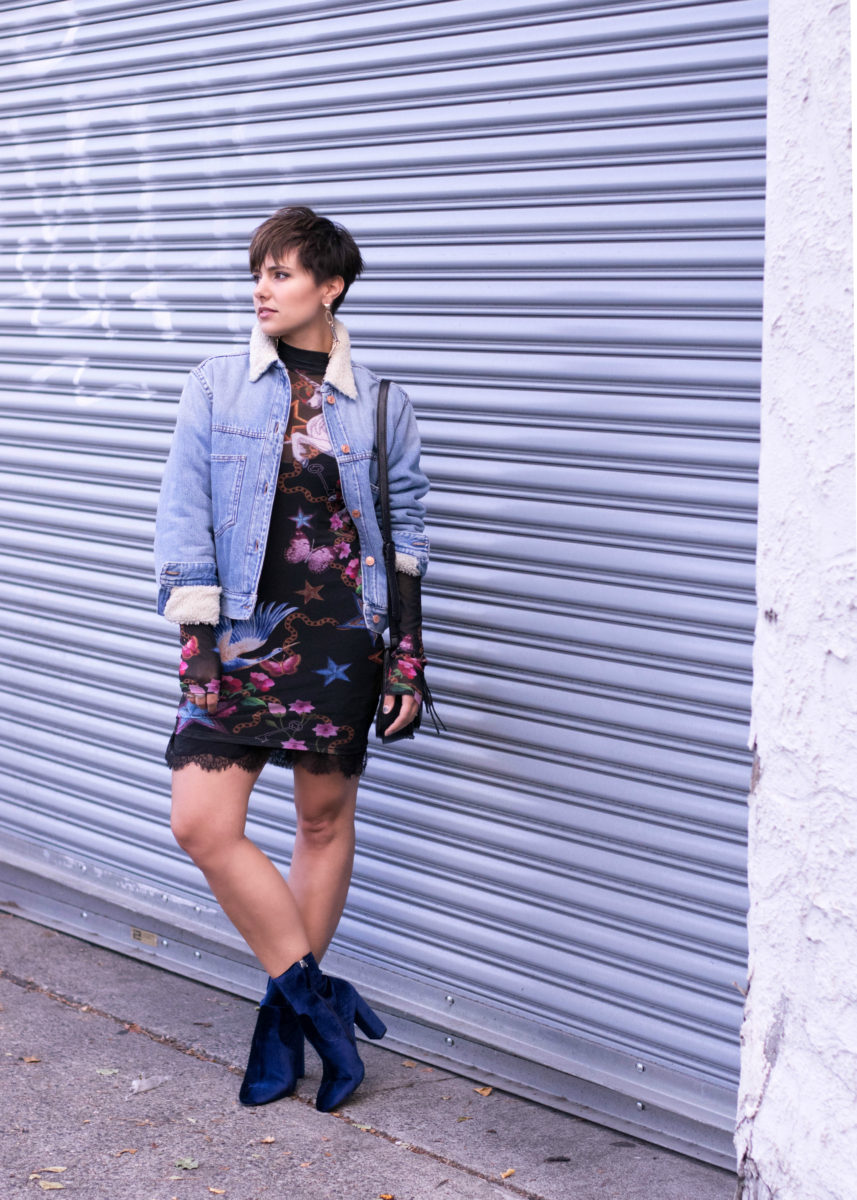 New York Fashion week is in full swing and the standout street style as always has been just as impressive as the collections themselves. Today's look is inspired by the trends we are seeing emerge from the streets of Fashion Week in conjunction with Fall's biggest emerging trends.
To start, sheer clothing has been having a moment, both in an embellished bodysuit showing a hint of bra underneath and in completely sheer dresses walking the runways. This completely covered yet simultaneously revealing way of dressing feels fresh and less overtly sexy that it's skin bearing cousins while still having quite a bit of sass. The dress in today's look is completely sheer from top to bottom, however I layered it over an easy slip dress to make it more wearable for those of us that aren't quite avante garde enough to show the world our underwear. One thing I love about this trend is the delicate nature of the fabric that creates this sheer effect allows the dress to easily tuck into jeans in a non bulky way so that your dress easily can double as a blouse.
Perhaps one of the biggest emerging trends for fall is velvet, as I am sure you are aware, and one of the easiest and boldest ways to wear this trend is on your feet. That being said, finding a gorgeous velvet boot that completes an outfit, makes a statement, is high quality AND is in your budget is nearly impossible, except these GORGEOUS Steve Madden booties at under $100 check every one of those boxes. Not only are they a show stopper they are also comfortable and easy to pair with virtually anything in your closet from jeans to dresses to cropped trousers. I stand by my statement that if you buy one pair of boots this Fall this pair is all you need, but watch out: with how expensive these booties look and how inexpensive they actually are this 'it boot' is sure to sell out so get your pair quickly.
Lastly denim is having a major moment in every way shape and form. The 80's are equally in vogue which means that this Etoile by Isabel Marant jacket inspired by the 80's band moment couldn't be more on trend this season. It's slightly boxy cut with its fluffy shearling liner gives the impression that you somehow dug it out of the holy grail of vintage closets while its beautiful construction and perfectly executed details ensure that this could become your own perfect vintage piece one day. I have only had this jacket for a week and already it has turned heads even when simply thrown over workout clothes.
New York Fashion week is an amazing time to be inspired to embrace new trends and today's look encapsulates the hottest trends of the season. Which of these three trends are you most excited about: releasing your inner edgy girl with a sheer top or dress, bringing out your romantic goth side with a statement pair of velvet boots or revisiting that amazing 80's band phase with the perfect denim jacket? Let me know in the comments below and as always, thank you for reading.
CREDITS:
Photography : Katie Miyagi
Styling: Rebecca Cornelius