We all have our style icons, for some it might be a celebrity, for others a blogger or maybe even someone stylish that they know. For me I have several style icons and I try to use them as inspiration to help add dimension to my own personal style. In this series I will be sharing with you some of the people I take style tips from and what we all can learn from the way they dress themselves. Personal style is about finding what feels uniquely you despite the trends and to be clear even though we will be sharing how to 'get their look' this doesn't mean you should just try to look like them all the time, however if you feel lost in defining your personal style sometimes imitation is a good place to start and grow from. So today we start with Aimee Song, blogger extraordinaire and stay tuned this series will be continuing in the future with a lot of stylish people you may not have even heard of.
Aimee Song is arguably the most influential blogger in the fashion scene that is still blogging. While others have moved on to editorial projects (Margaret Zhang) or creating a clothing line (Chiara) Aimee has stayed true to what she is great at, blogging and sharing her life with the world.That doesn't mean she hasn't expanded and evolved what she covers (she too has a t-shirt line), nor does it mean that her style has stagnated either. Aimee has also grown up with us and as someone just a year younger than her I can appreciate her evolving style as she left her early twenties between and now has entered her 30s chic as ever.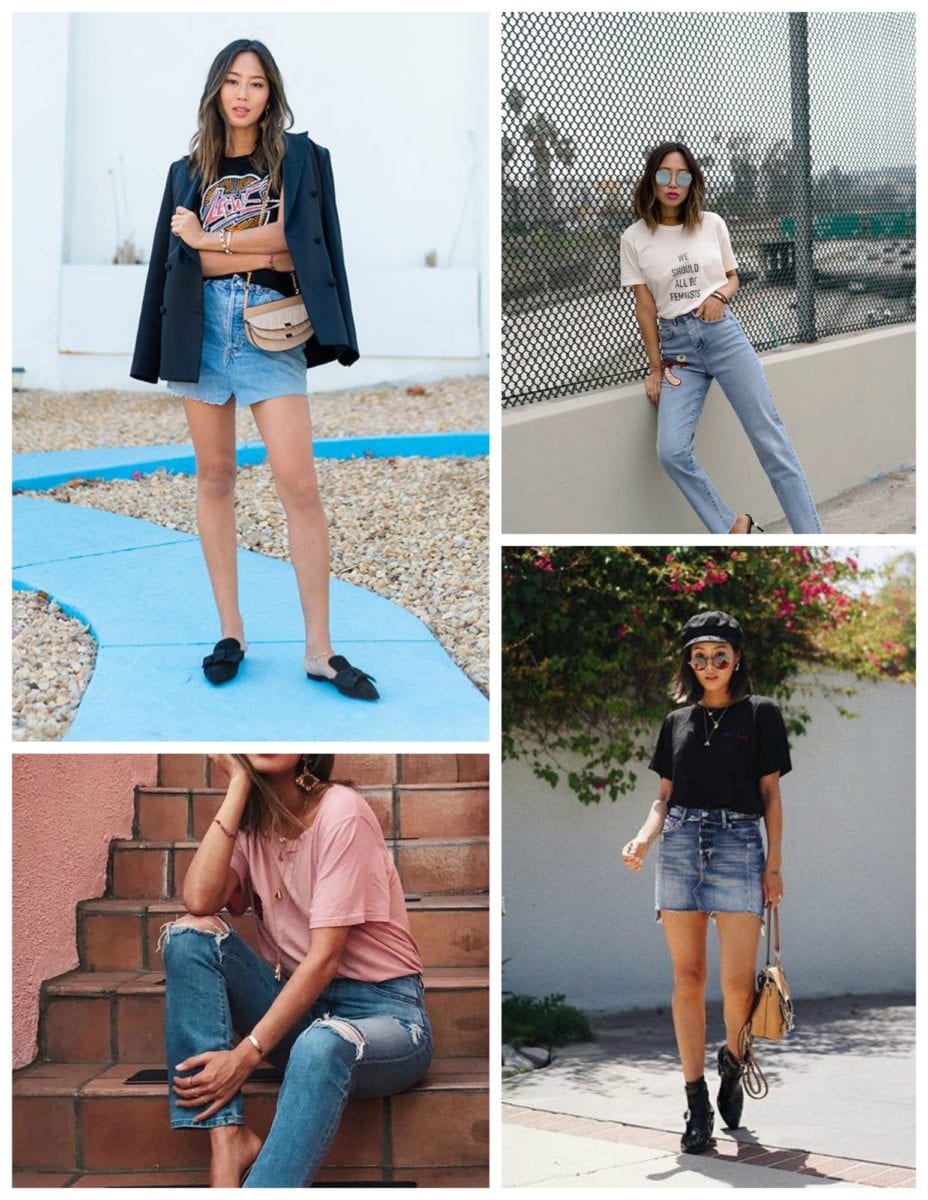 Casualization of Style
Like so many of us in creative pursuits or who are self-employed Aimee Song's style has evolved to fit her lifestyle, meaning it has gotten more casual. This means a lot of denim, denim skirts and t-shirts, all things we can all relate to. Often we succumb to the misconception that in order to be stylish you must dress up which Aimee has clearly shown to be not true. Also great accessories and layering, for example a great shoe or a driver cap, keep the outfit polished. Lastly she has shown the power of a great blazer can have to add the 'business' element to a casual look which is particularly relevant considering that blazers are the must have item for fall. So don't be afraid to keep it casual for everyday and then add a blazer for an important meeting.

Must-Have items: The denim skirt and blazer.

Queen of Proportions
For as long as she has been in a blogger Aimee has been a master at mixing proportions in her outfits which I would argue is one of the most valuable things we can learn from her. Perhaps the most classic example of this is the ever flattering mini skirt with an oversized top (sweatshirt, sweater, what have you.) She has worn this in past years in a much dressier fashion but lately her street style take on it has been incredibly compelling as well. Aimee's approach to mismatched proportions can be applied in pretty much any situation and the juxtaposition of the oversized top makes your legs look by comparison smaller no matter who you are which is a fun little trick we can all make use of. It also is a great trick for anyone who is shorter in stature as the emphasis on your legs make you seem taller.

Must-Have items: the Mini Skirt & Oversized tops.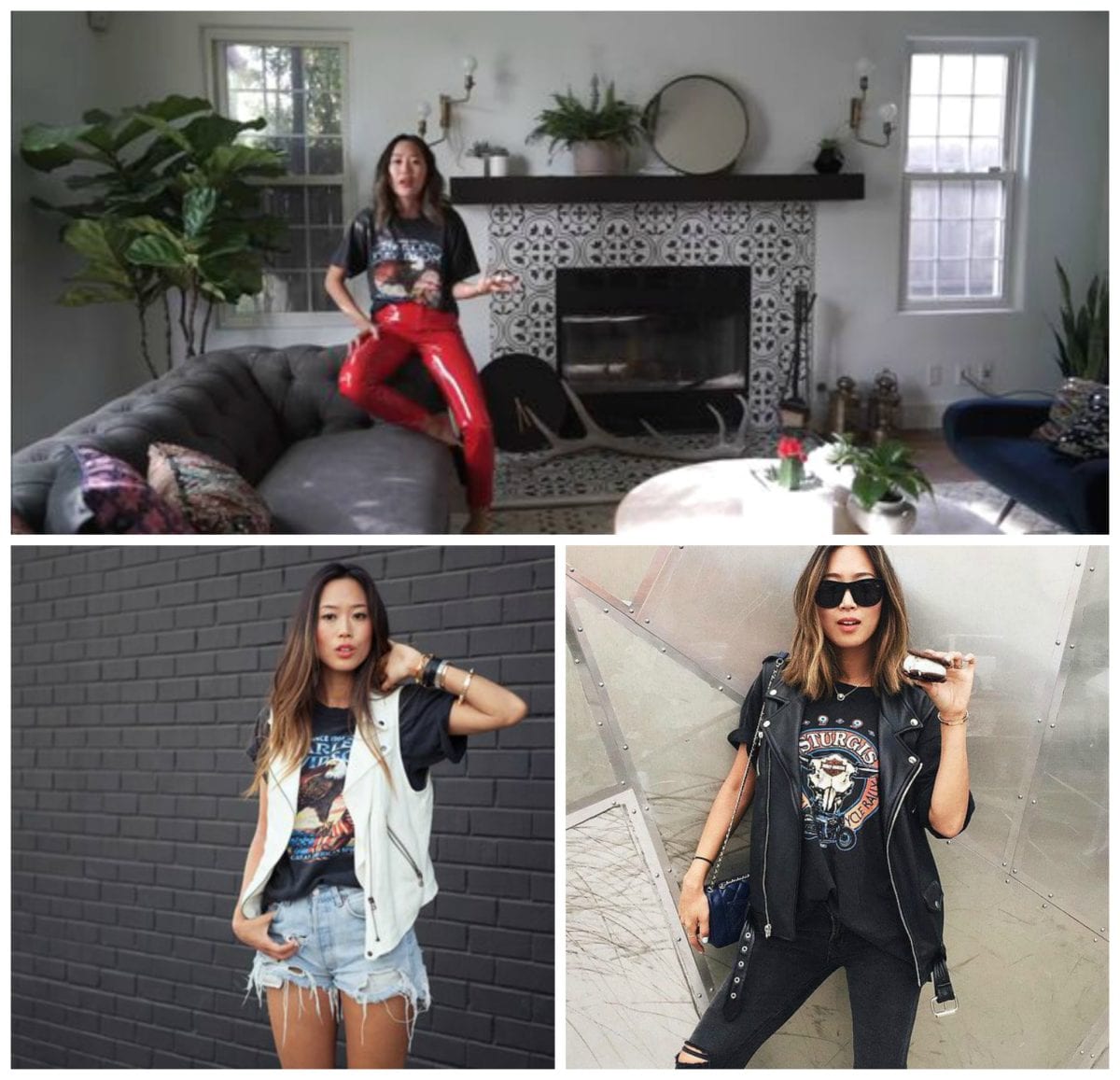 Harley- Song
If you follow me on Instagram (@BloggerNotBillionaire) you know that I LOVE a good vintage Harley t-shirt and while the trend may just be gathering steam Aimee has been rocking it for years. Her Harley t-shirt recently caught my eye in a recent youtube video of hers where she styled it perfectly with red patent pants. What I loved about this was that this was the same t-shirt as she had worn a few years earlier in the bottom left photo above. This is a nice reminder that even if you are an immensely successful fashion blogger with a never ending supply of clothing you still have favorite items you re-wear. It also goes to show that trends may change but a great t-shirt is always worth investing in because it can be worn so many versatile ways.

Must-Have items: the Harley T-shirt & Patent Pants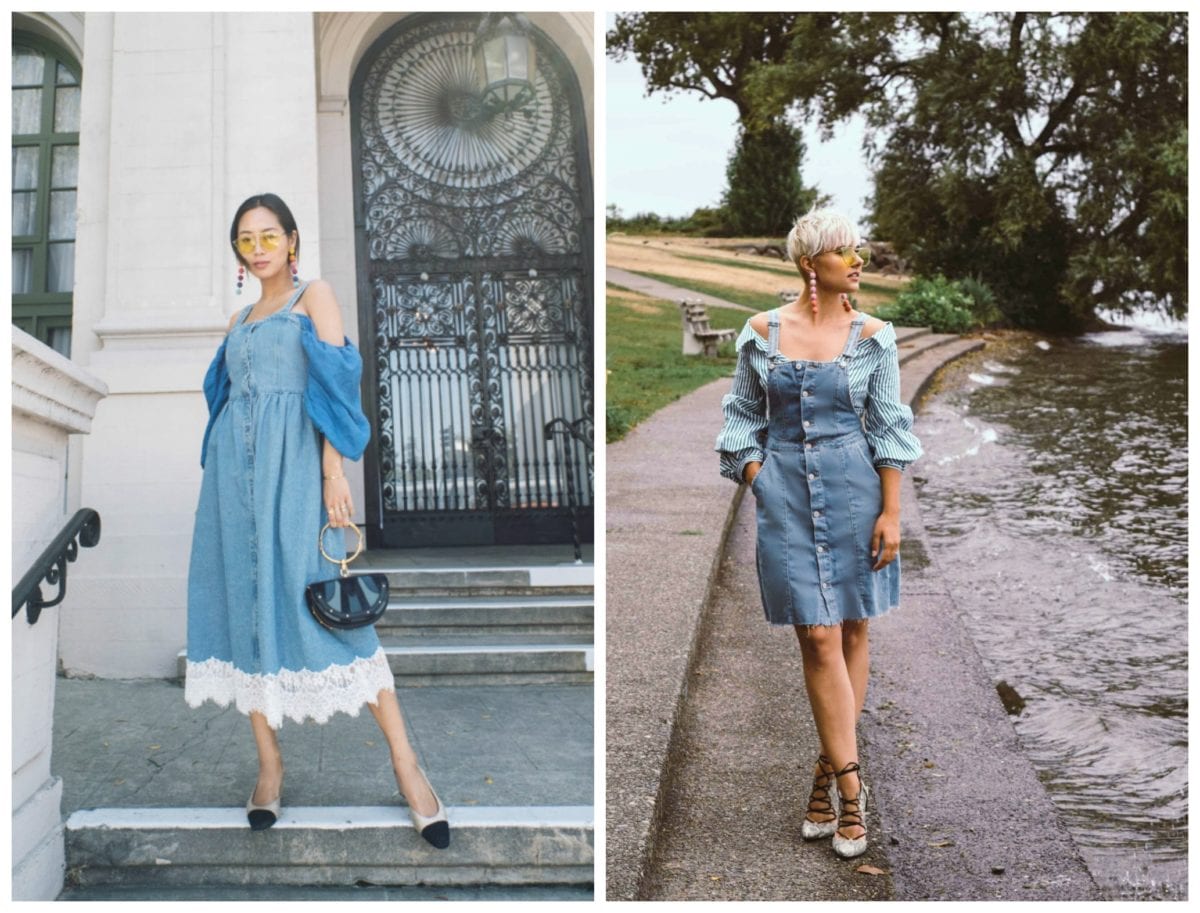 Get the Look
For this week's 'Get the Look'  I decided to take on a denim dress over an off the shoulder top that I loved from Aimee (for her original post and look go HERE.) One of the first reasons I chose it was the denim pinafore style dress. I already had one in my closet and don't wear it NEARLY enough because it's a bit more challenging of an item to style so I loved taking inspiration from her as to how to wear it (shop the CUTEST Topshop version on sale HERE.) Next I loved how Aimee paired the overall style with an off the shoulder top, something we all have in our closet and that we are always looking for new ways to wear.
For accessories Aimee chose the uber trendy Rebecca de Ravenel Ombre drop earrings and Dior tinted sunnies. We found a great pair of ombre drop earrings that look almost identical for $45 HERE and knockoff tinted sunnies HERE. The moral of the story, her accessories are on the cutting edge of the trend which is great since she paired it with an outfit that could be put together easily with items from a previous season. This wearability with an eye towards the current trends is one of the reason we love Aimee Song as much as she loves avocado toast.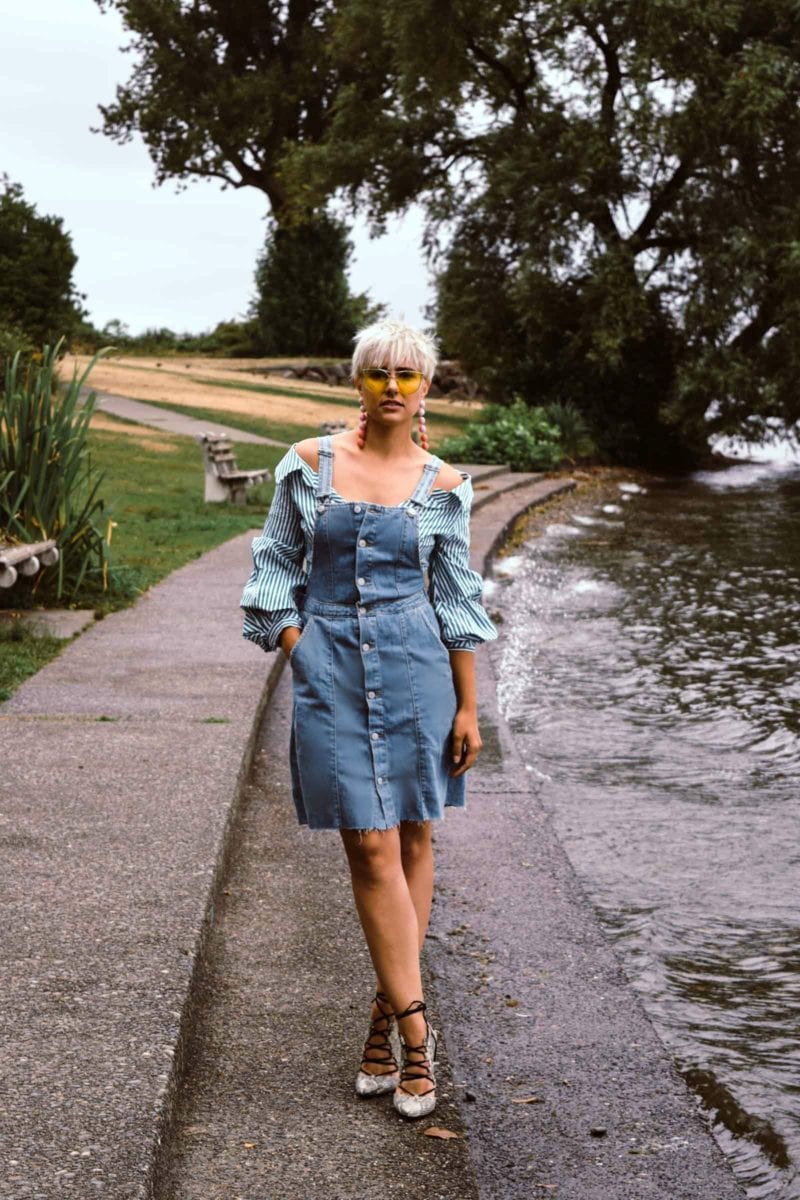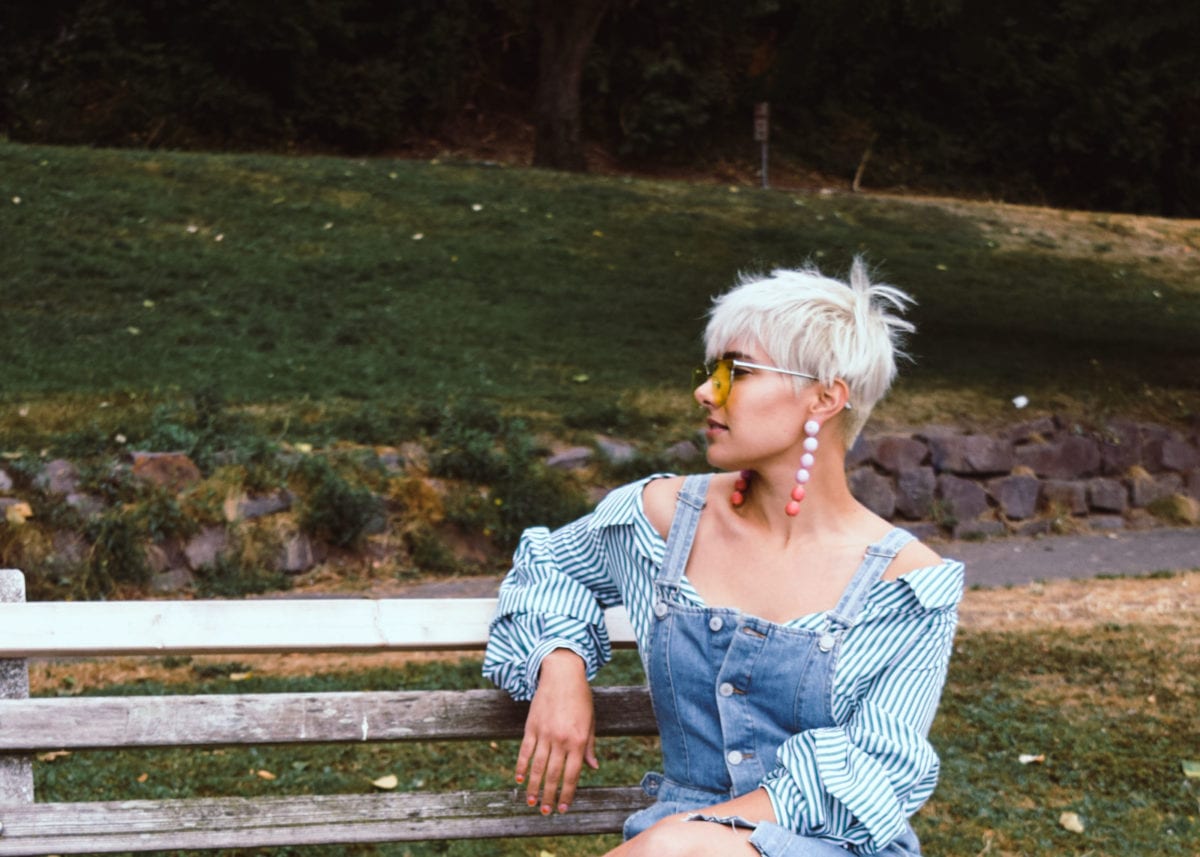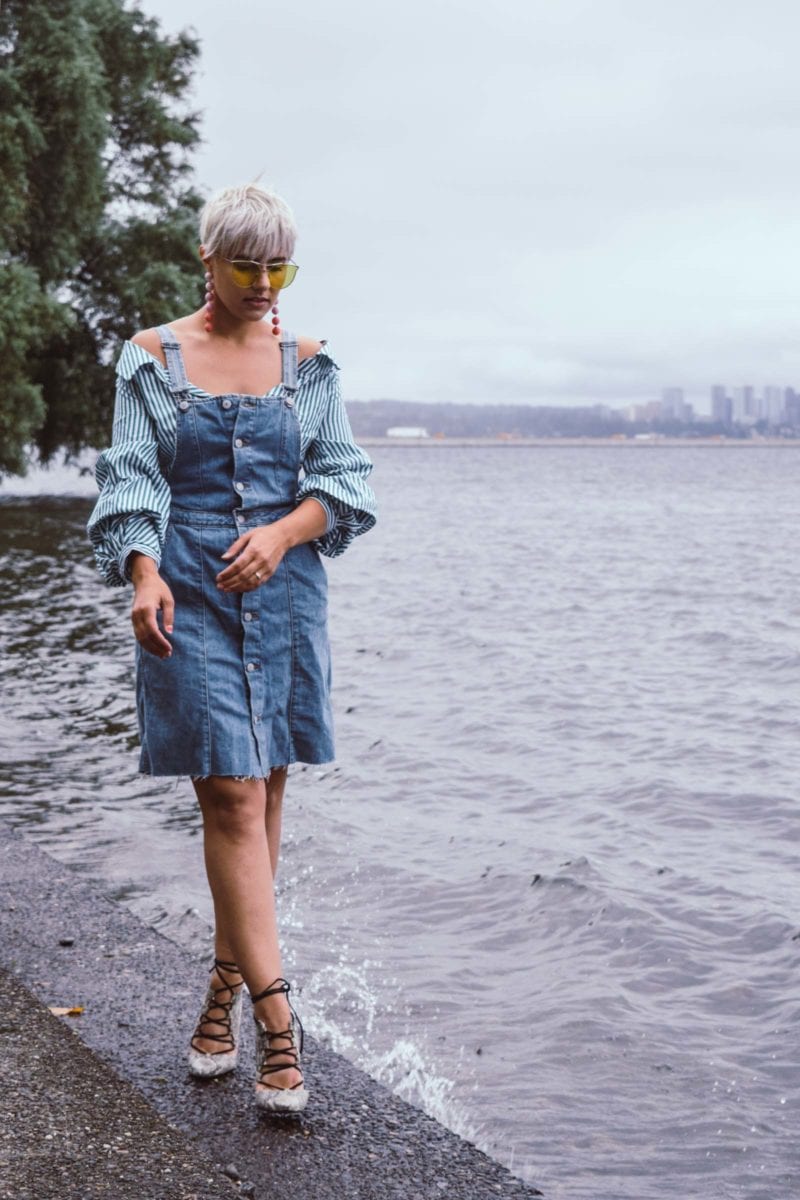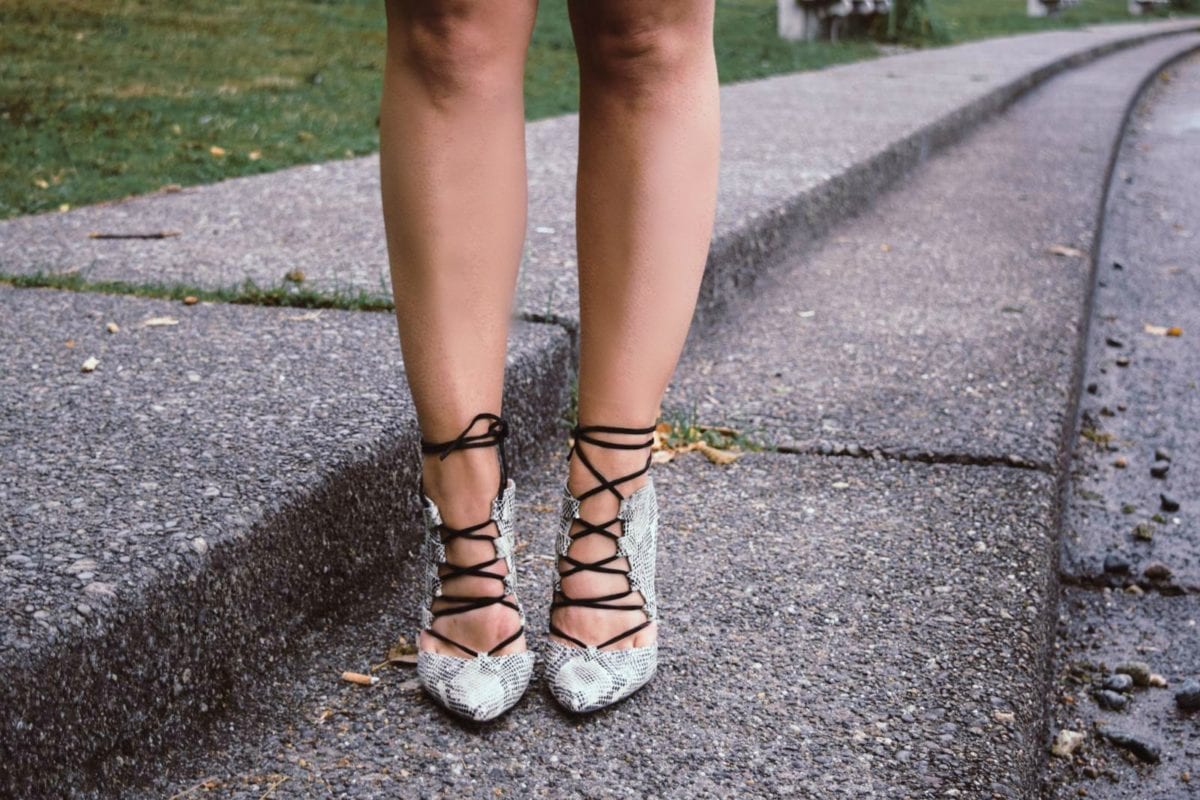 Thanks for reading!-Rebecca
*All Song of Style photos taken from pinterest, all rights belong to Song of Style