Day 3
Day three of NYFW started off a little slower than usual since I was feeling QUITE under the weather by this point. I also had run out of clothes which is something after packing 2 suitcases I thought would be impossible, yet here we were. The solution was an early morning trip to & Other Stories to stock up which meant t-shirts, tops (I never by tops!!) and dresses were on the docket. I only ended up adding a t-shirt to my pre-planned look for the day but it was definitely a needed addition.
The Shows
Vivienne Tam was the largest show that I went to this year at New York fashion week and it was absolutely incredible!!! It was also my first show at one of the bigger NYFW spaces that had several shows going at once so it was also my first exposure to street style photographers and really the zoo that was the NYFW 'big time.'
One of the things that not many people talk about when they share their fashion week experience is the amount of time you wait in line, in your heels, to see a show. Regardless of your seat you still need to get checked in along with several other hundred people so arriving early was important. Both Jenn and I also witnessed very 'important' people lose their seats because they came too late and the seats had been given away (and by important I don't mean Nicki Minaj because clearly when you are Nicki they wait for you.)
Vivienne Tam
Vivienne's collection centered around a Chinese movie called 'Monster Hunt.' The prints on the clothing paid homage to the movie. From a distance they simply looked like a beautiful pattern but up close revealed monsters, foxes, landscapes and other whimsical ideas. The collection was rooted in wearability and many of the of the moment trends including obvious branding like the Vivenne Tam straps of a bag in the sixth image above. Overall it was a beautifully executed collection and was an invigorating way to experience my first 'big' show.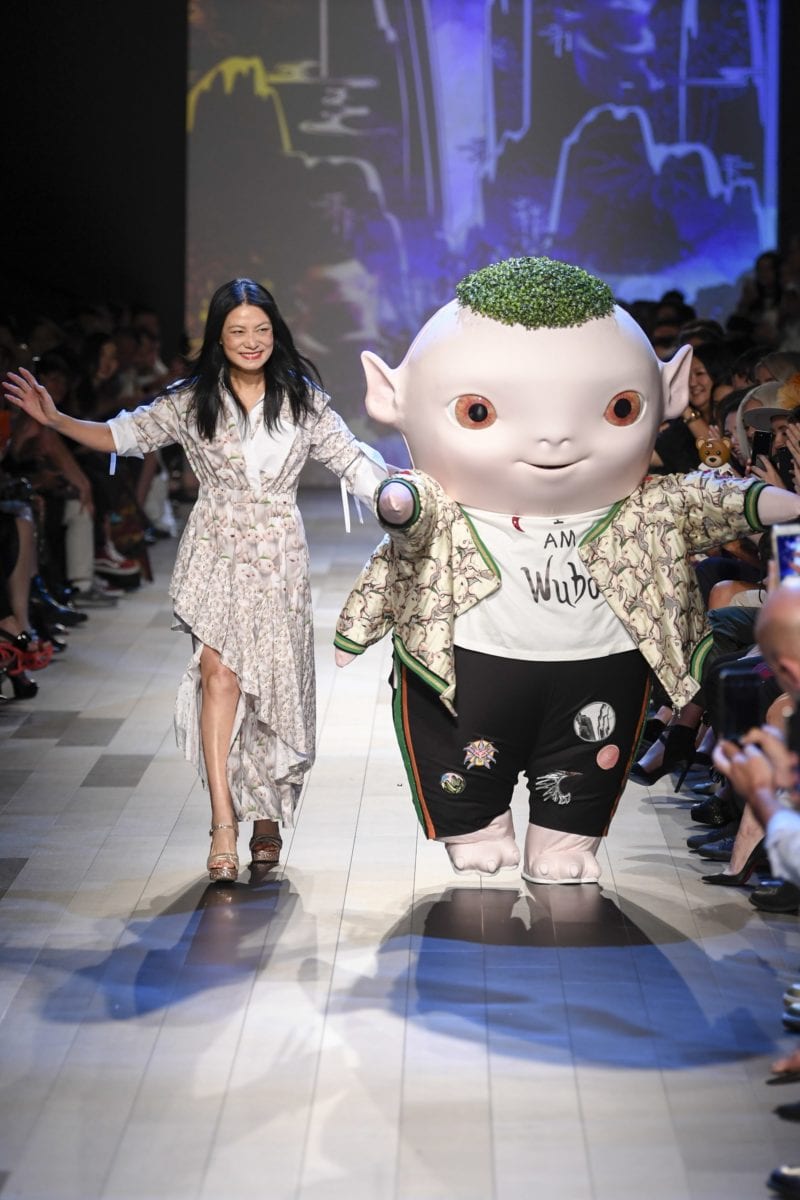 Also the monster at the end of the show walking with Vivienne was LOADS of fun!! *Photo credits Voguerunway.com
Jarel Zhang
An entire afternoon passed between Vivienne Tam and Jarel Zhang and unfortunately I spent it in my hotel room trying to recuperate from the infamous food poisoning. I ended up walking out of a line for a show that was earlier in the day do to not feeling well. So the day was fast forwarded to the evening and the Jarel Zhang show.
Jarel Zhang was definitely an envelope pushing show. Utilitarian and almost parachute motifs were distributed throughout. Classic outerwear tailoring was applied to unusual fabrications which was quite interesting. The use of color throughout the collection was impressive and the corresponding colorblock eye shadow makeup trend was very relevant. For a show that was generally made up of very similar pieces my only critique would be that a more edited version where each of the 'best' looks were selected would have made the show much more impactful and cohesive. *Photo credit Fashionweekonline.com
The Rest of the Night
There were zero outfit photos taken this particular evening due to aforementioned illness, however that didn't stop us from getting chocolate dipped popsicles and pizza's on the way back to our hotel. When in NYC right?
Day 4
Brunch SO Hard
We all know that New York City has basically every food option under the sun, but when it comes to instagram-worthy breakfasts one particular place stood out. Bluestone Lane is an Australian chain of restaurants and coffee shops that is SO UNBELIEVABLY photogenic! Also the food is delicious too. I of course had to order the 'wellness flight' of multi-color lattes which were delicious! It was a great way to start our last day of shows at NYFW.
Hakan Akkaya
Our big show of the day was Hakan Akkaya, a dramatic monochromatic collection. A show reportedly inspired by existentialism it stayed very on trend with black and white stripes being the statement items and mixed zebra being a reinterpreted way to continue the trend. I personally found the jumpsuits and suiting to be the most interesting elements and some of the dresses to be lacking in the same attention to construction and form.
The Street Style Scene
Outside the Hakan show the streets were a bit crazy with street style photographers everywhere and models/bloggers stopping every few feet to have their photo taken. I wore my favorite outfit of the entire trip to this show and was lucky enough to have some random photog snap my photo for god knows which website and or publication.

*Photocred Jenn Haskins even though these look like they should have been taken by some super cool street photog. Future career Jenn?
Isabel Marant Dress | & Other Stories Tee | Zara Boots | Celine Sunglasses | Gucci Bag
Adventure Time
After the last show we ventured around NYC making sure to stop in the Glossier HQ buying everything in sight! Afterwards we had a PR sponsored HH and had a not super memorable dinner at Eatily, although it did involve some Froze which was fantastic. It was overall my favorite day of the trip! Thanks so much for following along!
Save
Save