Day 2 NYFW SS18
Runa Ray
Our second day of fashion week kicked off bright and early with the Runa Ray show. A nature-inspired collection the fabrics were delicate and in places sheer, another trend we kept seeing on the runway. The most impactful moment of course was the very last dress which read 'Imagination is the only weapon against reality.' As someone who blogs about Fashion for a living I can appreciate that escapism mentality where we cling to our art as our outlet from the world. * Photocredit : http://carolinastylemag.com
Brunch & The Streets of NYC
Sadly breakfast actually ended up being after our first show as we never seemed to get out the hotel earlier enough to eat prior. The upside? Everything in New York city is delicious and you appreciate that twice as much when you are starving. In true blogger style our next step was to make sure we documented our outfits before heading out for the rest of the evening.
Isabel Marant Jacket (similar HERE) | & Other Stories T-shirt | Mango Patent Skirt | Laurence Dacade Boots | Gucci Lad Web Bag | Celine Sunglasses | Ohme Earrings
Chillhouse
I don't know about you guys, but I always seem to be finding new places via Instagram that I am dying to visit and one of those was the nail salon/spa Chillhouse in NYC. While it doesn't hurt that Chillhouse's founder is something of a social media starlet herself, the space is pure instagram gold. Picture beet lattes with 'Chill written on them, the perfect sized fiddle leaf complementing a neon sign portrait on the wall that also says 'Chill' and you are getting the picture.  I know you are already salivating to go but I haven't even mentioned their fabulously talented and entertaining nail techs who gave us lovely gel nail art (mine was the 'bleach splatter' but also looks like a Super Mario Egg which I am 100% on board with.) Also please note my nails are STILL completely intact one week later and if you know anything about how I treat my nails (*cough *cough badly) this is a big deal.
Also if you ever want to stand out in NYC just run around in a floor-length neon pink dress. When else but in New York for fashion week right? While at Chillhouse I just happened to run into another fabulous fashionista also in all pink so of course we had to embrace the photo op. If I had to list out one of my favorite parts of fashion week it had to be connecting with other women that loved fashion just as much as I did.
Rewardstyle NYC Heart Wall & Rooftop Party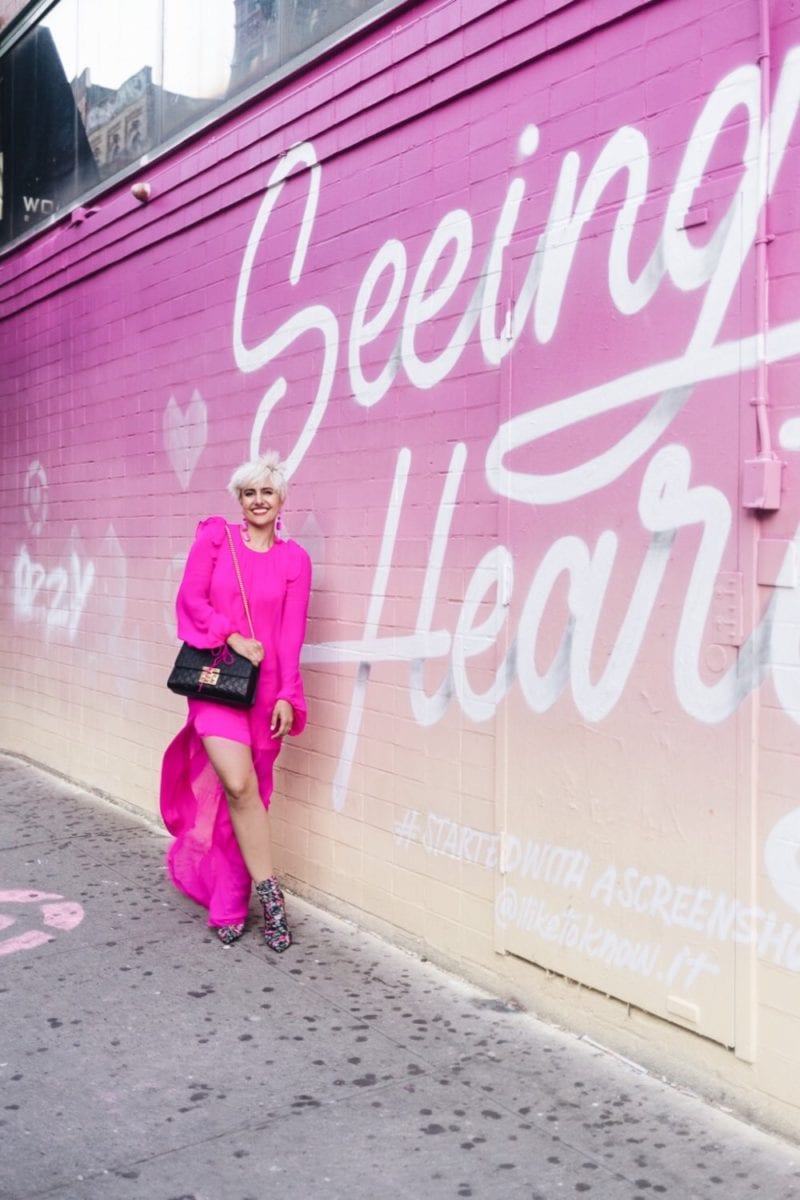 Mango Pink Dress | ASOS Earrings | Steve Madden Floral Boots | Gucci Padlock Bag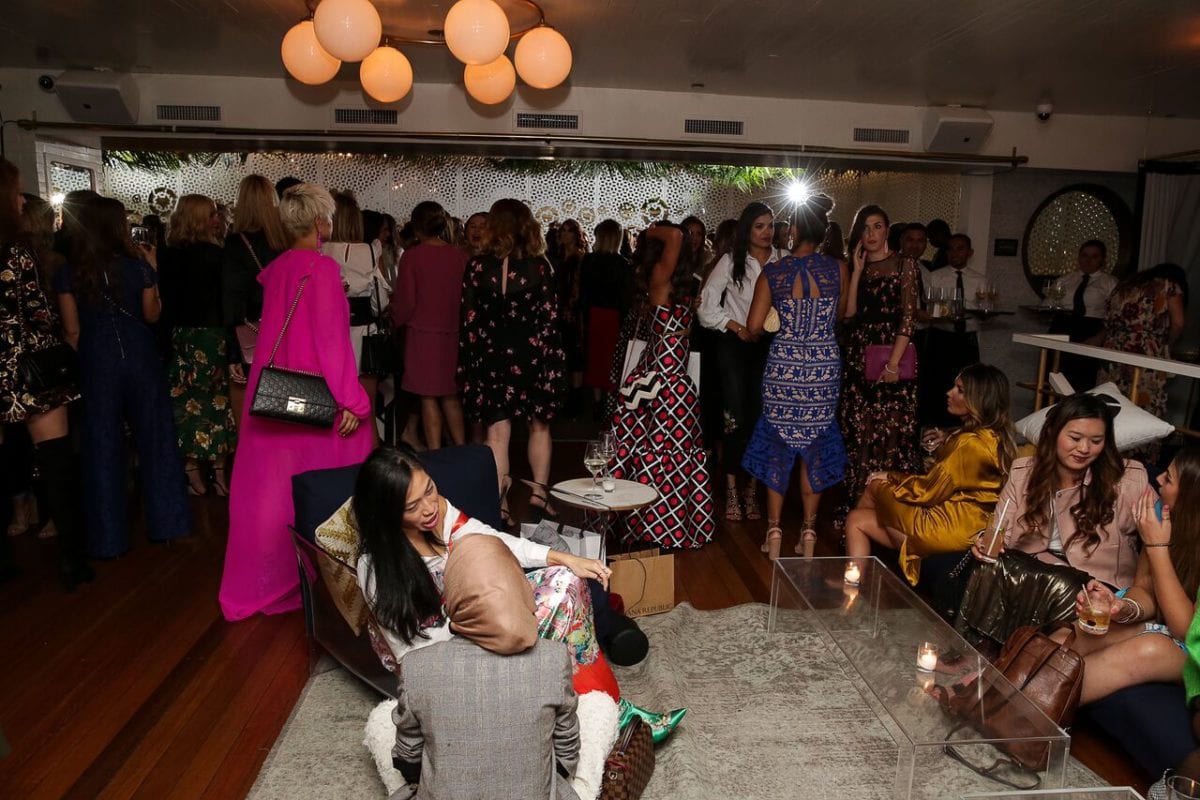 Of course it wouldn't be New York Fashion week without Rewardstyle making their presence knows. For those of you who don't know Rewardstyle is a platform for Influencers that allows you to shop my outfits on the blog, on instagram and anywhere else you might see them on the internet. Since we were running a bit short on time we swung quickly by the Rewardstyle #Itstartedwithascreenshot wall, a mural that is one in a series they are doing around the US and Europe. It also happened to be just kitty corner to Chillhouse where we had just gotten our nails done.
The next stop on my itinerary for the evening was the Rewardstyle Rooftop party, a celebration of NYFW. It was exactly what you think it would be, Influencers of all sizes dressed to the nines mingling with each other and the fabulous staff from the Rewardstyle team. Shoutout to Miki from Mikialamode for helping me get over not knowing anyone initially at the party. Like I said earlier the connections you make at NYFW make the entire thing worth it so thanks lady! *Photocredit Rewardstyle.
Our night ended with the Jonathan Simkhai party being hosted at our hotel, however Jenna and I ultimately deciding late night ramen was the better bet than the party and thus ended our second day at New York Fashion week.