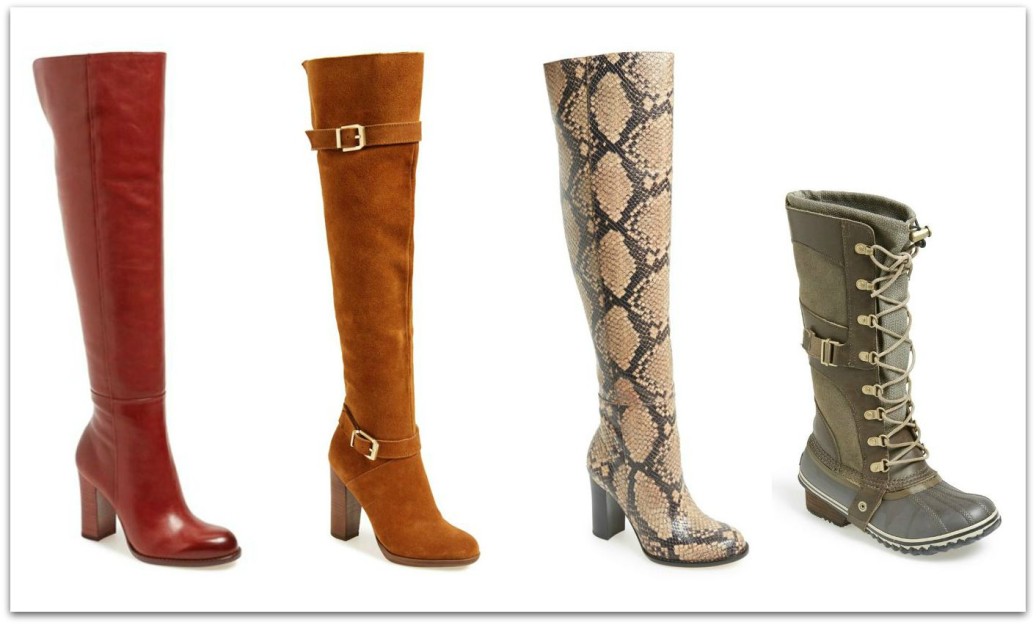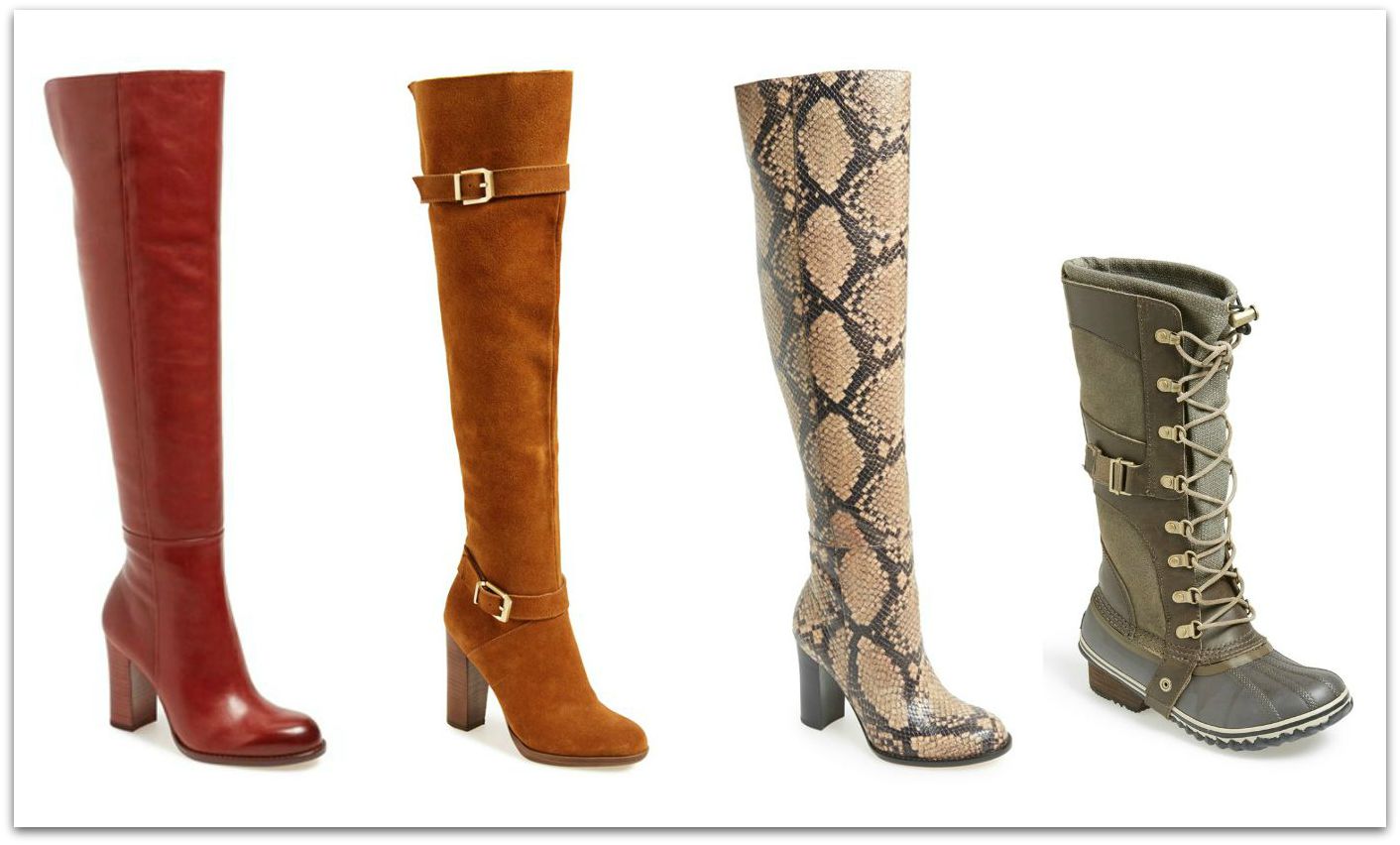 This time every year we start breaking out our fall and winter boots and transitioning into 'boot season' aka the season where all you wear is boots because it is cold/windy/rainy/etc. While this is definitely my favorite season I always find year after year that because I wear boots almost exclusively in the fall I tend to break down my boots fairly quickly which leaves me with a smaller boot wardrobe than I started with at the end of the season. To remedy that this year I am starting out by investing in at least one new pair of boots so that I can have a higher rotation among my boots and hopefully preserve their longevity. Here are my top picks this year…

First let's talk about what I was looking for when going into this mental shopping trip: I already have a killer pair of black suede high boots (see almost every other post for those beauties) and I have a regular black leather over the knee boot (soon to be revealed on ze blog) so I was not looking for any new black boots, which is probably something many of you can relate to. Secondly, I was looking for a high boot, one that came to my knee or slightly over the knee but not so high that it could be thigh high. In my opinion this is an incredibly versatile boot height that is appropriate for every season not to mention it keeps you a bit warmer in the fall. Lastly, I was looking for a relatively classic boot, something that I could wear season upon season without it going out of style. Since a quality pair of boots is an investment and should be treated as such so this last factor is crucial and a key aspect of making sure your boots have longevity in your closet.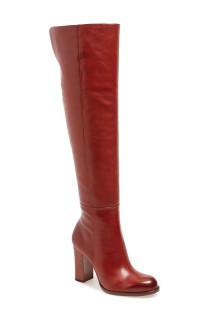 As far as a classic boot in an original color, these Sam Edelman beauties hit the spot exactly. Just slightly over the knee in a beautiful, rich leather the shape is extremely wearable without being too trendy. This particular boot jumped to the top of my list due to its more unusual yet undeniably versatile red color which never goes out of style and yet always feels special and unexpected. Perfect for fall/winter, the shape of this boot and its rich hue would also make it a perfect transition boot in the Spring/Summer months paired with dresses and shorts, easily continuing that 70's vibe into next year with these rusty beauties. Find them HERE.
If you have to find a functional 'brave the elements' type of boot there is no better boot than a Sorel boot, but now, thanks to some gorgeous design work, they can be stylish as well. In fact, when I first saw the Conquest Carly on the Free People website my first thought was 'Oh my goodness how CUTE!' not,
'oh look, how functional and seasonally appropriate.' But you can't buy a Sorel boot without marvelling at their superior durability and the fact that they always seem to be everyone's go-to boot when the weather turns sour. So buy these boots for now for how comfortable and attractive they are and keep them for how amazing they are in inclement weather. Find them HERE.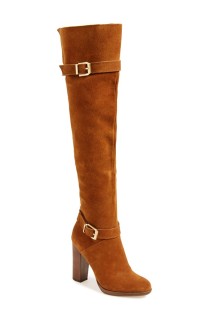 For my third pick I chose a beautiful boot, this suede, dressed up, buckled boot. In contrast to the Sorel Carly this is not the boot you wear traipsing through the rain. However, on a crisp fall dry day the Lipton is a stunning boot for any occasion. Few boots really can cross from the 'dressy' to the casual category easily but this stunner can easily and in the rich camel colored suede you will want to wear them as frequently as possible. Personally I find suede boots to be some of the most comfortable shoes you can find but there is a trade off for durability and weather resistance in order to have them feel like butter on your legs. Regardless of their lack of rain tolerance these boots will still be a favorite in my closet and will certainly not lack for opportunities to be worn. Find them HERE.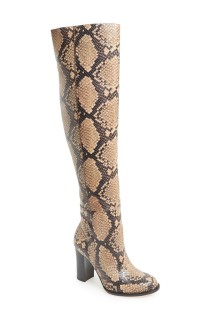 Last but not least is the Sam Edelman Rylan in a Snakeskin print. Yes there are the same boot as the first pick, however in the snake they become something very different than your wardrobe staple boot. Snake print or python in recent years has become almost a neutral such as cream or brown but with way more pizzazz. Spearheaded by Gucci their recent resurgence has coincided perfectly with the 70's trend making them one of the most on-trend items you could have. But didn't I say don't go for trendy in an investment boot? Well while the print on these stunners may be very trendy at the moment it also is a print that repeats season after season and even when the 70's have passed, the classic shape and neutral color will make them key statement pieces in your wardrobe that you will covet for years to come. If you can buy one boot this season I would go for one of the three above, but if you can buy two add this 'wow factor' to your wardrobe and I promise you won't regret it. Find them HERE.
Time to go shopping! Which boots were your favorite? Let me know in the comments below. Thanks for reading! Cheers! – Rebecca