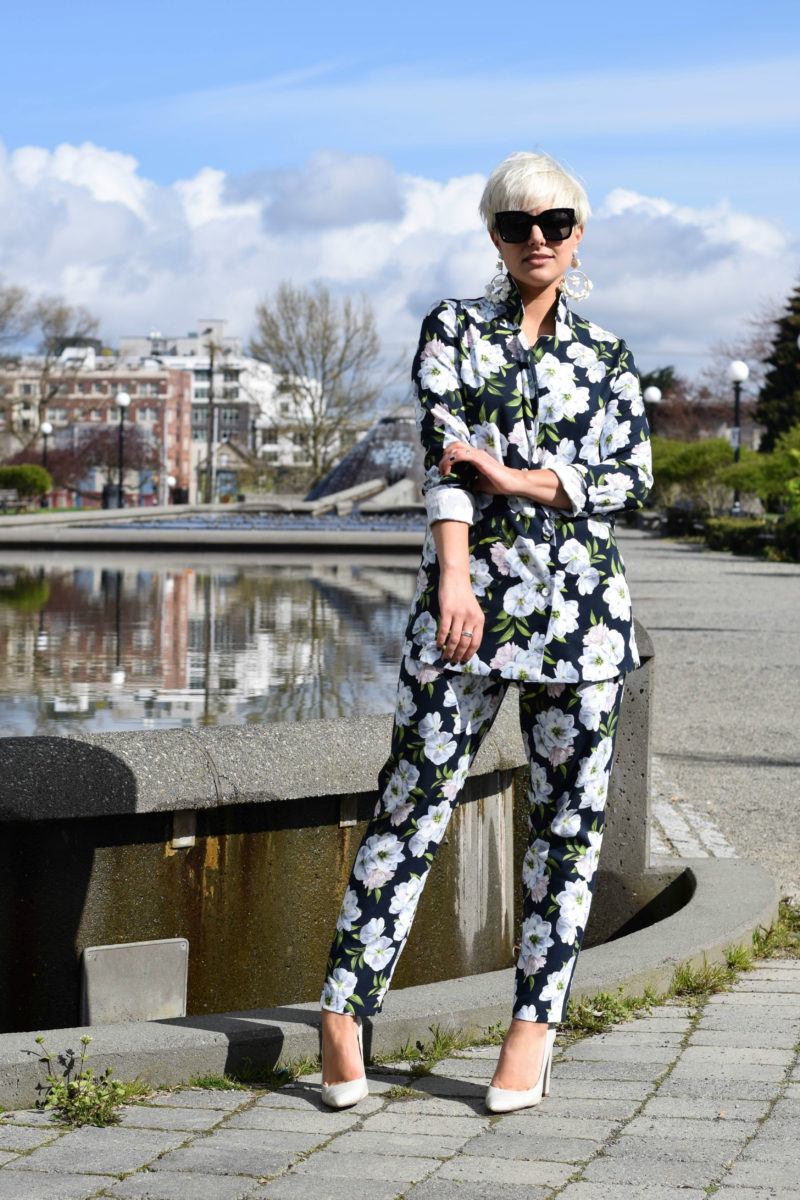 If you want to isolate of the most dominant trends of 2017 so far it would have to be the matching suit. Now this is a scary thing to say because other than job interviews straight out of college I can't tell you the last time that I actually wore a suit that was 2 pieces that coordinated. This year's suiting game is a bit different though: gone are the boring blacks and ill-fitting shapes. Thanks to Gucci and Dolce & Gabbana and pretty much everyone sporting suiting on the runway these suits are EXCITING, figure flattering and SO much fun to wear! So let's find a way to get you (and me) re-familiarized with a matching suit.
Today's particular suit style is a pajama style suit option. What this means is that the fabric is soft rather than stiff and generally there is an all over print on the suit. I love this option for a matched suit because it is incredibly comfortable and unstructured so getting used to wearing it won't require much effort. The harder pill to swallow would be the fact that when wearing the two pieces in tandem without breaking them up you can look like a walking ad for wallpaper, albeit a chic one. When Dolce & Gabbana showed this option for Spring they broke it up with a t-shirt but I loved the floral and the elongated silhouette so much that I chose to wear the head to toe floral look.

The best thing about a matching suit is really its versatility; you can wear the jacket and the pants together or you mix and match them for an unlimited amount of outfit combinations. For our second look today we took the trousers from the suit and paired it with an easy top and our favorite go-to faux leather jacket. The same could be done with the blazer, especially over a Spring dress but as we are in a transition season weather-wise the pants seemed like the harder choice. To balance out a bold printed bottom solid colors are always a great option so we kept with a neutral on top and then highlighted the accent color in the pants by matching it with a green leather jacket.

The Pajama style suit is going to be a big one as we head into summer and Fall and it is a great introduction into the matching suiting realm so I highly recommend it as an entry point. Think of it as investing in 3 things really, the suit, the jacket with unlimited options and then the pants plus unlimited options and with that mindset it won't disappoint.
This is our first post in a week-long ' How to Wear a Suit' series so stay tuned for more. Are you ready to wear a Pajama style suit? Let me know in the comments below.
Cheers!-Rebecca