What is it about fall that has us sharpening our lip pencils, digging out our lipsticks, planning our outfits around our lip color? Perhaps as summer passes and our tans fade we seek the solace of a bold lip to distract from non-golden skin. Or maybe it is the rich fall colors that seduce us into lipstick wearing heaven, where makeup is minimal but statement lips are everything.  I personally love a great lipstick all year, yet I too fall prey to wearing lipstick more religiously in the winter months versus the summer.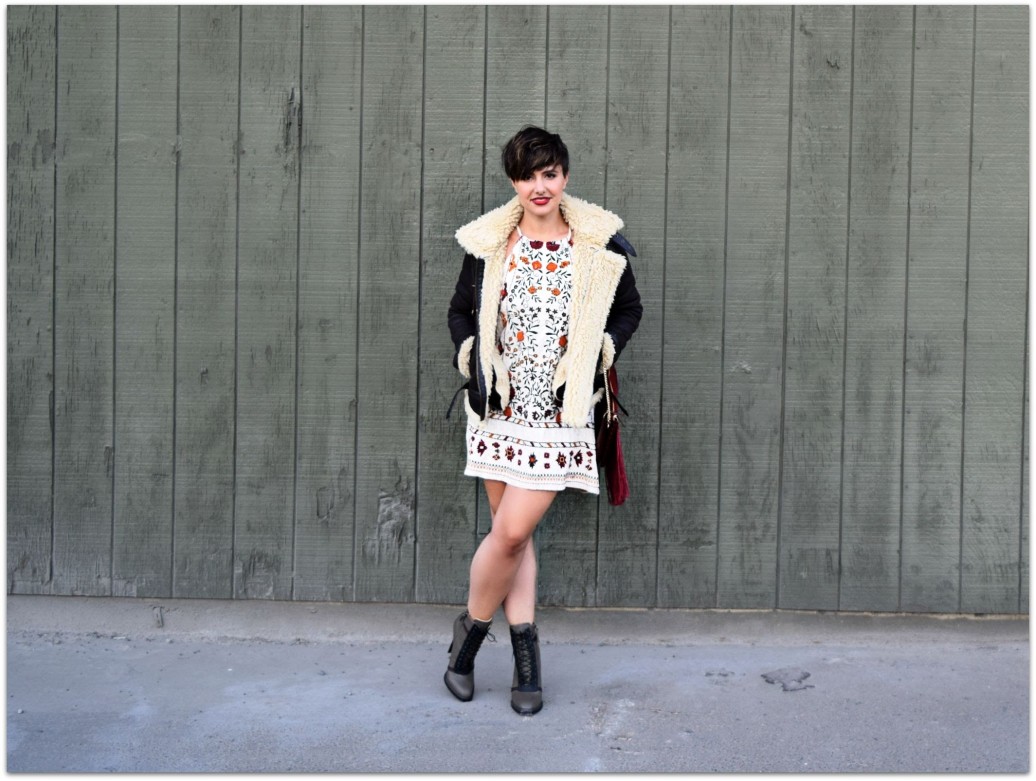 Now that we are firmly in October the Fall transition has really hit home. I love this embroidered bohemian dress from today's look but without an oversize shearling coat (a fall favorite for many reasons) I would have difficulty wearing it. We may also be in the last few weeks where we can get away with a bare leg so high boots or tights will be a must as the weather dips. 
So let's talk about this lip. I went into my local Nordstrom the other day bored with my current lipsticks and asked for something  new and fresh. Now the ombré lip is not for everyone, I completely understand that. For me I loved the unusual choice of the purple liner faded into a red orange lip color and while it certainly wasn't an everyday look the mixture of the super dark with the brighter lip felt incredibly relevant for fall. I also inadvertently got one of my favorite new stand alone lip colors out of the experience. The Viva Glam Miley 2 color is an amazing orange red that looks like an exact match for the red from Altuzarra's most recent runway show. Not only is a new ombré lip fun to try with your existing colors, perhaps with a less drastic contrast to start, it also is a fun way to discover new colors while seeing their versatile uses. Have any questions about the ombré lip? Leave me a message in the comments below!
Thank you so much for reading and have a wonderful rest of your week! Cheers! -Rebecca