With the Holiday season upon us we all find ourselves scrambling to sort out our schedule for all of the festivities and even more importantly we find ourselves scrambling to find outfits to wear to everything. I am no exception to that so often I turn to online shopping for inspiration. I know, buying a whole new outfit each time seems ideal but that's not what I mean. Some retailers, such as Zara and Net-a-Porter (a personal favorite for this type of inspiration) not only post a photo of the item they are selling but they also style it as well with a jacket, bottom, shoes and maybe even a hat. If you find a combination you like and have similar items in your closet then voila! The perfect new party look.
Now let's talk about today's outfit. It was my birthday last week and I had no clue what to wear. I had seen the Potato Chip-Hey Super T shown above and to the left in the Zara store and was uninspired and passed it by.Then I saw this photo on Zara's website of the same T-shirt and the styling was absolutely phenomenal. Not only did I fall in love with the T-shirt but I wanted to wear it EXACTLY the way it was styled and felt that this could be a great cheeky birthday look.
Originally I had thought that the stripes shown to the left were the lining of the peacoat itself but upon further examination I realized that it was in fact just a flannel peeking out. I dug out a flannel shirt I already owned in similar colors as well as a blazer that I felt had a similar feeling as the jacket in the original styling only mine was a bit dressier.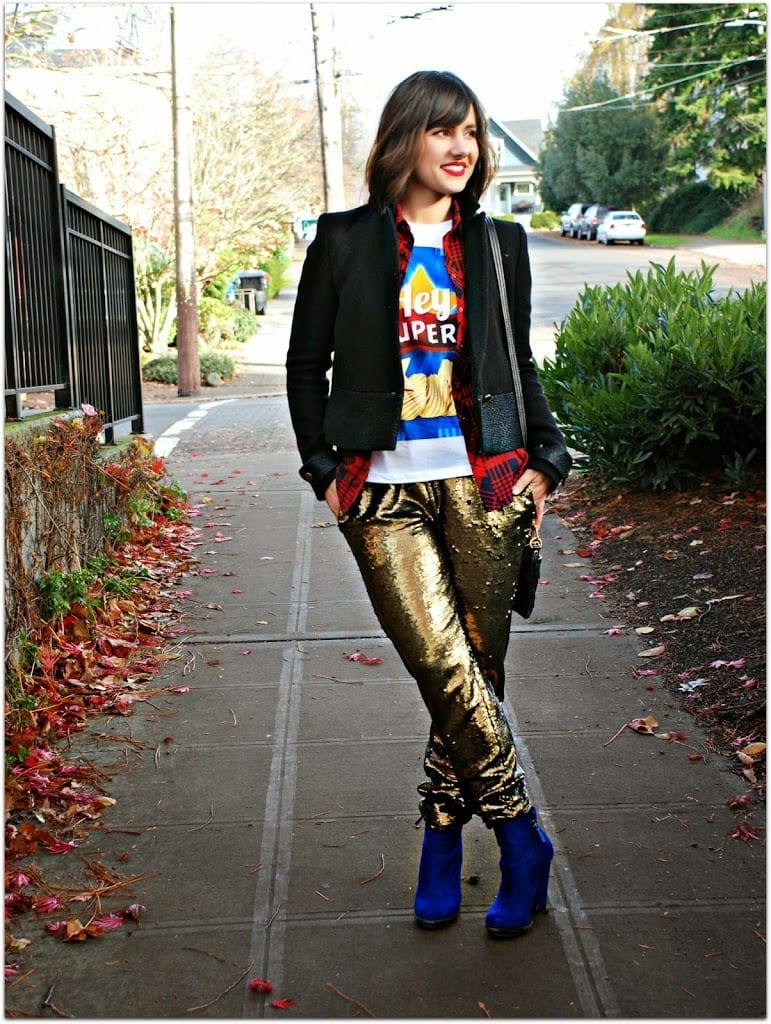 Plaid Shirt here, T-shirt Zara, Blazer Zara, gorgeous blazers here and here, Marc By Marc handbag similar hereSequin Pants BCBG similar here
Shop similar items inspired by today's look below. Happy Monday!