I fell in love with this red maxi dress this summer and wore it entirely too often so when it came time to put it in storage until the sun comes back out I decided that a dress is a dress and there had to be a way to reuse this striking red maxi dress in the winter.
The first thing that makes this dress easy to translate across seasons is its color. If you are trying to wear a true summer color such as turquoise or yellow you really need to pay attention to what you are layering it with. In this case I chose a jacket that was full of fall colors including the red of my dress which immediately made this a fall/winter outfit. Additionally I added a great fall ankle boot in a chestnut and my favorite oversized aviator coat all in the same palette making this a very wintery feeling look despite the color of the dress. It's amazing what a color palette can do to an outfit so pay attention to the overall feel of the pairing and make sure it feels like it fits in your target season.
A Tip: The secret to making this look work in the winter is leggings. Not visible ones necessarily (I didn't like the look of tights with this look) but perhaps capris like I am hiding, that will keep you warm. The summer breeze under a maxi that makes it the perfect summer item needs to be managed in the winter with some sort of coverage so make sure you layer up underneath. No one has to know and you will be both fashionable AND warm as a result.
Happy Thursday! Shop the look below.
Cheers!-Rebecca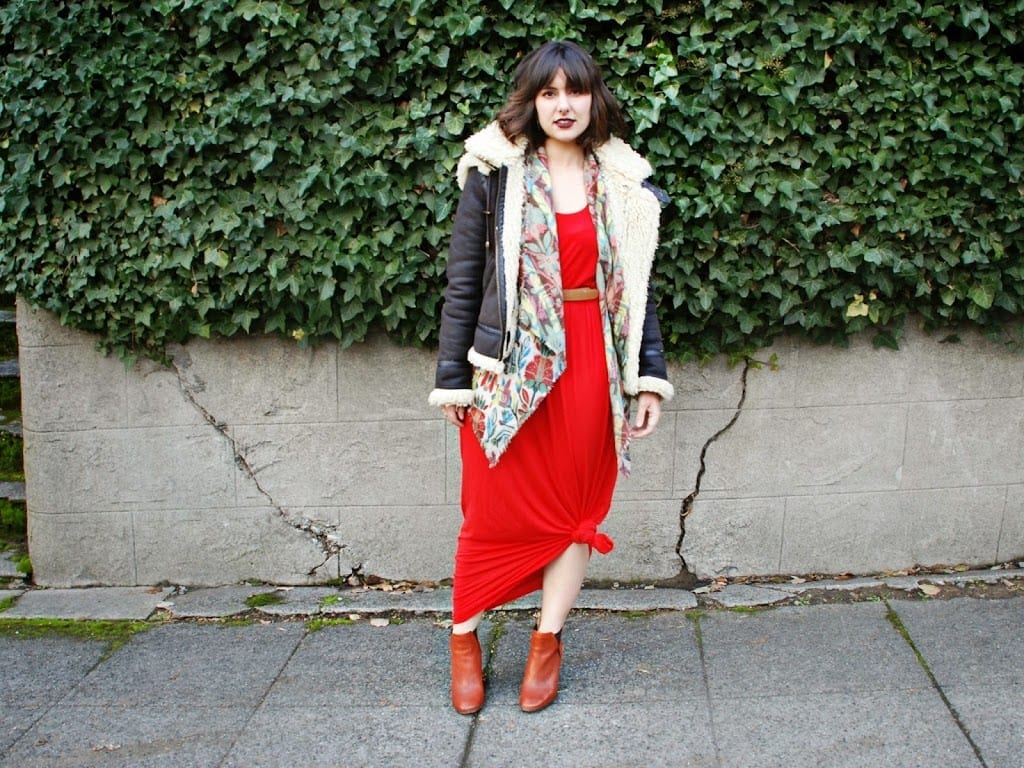 Red Maxi Dress Tobi, Draped Jacket similar here, Topshop Aviator Jacket similar here, Chelsea boot Zara similar here
Shop items inspired by today's look below.