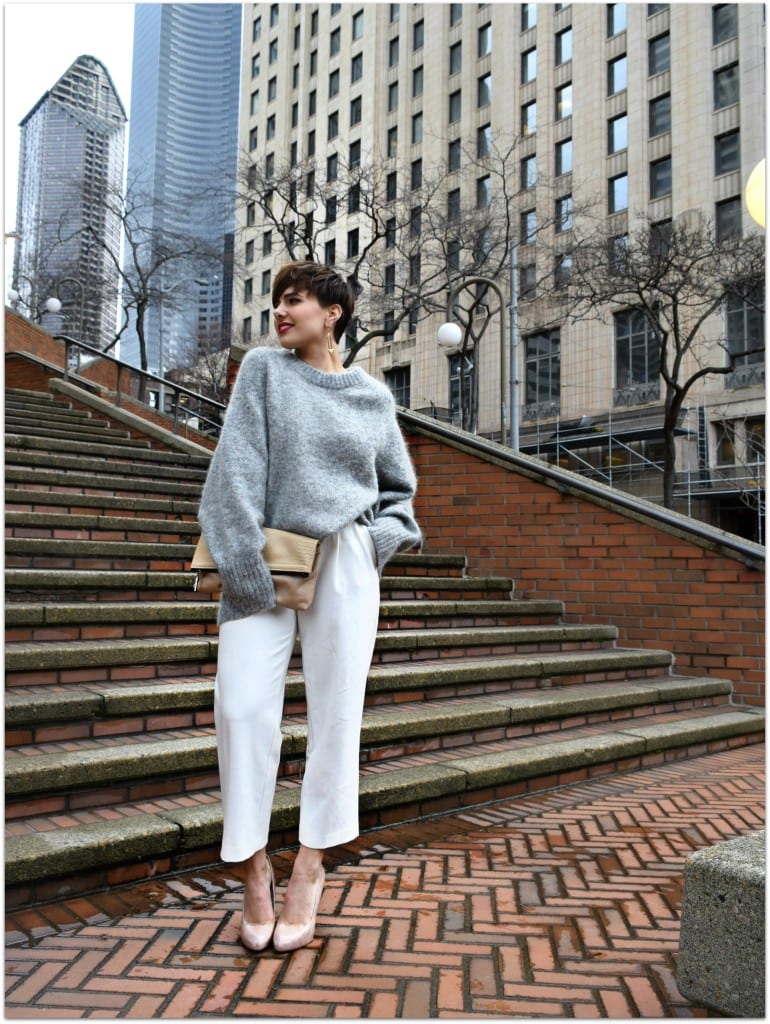 Pinterest has become such a huge part of our lives whether as a repository for recipes, a place to curate looks we love from the most recent fashion week or a place to share our own style with the world at large, all through pictures. So what makes a look or an outfit Pinterest worthy? What is it that instantly makes you want to click 'repin' and save that image to your own personal style library? I certainly don't have the secret but I have noticed several consistent trends and today I'm going to share with you what those trends are and how you too can create a Pinterest ready look.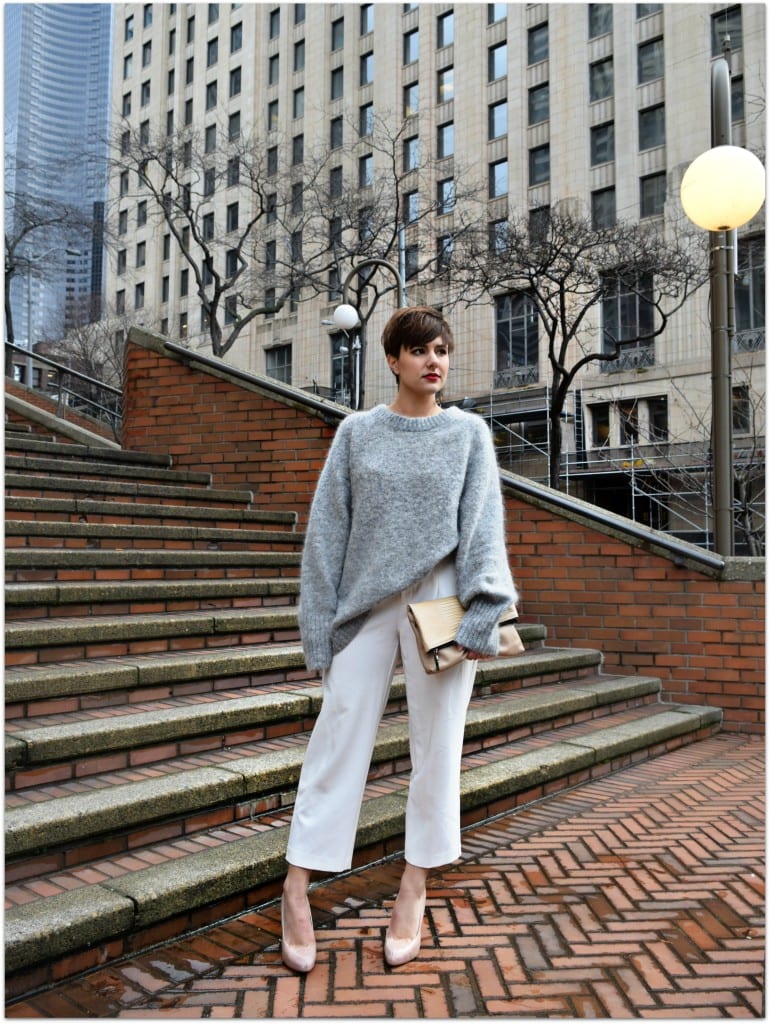 There are four main things that stand out to me in outfits on Pinterest: Texture, Layering, Proportion and Simplicity. When we look at these elements we find that they aren't all that special, these are all things we consider every day when getting dressed. Some of these can be mutually exclusive: you aren't going to get opulent fur and proportion play combined with simplicity any time soon, but have two or three of these and you are on track for something worth Pinning.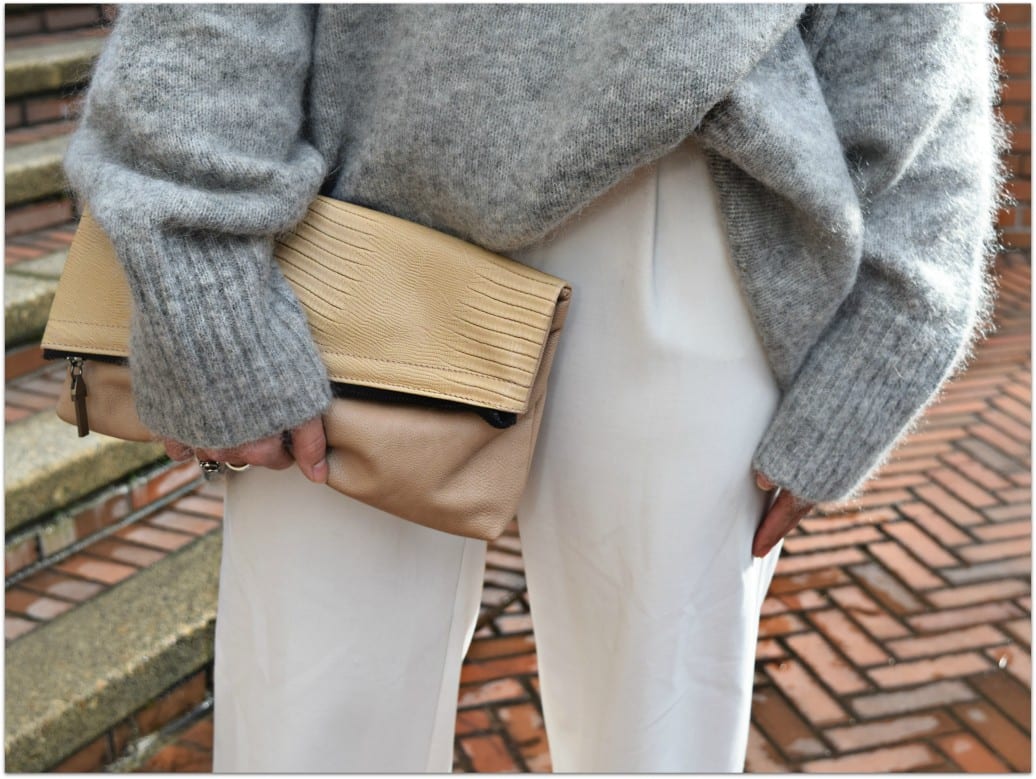 Let's start with Texture. Texture is one of my favorite ways to take something ordinary and make it special. An example would be a classic pencil skirt in a crocodile fabric or a chic coat in an amazing woven print. Texture becomes even more impactful when you combine it with another contrasting element such as an oversized knit with leather or shearling with silk. In today's look the texture comes in the mohair sweater, the crocodile textured shoes and bag and all three of those contrast with the tightly woven white pants with bold pleating. Texture doesn't always have to be loud and in your face but it does always make a look more interesting.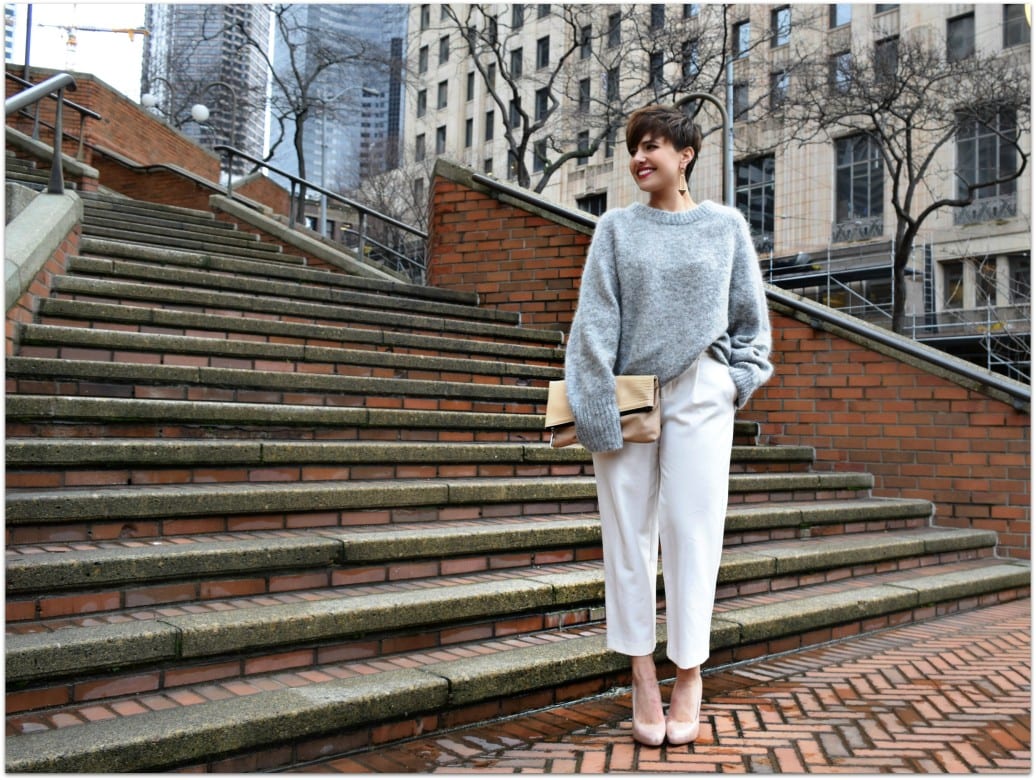 An element that is not at play in today's look (but generally is in every other outfit I wear) is layering. I usually take a less traditional view on layering and layer things like oversized jackets over coats or dressed under sweaters but even a simple shirt under another shirt with a hint of color peeking out can add drama to an outfit. On Pinterest you see layering dominate the close up detail shots of different looks because there is so much interest there.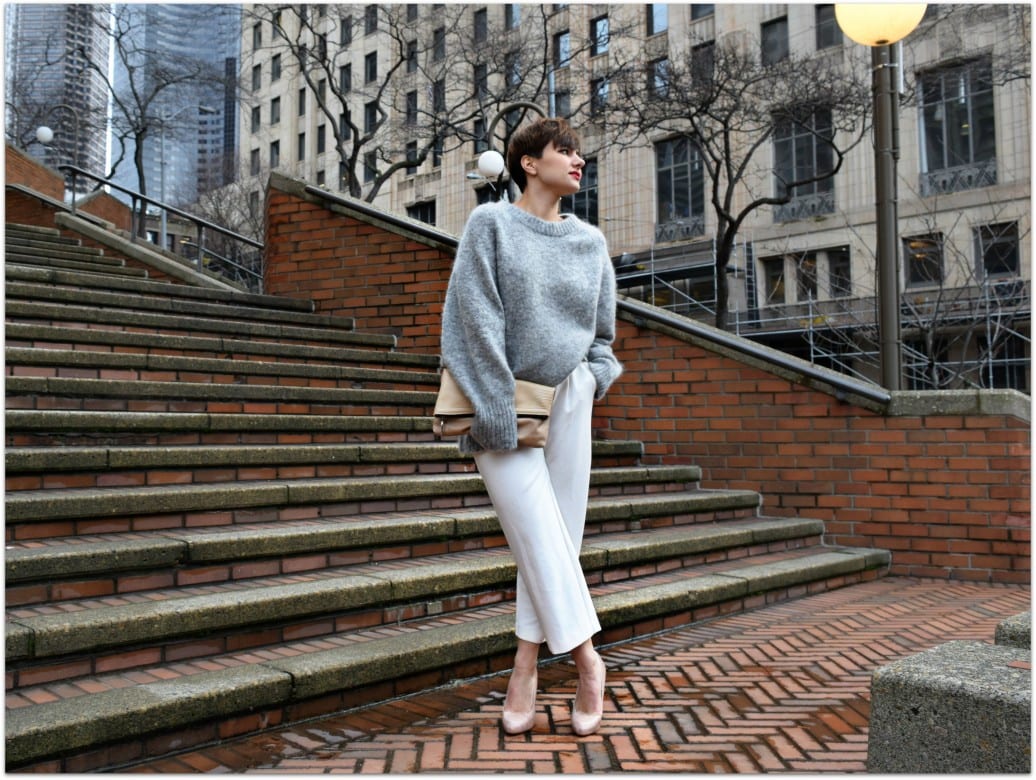 Similar to layering proportions help shape your silhouette and when done correctly they can take a normal look and make it extraordinary. A normal shirt and trousers when worn in oversized proportions takes an office ready look and makes it a masculine tribute to Annie Hall that stops traffic. One of the easiest ways to play with proportion is through an oversized sweater or coat. Any statement outerwear whether cropped or cacoon will transform your look. In today's outfit I opted for an oversized sweater which tucked into a pair of skinny pleated trousers adds different proportions and makes the look more fun than it would have been otherwise.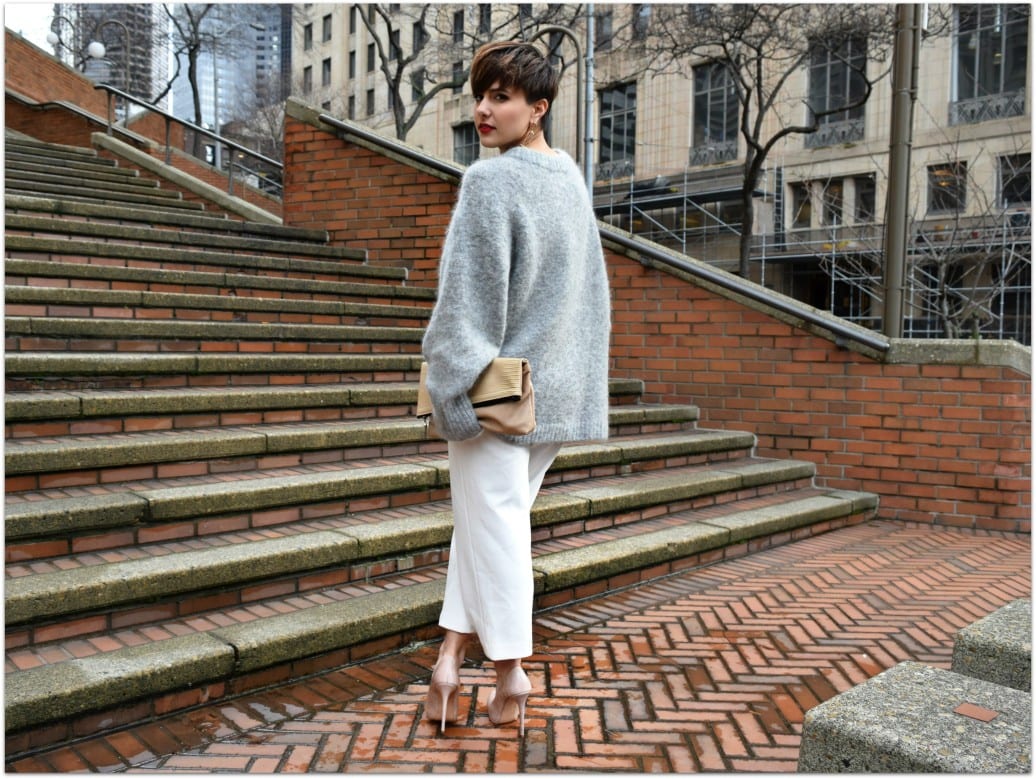 Lastly, and probably least utilized by me on a regular basis, would be simplicity. There is something universally appealing about clean lines and a simple color palette that is almost universally appealing. Simple doesn't need to mean boring, think of monochromatic looks or a gorgeous shirt with a simple pair of trousers. When you have truly beautiful garments adding additional pieces can sometime detract from your overall look rather than add to it. Think of how many easy dress photos or uncluttered monochromatic looks you have seen on Pinterest and you will understand what I mean. In today's look I employed a restrained color palette and chose to only wear a few articles of clothing rather than layer so that you could see the detail of the trouser pleats and the stunning shape of the oversized sweater. Sometimes less is more and a simple outfit can often make even more of a statement than a complicated one.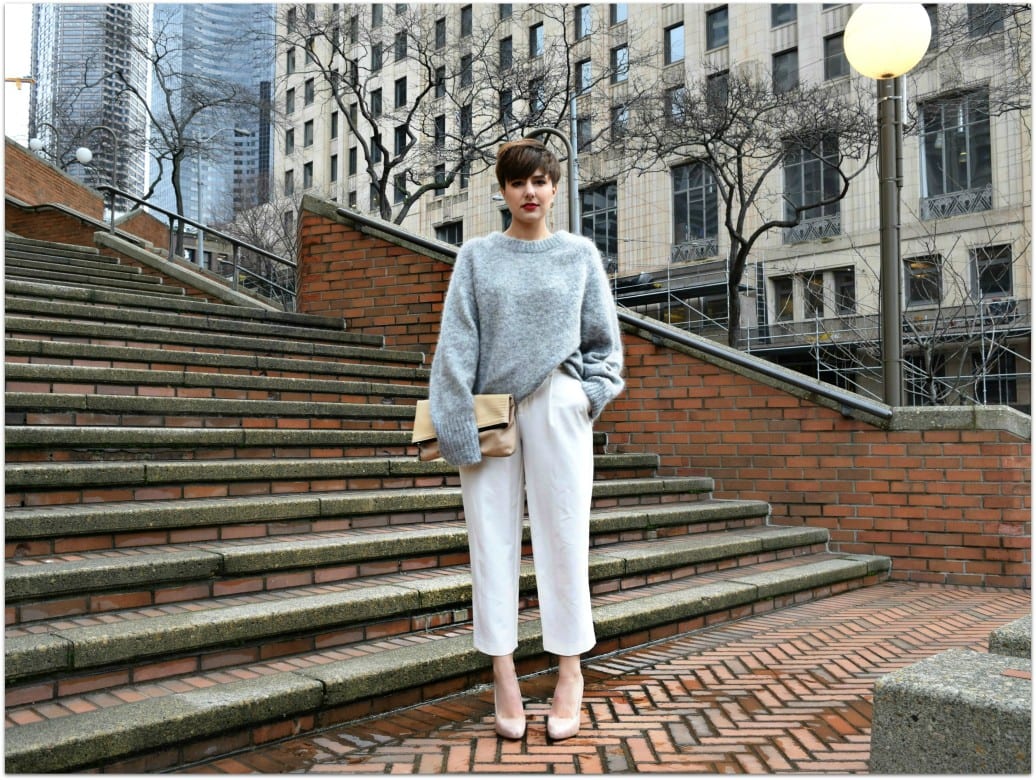 Now you are ready to be Pinterest worthy yourself! Which of the four elements do you utilize most frequently? Let me know in the comments section below and thanks for reading!
Cheers!-Rebecca