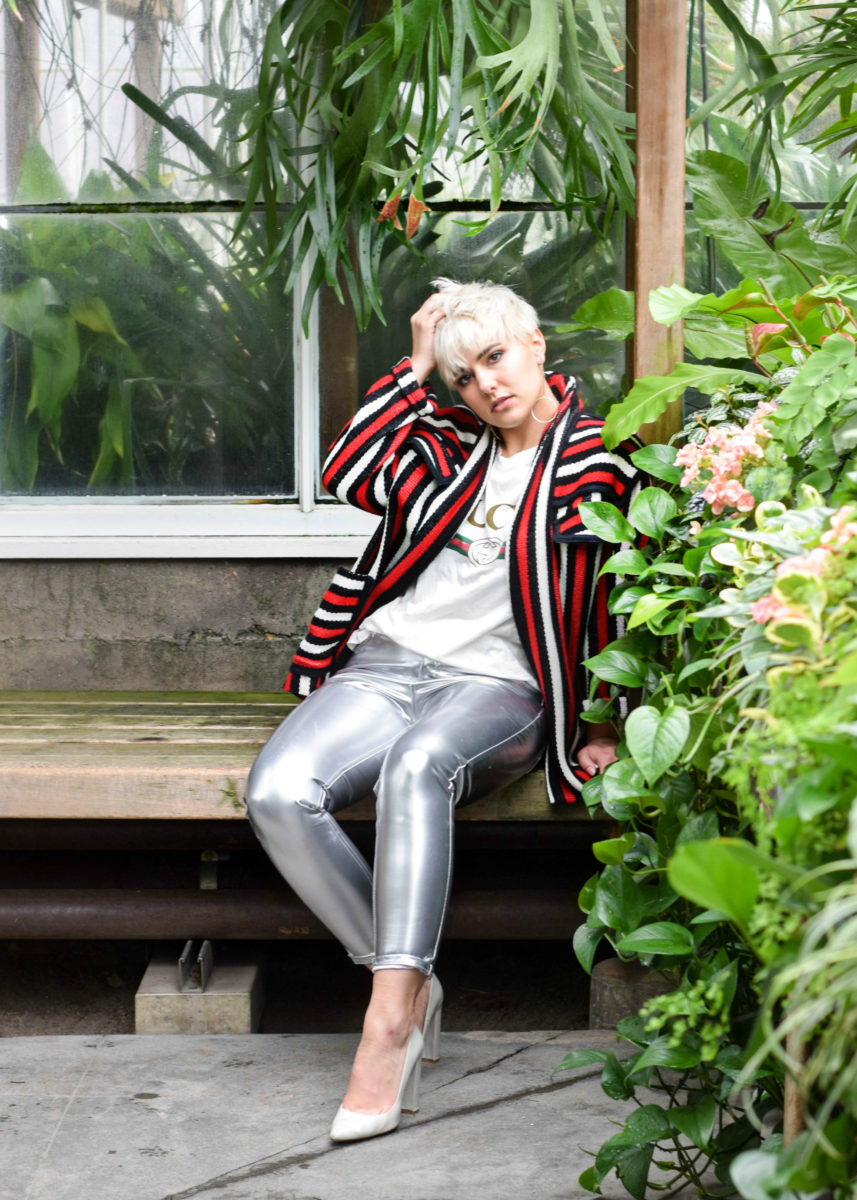 Jacket Isabel Marant | Topshop Vinyl Pants (and HERE) | Gucci T-Shirt
I have always been a proponent of taking risks when it comes to personal style and your wardrobe. Unless a trend just isn't my style there are very few things I won't try. I have been wanting to try an all over blonde hair style for as long as I can remember and after my wedding last year (wedding pictures with dark hair requirement met) I knew it was time. My hair style was accommodating: I cut it every 6 weeks so it would be hard to have it be over bleached and should I change my mind a full grow out would only be a few months away. My hair stylist did a phenomenal job and a few short 4 hours later, my head was completely transformed.
I am learning a lot of things with my newly shocking white mop of hair, some things that I knew before and some that I didn't. Black is now a best friend of mine: on a brunette black near your face is lackluster, on a blonde its a welcome contrast. Similarly colors like mustard yellow that so easily paired with my brown hair now seem lost and almost clashing with my new do. The biggest change I would have to say is finding the motivation to be embrace my sassy blonde alter-ego that I now seem to look like rather than feeling like a brunette who just used a ton of bleach. My first order of business as a blonde? Cleaning out all of the clothing that I haven't worn in ages and that no longer matches my style (say HELLO to my ever expanding Poshmark closet if you are interested.) Needless to say it was something I should have done a long time ago.
In other news, what takes about just as much chutzpah to wear as it does to die your forever-brunette hair blonde? Vinyl pants. Even I was a little intimidated here but after seeing this shiny pant all over the streets of fashion week I had to try it. I did my research first and read all of the stellar reviews on Topshop's website (seriously, all good except they might run a little short) which convinced me I had to try them. They are in fact true to size and oddly do have some extra fabric in the torso (especially for us pair shaped folks) but I am not necessarily mad about that. I prefer a bit of a slouch to my pants rather than having them skin tight so they were actually quite perfect.
Now I know you are thinking, 'these sound like a sweaty situation and so hard to get on' and in the dressing room they were pretty challenging. There is a trick through, rather than pulling them on like normal pants (put one leg in and try to pull up and they will be stuck) instead treat them like tights, gather the fabric and basically set it on your calves where you want it to hit etc. They are stretchy enough to be treated like a pair of tights and I promise they are a breeze to get on when treated this way.
The moral of the story: bold choices are scary, but they also can be incredibly rewarding and transformative. So say yes to the blond and an even bigger YES to the vinyl pants (trying to hunt down the red pair in my size!) and you won't regret it.
Thanks for reading – Rebecca