Every so often there is a trend in the fashion world that becomes SO popular that we actually start getting sick of it.  Last year's IT-item, the bomber jacket is a perfect example of this phenomenon. The bomber jacket grew to popularity overnight and it quickly morphed overnight to be in every store you could find. Patches on your bomber became the next hot thing, then printed bombers and finally oversized printed bombers (perhaps with some patches.) The craze was EVERYWHERE and if you are like me that meant that you ended up with 8 varying types of bomber jackets in your closet by the end of 2016.
Fast forward to 2017 and we are ready for the next big thing and as we clean out our closet for the new season, you guessed it, bombers are one of the first things we are SO OVER, however we need to remember that while some trends have no staying power a bomber jacket is a classic shape that will always have a place  in your wardrobe. Even when the trend first hits its peak I bet you already had a bomber jacket in your closet from the last time they rose to popularity. Also, designers are still incorporating bombers into their ready to wear looks and you still are seeing the jacket have a life in the high-fashion realm so clearly they continue to believe in this silhouette, and we should to. Rather than tossing your bomber jacket to the wind or letting it gather dust in your closet it's time to start getting inspired to find new ways to wear this great jacket style.
Here are 3 NEW ways to wear your bomber jacket while staying 100% on trend for 2017.
#1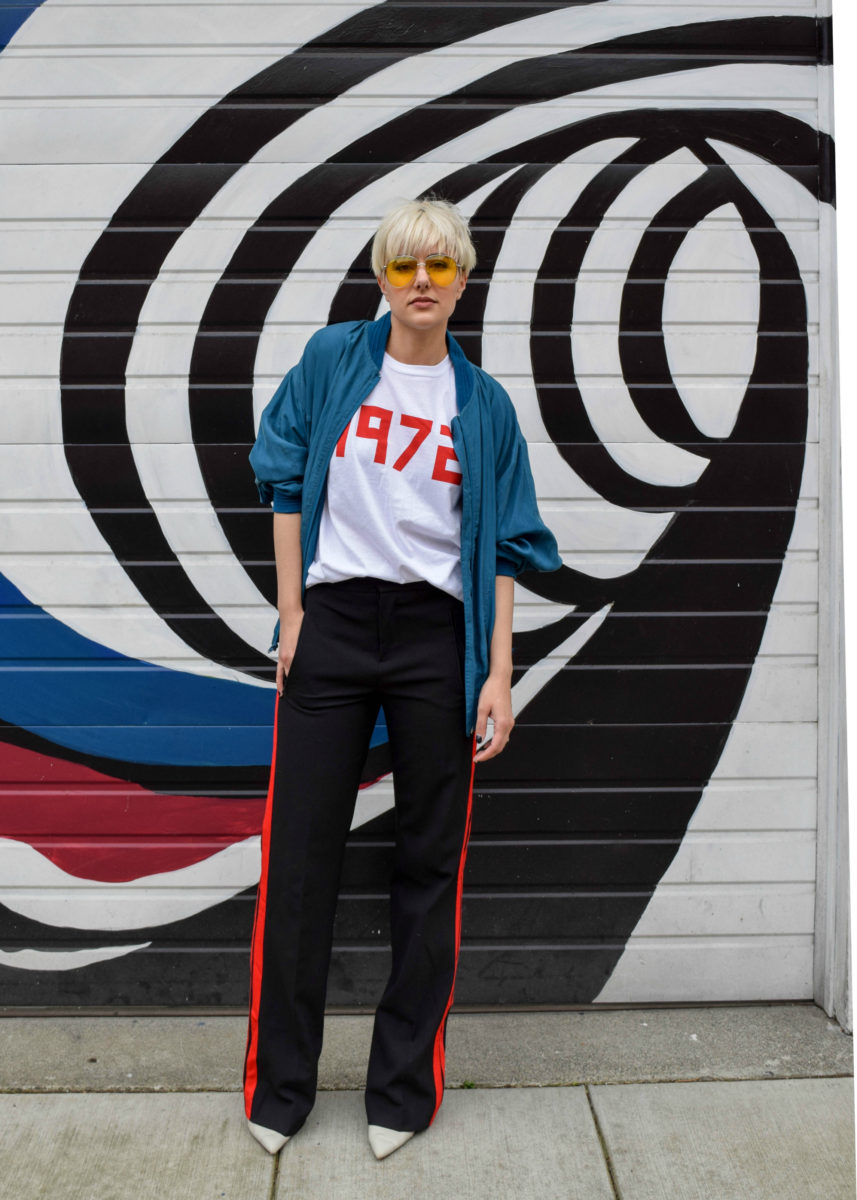 The Retro Look
One of my favorite bomber trends was the oversized vintage bomber that adds a masculine bend to a feminine dress or is the perfect foil to a pair of mom jeans.  Track pants and matching suiting are the latest and greatest thing this season and guess what, your oversized bomber also has a perfect 70's vibe for matching those track pants. Colors don't have to match perfectly here, like these striped track pants with a blue bomber, but  Satin or silk bombers are especially fitting for this trend. Mix and match your pieces and then add a great graphic tee to show you don't take yourself too seriously and you have a retro look that is entirely 2017 ready.

#2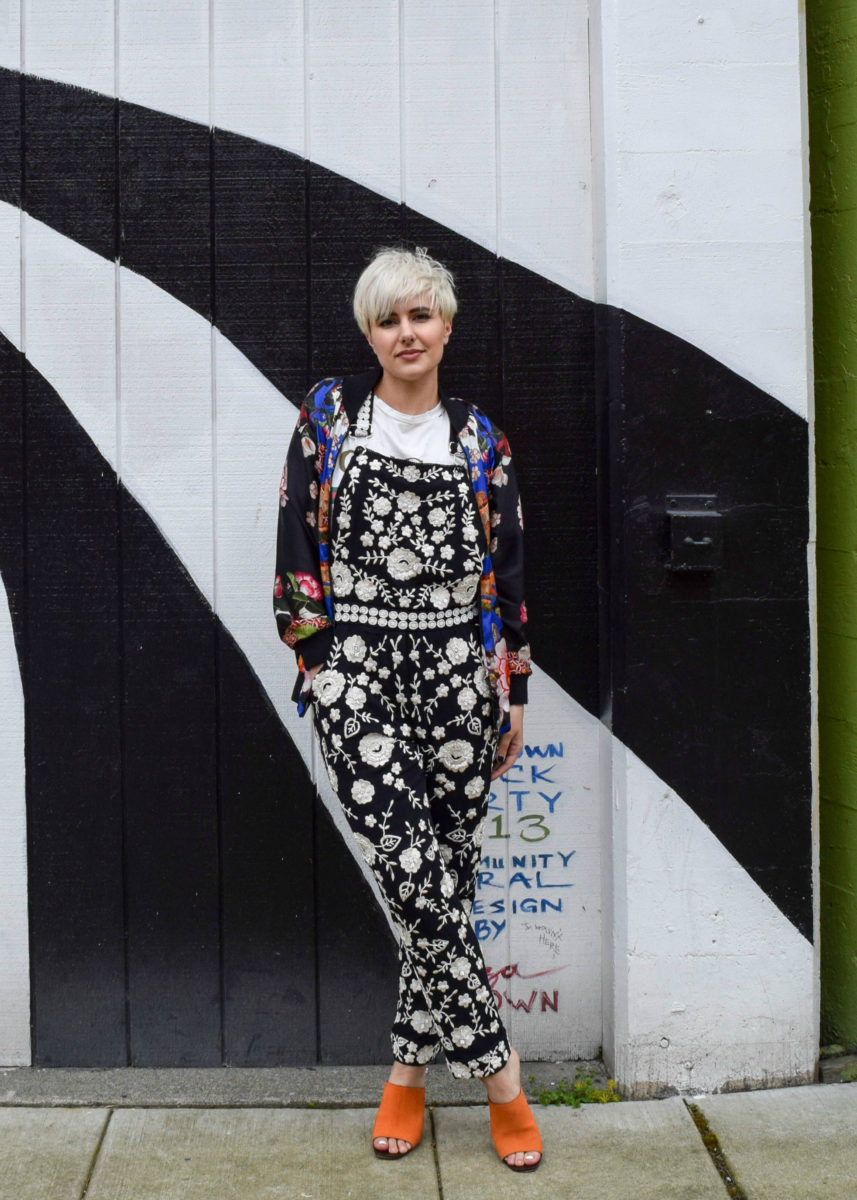 Print Mixing & Overalls
Bombers and overalls are truly a match made in heaven, their silhouettes compliment each other  and they are both comfortable and easy to wear. One of the bomber trends still going strong is the printed bomber. In fact today's bomber is actually about 5 years old back when bomber's last had a moment. To mix up your bomber wearing a pair of overalls are a great option but if you can mix complimentary prints at the same time that is even better. The embroidered blooms in these Needle & Thread overalls compliment the flowers in the silk bomber and together they create a powerhouse of a look. Sometimes 2 statement making pieces are really better than one so don't be afraid to combine them.

#3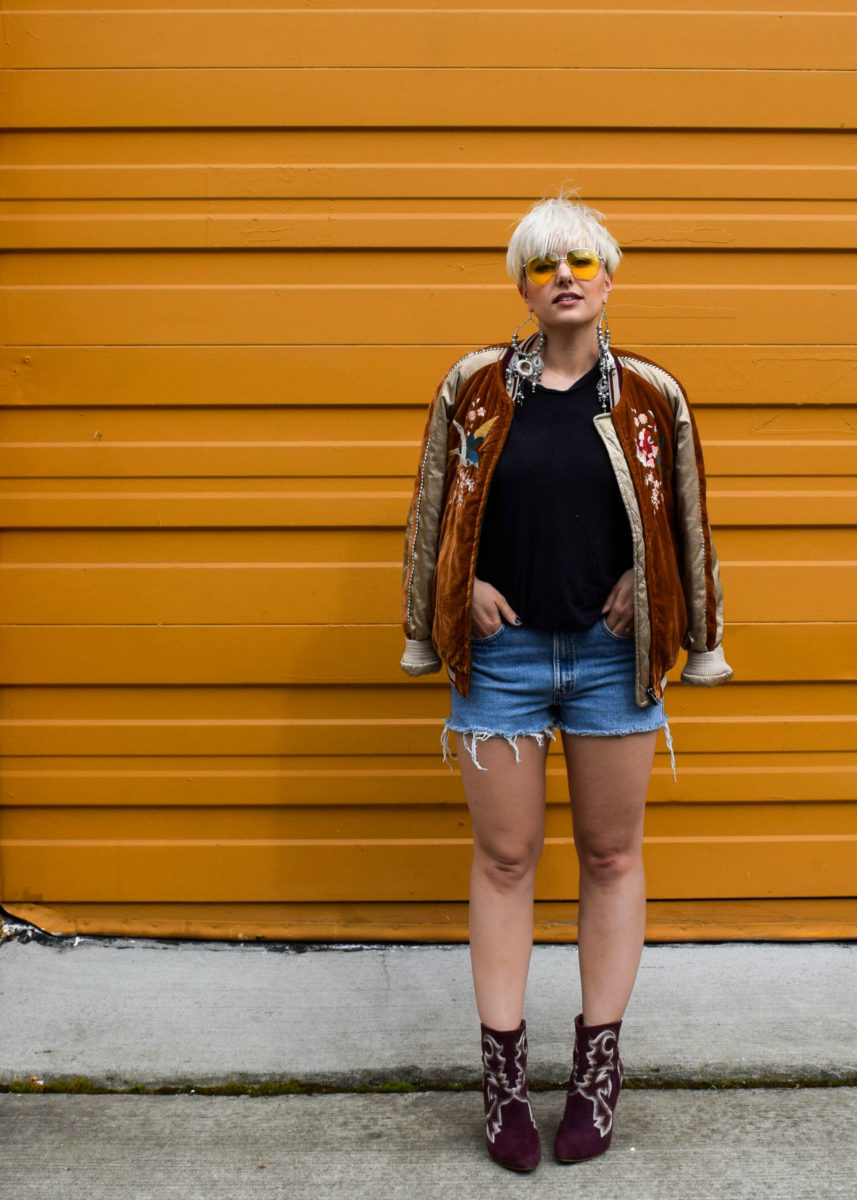 Festival Ready
Festival season is in full swing and while the boho vibes that we see each season are ever-changing, luxe embroidered jackets will always be an easy fit. Your bomber jackets that sport gorgeous embroidery and luscious fabrications are really pieces of art not just trend items. Similarly the Free People easy vibe they provide is sure to stick around for years to come so don't let this jacket go anywhere. Did we mention that velvet is also going to continue to be a hot trend for 2017? A band tee or distressed t-shirt is the perfect subtle under layer for this knockout of a jacket. Ripped jeans and tinted aviators are a must to complete this look and perhaps a pair of western boots are just what you need to make this look 100% festival ready.

Which was your favorite new style for wearing the bomber jacket? Let me know in the comments below and thanks for reading!
Cheers-Rebecca
Need a new bomber jacket? Shop some of my favorites: