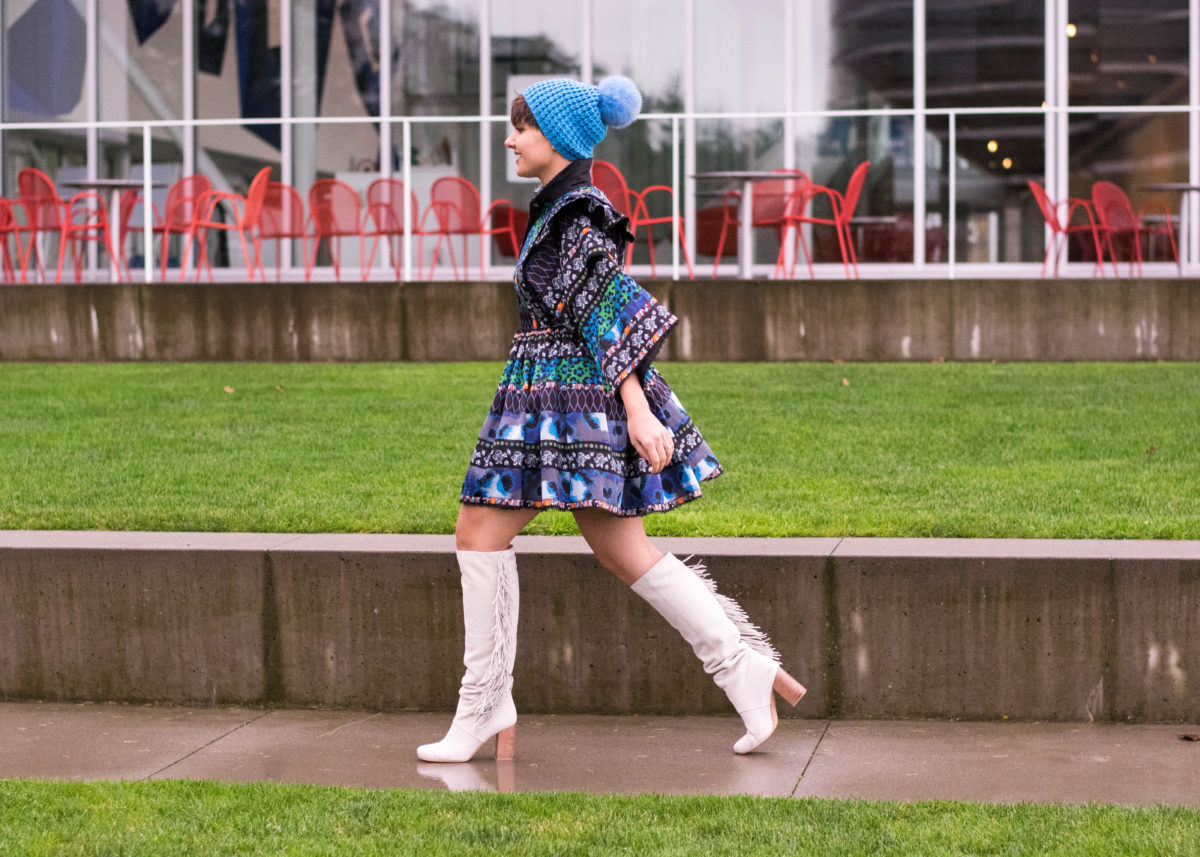 PRINT ON PRINT ON PRINT on PRINT!!! Oh how I love the magic that is the myriad of ways Kenzo was able combine and clash prints for the most recent H&M collaboration that launched at the beginning of November. A little back story on Kenzo, they are a French fashion house with a japanese founder now headed up by the duo of Opening Ceremony infamy: Humberto Leon and Carol Lim. The beginnings of the label tell you exactly what to expect, a japanese jungle infused sensibility tailored in a high fashion, European sillouhette and the result has been a label with a cult following that appeals to both the east and west customer who doesn't just want to stand out but who also wants to make a statement.
With so many of their collaborations H&M has produced high quality product that still feels like it could have walked down that season's runway and with the Kenzo collaboration the quality and level of design was no different. Whereas other designers may have literally duplicated runway pieces Leon & Lim instead created an entire world for their collection that was specifically for H&M, it wasn't just a runway knockoff. Their choice of diverse models, gender non-specific clothing (the jumpsuit, I bought a man's tee shirt as well) show how relevant the label is and how they wanted to make their product accessible to all. The prices for select pieces were a bit more spendy, per usual, however the bulk of their collection was under the $200 range which made it dangerously affordable for fashionistas like myself.
So what did H&M itself do differently this time? Most of my friends don't even bother trying to buy collaborations anymore since they sell you have to spend an hour on a waitlist on your phone just to snag one or two items as they continue to sell out in your shopping cart. Sure they would love the product, but the hastle is just not worth it. This year H&M imposed a limit on how many of each item you could buy: 1, thus making it MUCH more difficult for the professional Ebay resellers to load up on all of the product only to sell it for 3 times the price later on. Bravo H&M, it may not be 100% effective deterrent but it's a start. Secondly they clearly chose to purchase a ton more units in many of the styles making it so you didn't have to be an early riser to go and buy something from the collaboration. In fact you can still find a lot of great pieces on their site now 3 weeks after the launch (Check it out HERE! How great is that? While the 100% sell out rates may have been a strong argument for keeping units low and demand high, I know every fashionista out there is thrilled that they can still grab a leopard/floral neon item to wear to their family's Thanksgiving dinner. Again, bravo H&M.
Lastly, let's talk about this incredible, loud, party of a dress. The Japanese influence in this particular item is undeniable, from the layered tiered sleeve to the kimono shape on top. The pattern is anything BUT traditional, a clash of most of the prints used in the collection all artfully fused into one. The collar brings a modernity to the silhouette as does the short skirt taking away from what could have been a 'too costumey' shape and instead making it more wearable. So often brands in their collaborations try to appeal to the masses but in this dress and the so many of the items in the Kenzo collection the target audience was people like myself: Loud dressers, unapologetic in our style choices and most importantly people who love fashion and believe it should be a joyful emotive expression of your individuality. The collection to some may have been 'way too out there' in some ways but I love that Kenzo stayed true to their roots and made a collection for all of us jungle loving fashionistas out there. Believe me when I say we understood it, we loved it and most importantly we added so many of these beautiful pieces to our permanent collection so thank you KenzoXH&M for your best collaboration to date. -Rebecca
CREDITS:
Photography : Katie Miyagi
Styling: Rebecca Cornelius