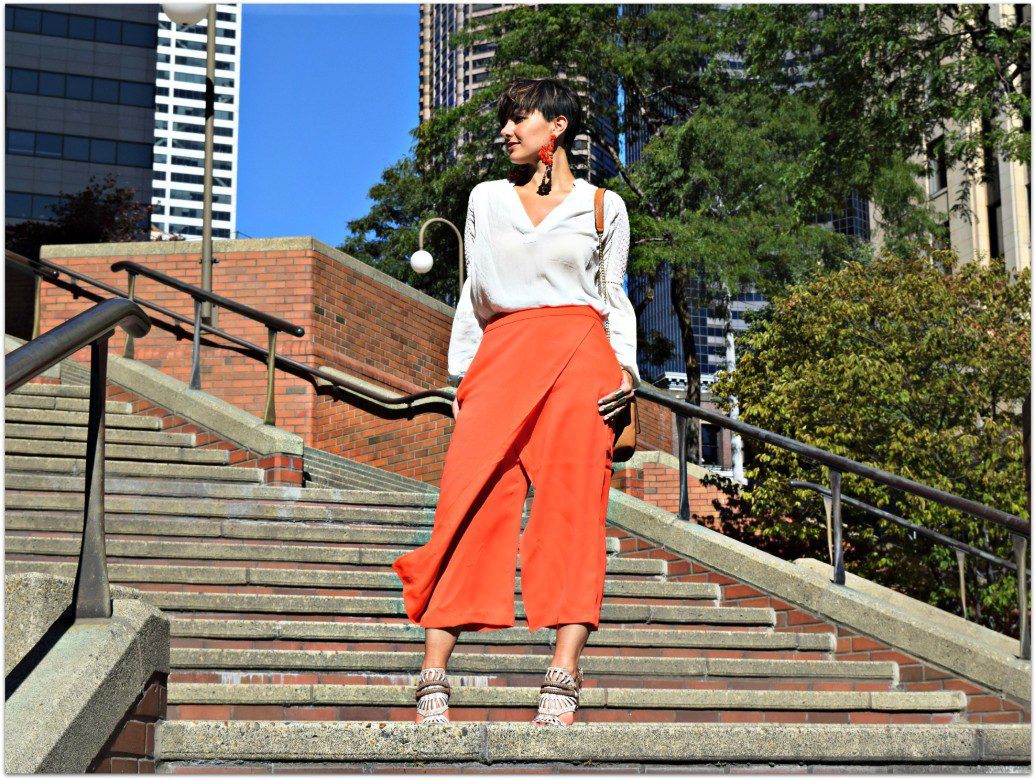 – Pants C/MEO the Label HERE
– H&M Blouse HERE
– Ivy Kirzhner Heels (in black) HERE
– Earrings Forever 21 (old)
Culottes: Quite possibly the biggest breakout trend of the past year, culottes have gone mainstream and the once fashion forward pant is now a seasonal staple. A hallmark of the 'minimal' look, the cropped wide leg trousers come in a variety of widths and fabrications and you can get them basically anywhere. That is why when I want a standout pair that still turn heads and have a bit more of a Moroccan feel I look to the Aussies who are keeping culottes relevant with gorgeous new silhouettes and colors.
You have all heard me rant and rave about the Australian Fashion labels before and they are still gaining in popularity invading the US one retailer at a time. Today's pants are from the recently rebranded C/MEO the Label, one of the more sophisticated lines from the house. What I absolutely love about their pieces is that even though these trousers lend themselves to a more tailored look they can also pair with a bohemian blouse to give you an almost Moroccan feel to the look. From the coloring to the draping these culottes demonstrate they are not only beautiful but they also can fit many different trend categories. The extra draping not only adds interest to the front of the pants and your outfit in general but catch a gust of wind and let the drama begin! These culottes are a great item to have in your wardrobe because they are a statement piece and can really make the outfit rather than simply supporting it. As always I believe bold is oh so much more fun, so choose the loud color, the gorgeous draping, the oversized earrings and let the fun begin.
Thank you so much for reading, Cheers! -Rebecca