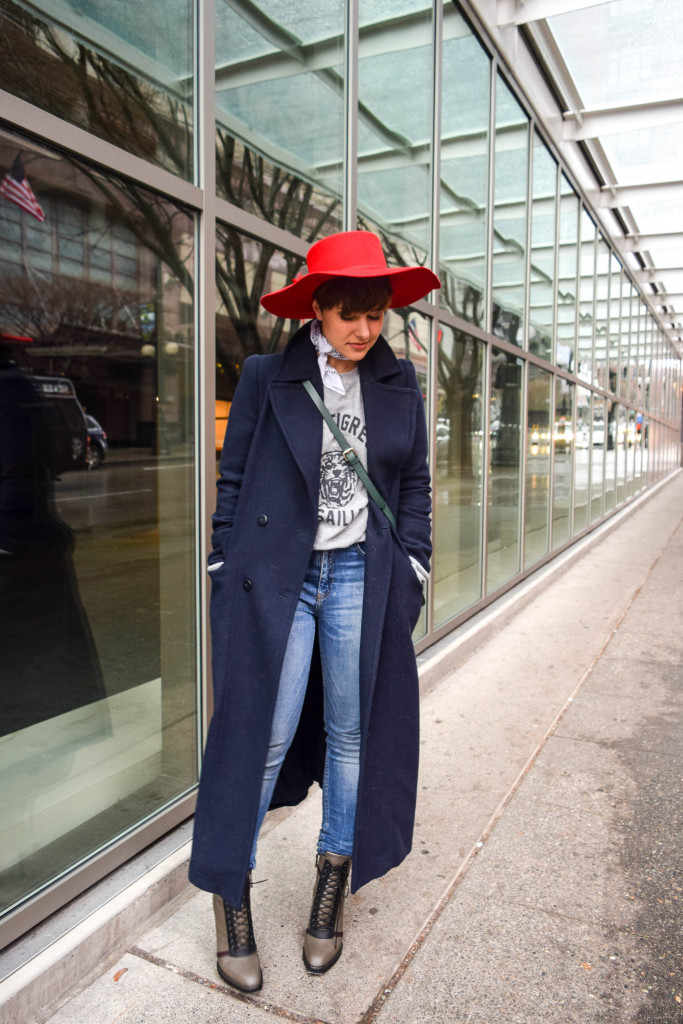 Hats are absolutely everywhere these days from Beyonce music videos to the streets outside fashion week. The 'Western' style seems to be the prevailing hat style of the moment making them a perfect for Coachella but slightly more difficult for everyday wear. It is tempting to embrace the western style 'whole-hog:' pairing it with fringe and suede  then voila you are ready for a rodeo . However, as fun as that can be (see Wednesday's upcoming post) that isn't necessary in order to wear a western hat. Today we will look at how to style a western hat with everyday casual wear.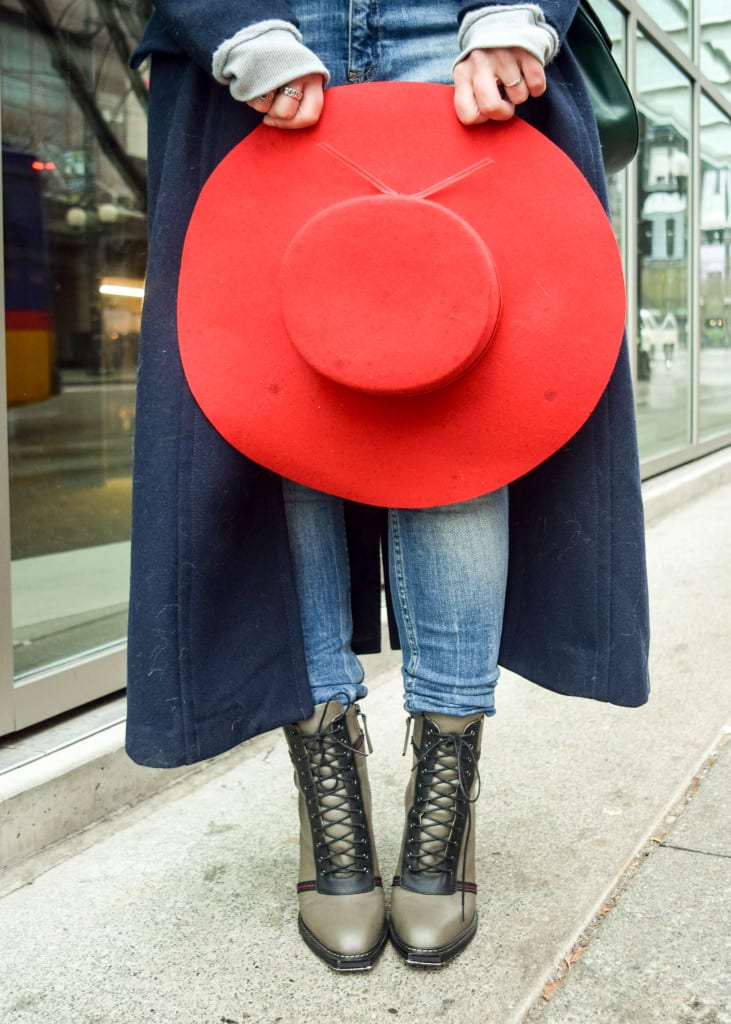 The first trick to incorporating something with such a clear point of view like the western hat is to not ignore the style completely yest also making sure to not let it take over your outfit. For this particular look I tied in western trend with a small neck bandana another western trend popping up all over the place. A military boot with red detailing also helped to tie in the bold color of this particular Brixton beauty ensuring the look made sense from head to toe. Modern elements like this Topshop Sweatshirt and a pair of skinny jeans anchor the look with their laid back current style while a floor length duster and a great bag keep the look on trend for the season. The only true western elements are the hat and the scarf yet together with the rest of the modern look they tie everything together. Without those two pieces you would have a dressed up casual look but the fun part is when you add that extra something to the mix and get a much more interesting outfit combination.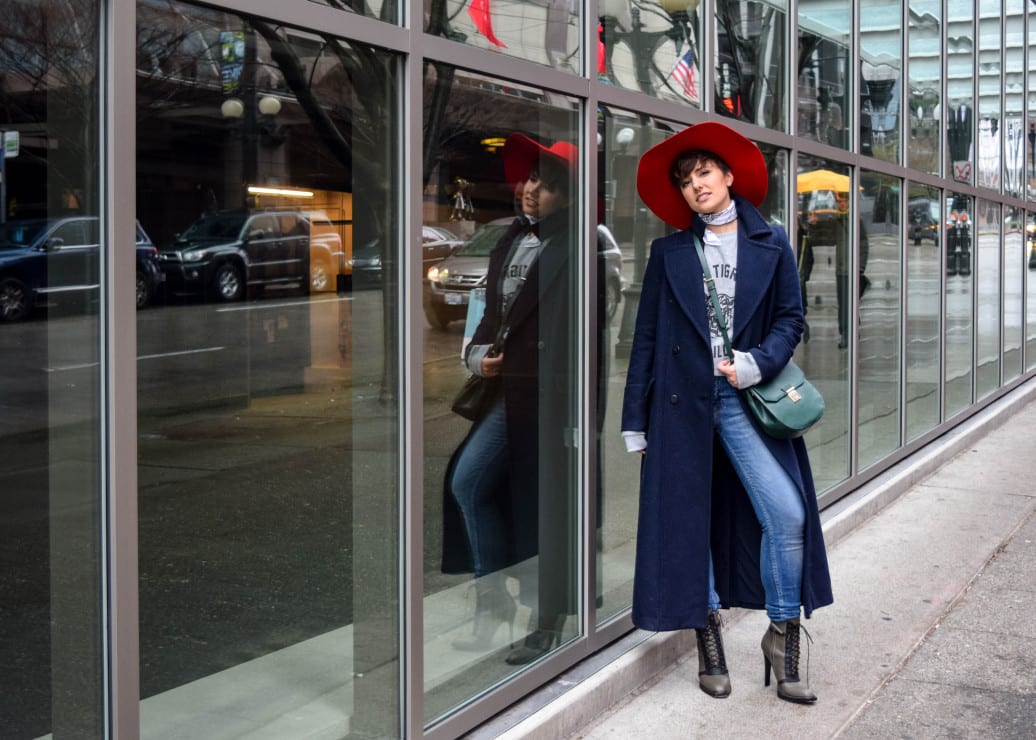 A bold hat such as this one can really transform an outfit and make it feel extra special so don't be afraid to make your hat the focus of your outfit. I always try to ensure a few things when I am settling on a hat: the has to suit me, the shape isn't' too over or underwhelming and it fits nicely. I love red so the first was an easy one check off the list with this Brixton hat but it is important that whatever color you are choosing compliments your skin tone since it will be directly next to your face. Second, I find smaller hats to actually be more difficult with my short hair but there is also a limit to how broad a hat can be before I feel like I get lost in it. This circular style is definitely the widest hat I own but when slightly tipped back on my head it doesn't feel that overwhelming at all.   Lastly, I happen to know my size in Brixton hats (a small) however most brands are sized very differently and ensuring a good fit is always important so that you don't have to continually fuss with it while you are wearing it. The bottom line is to make sure the hat suits YOU, not that it looks great on your friend or on a model but that it compliments and fits who you are since it will be you wants to feel amazing while wearing it.
Thanks for reading and happy hat wearing! Stay tuned for Wednesday's post where we explore embracing the western style while wearing your western hat. Cheers! -Rebecca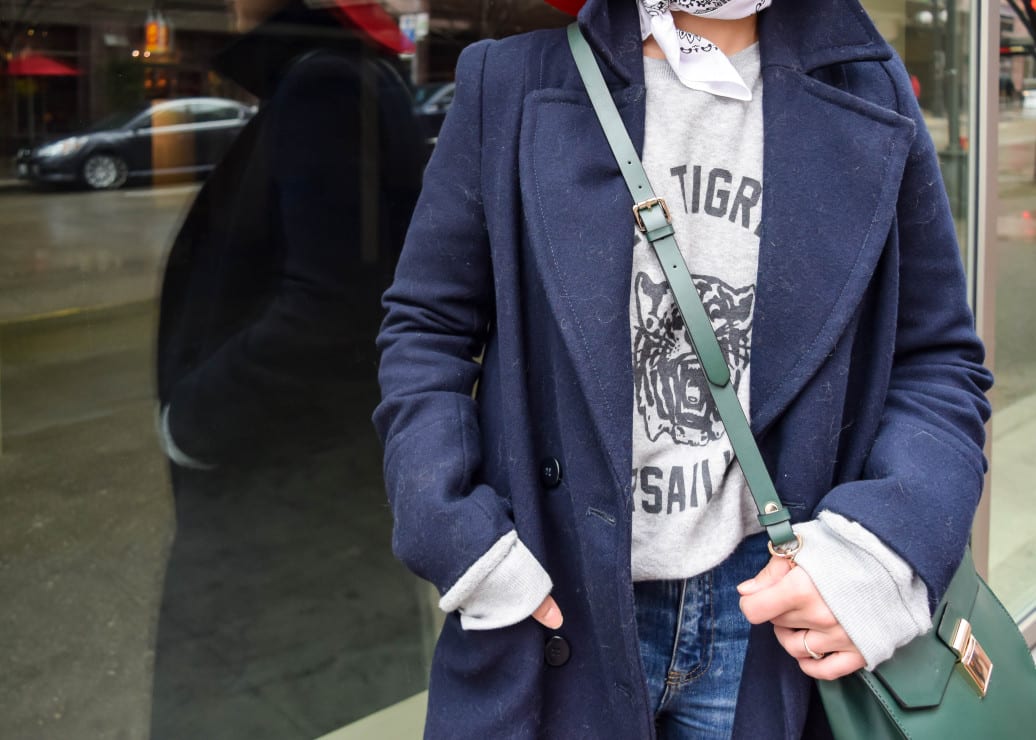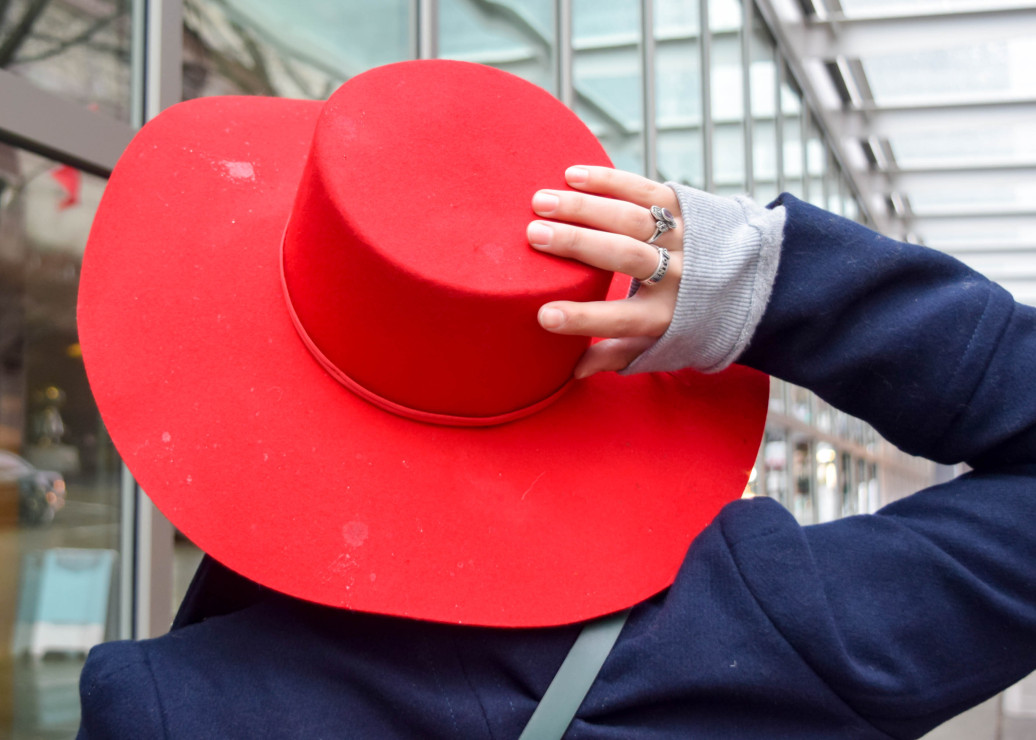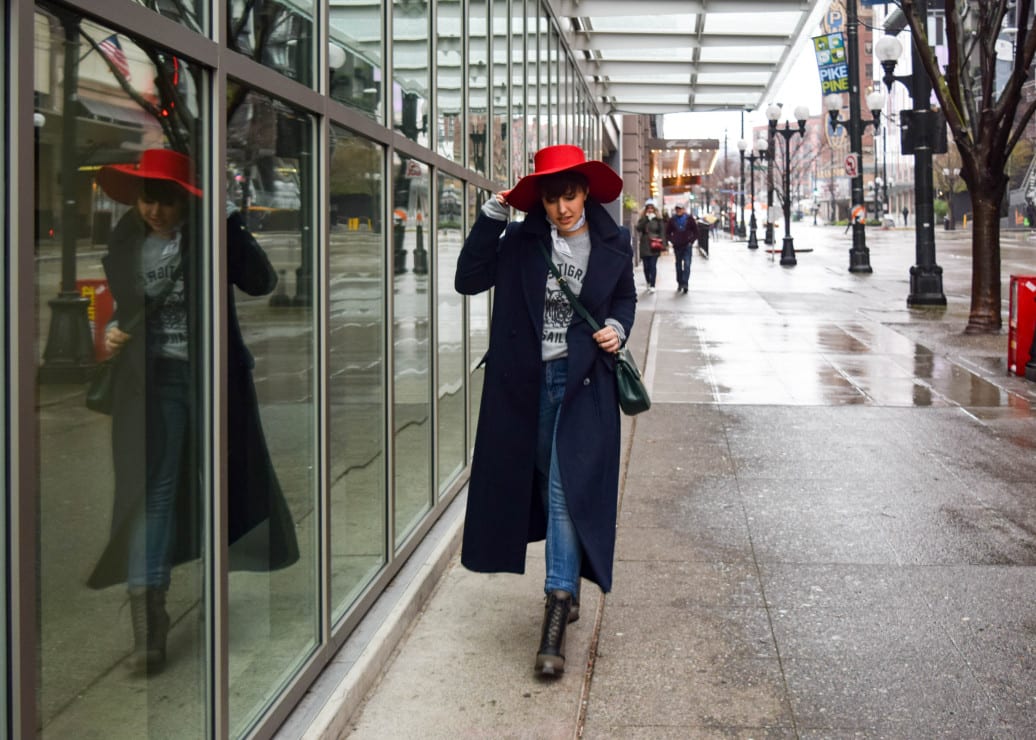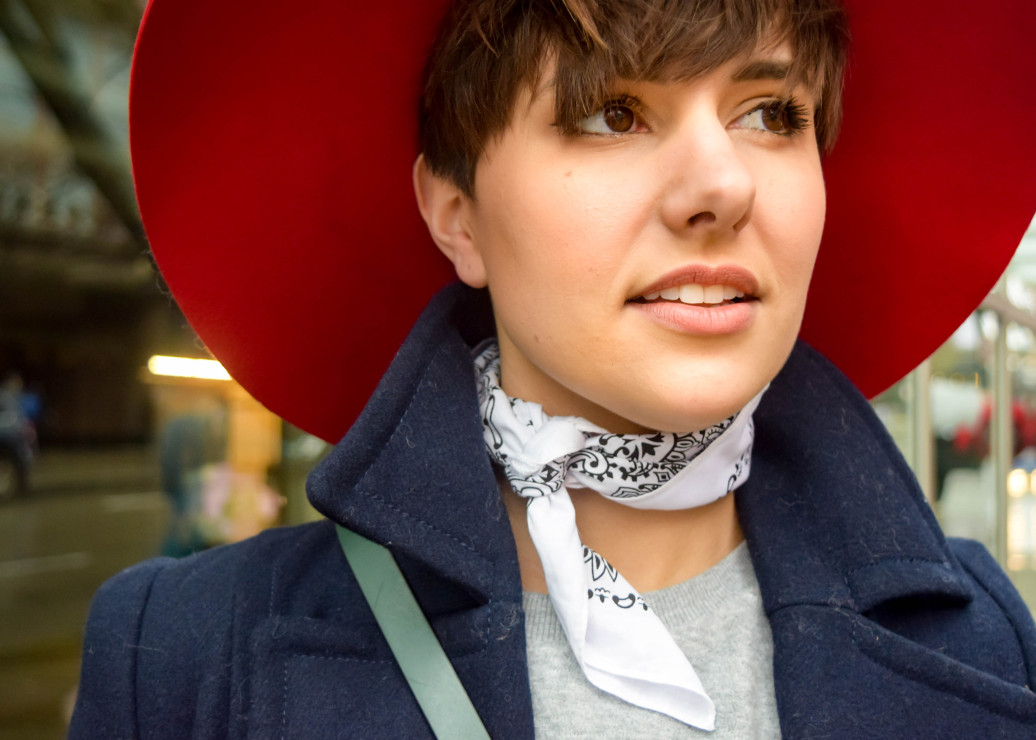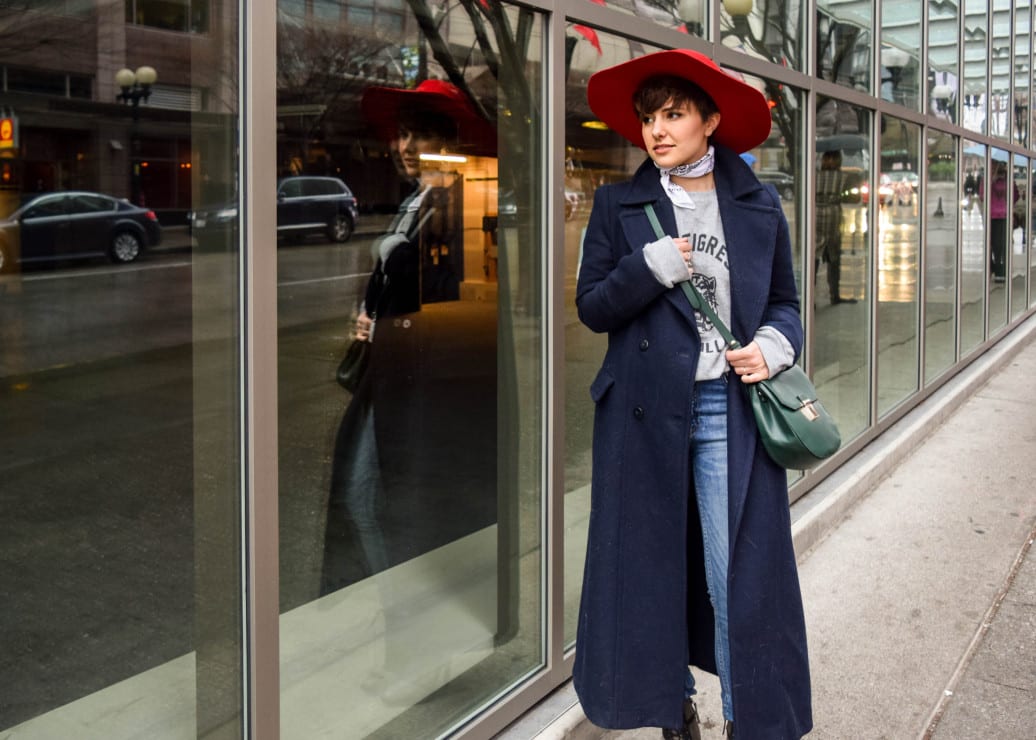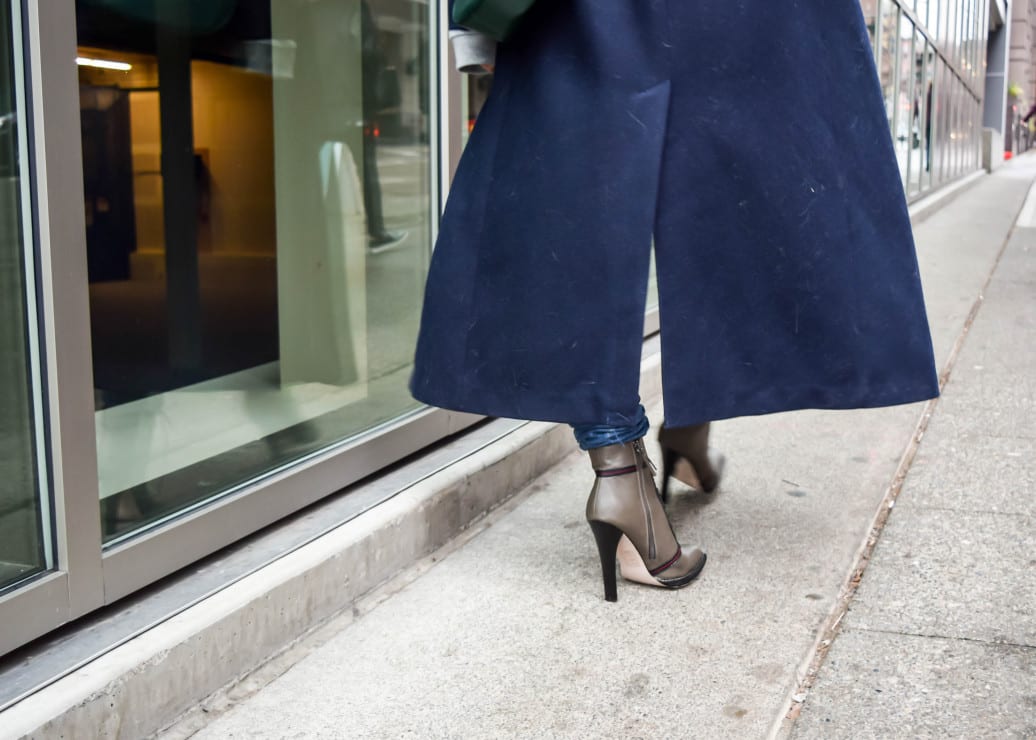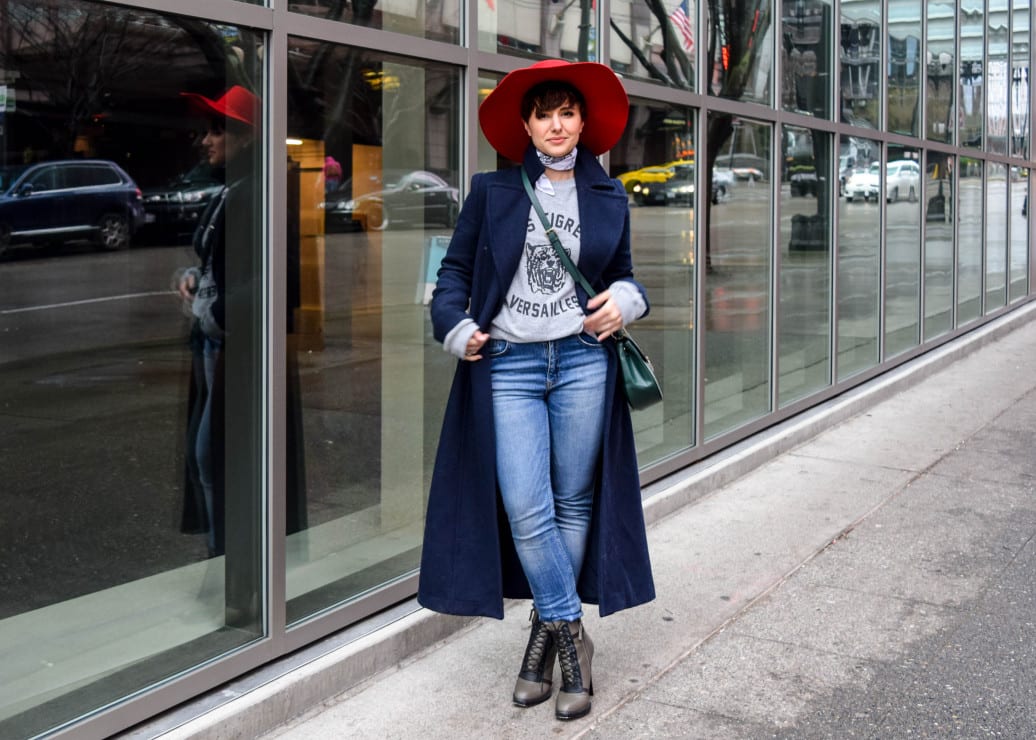 -Brixton 'Ally Hat (exact) HERE similar (smaller brim) HERE
-Topshop Les Tigres Sweatshirt HERE
-Navy Zara Duster (last season)
-Topshop Skinny Jeans HERE
-Bandana Scarf HERE
-Crossbody Satchel similar HERE
-Lace-up Ankle Boots similar HERE