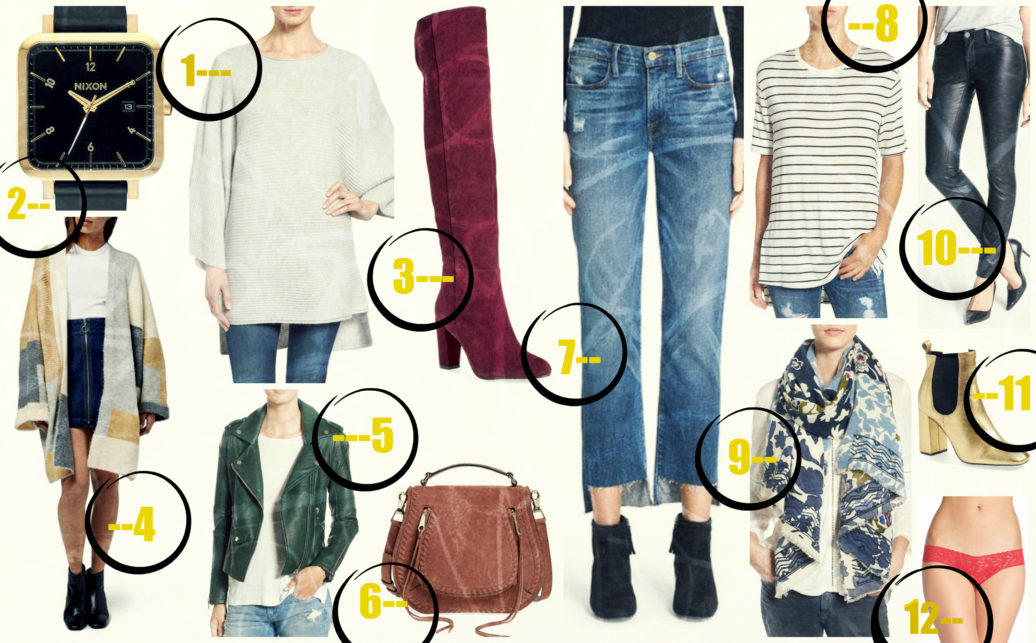 HAPPY ANNIVERSARY! In Seattle the Nordstrom Anniversary sale is a statewide annual holiday and as a native Seattleite I have religiously shopped the sale for as long as I can remember. The pre-select portion of the sale is in full swing for Nordstrom card holders but the public sale is just around the corner (it starts this Friday!!!) so rather than making you dig through the site for all of the hidden treasures the second the sale starts I did it for you. Here are my 12 FAVORITE items from the sale, from basics to standout pieces. Remember this is new fall product on sale ahead of the season so get your mind set on falling leaves and cozy coffees and let's go shopping!
1. HINGE Cashmere Poncho–  Let's start with the most comfortable amazing oversized poncho ever: You know all of those amazing instagrams with model-esque women in skinny jeans and a beautiful oversized grey sweater, THIS is that grey sweater. Not only will not only make you look like a million dollars all winter long it also is amazing cashmere at such a great price, say hello to luxury with this one.
2. NIXON 'Ragnar' Watch– The Anniversary sale is one of my favorite places to buy a new watch every year and this menswear inspired square face is absolutely gorgeous and sure to class up any look. Also in camel for a more subdued affect.
3. HALOGEN 'Noble' Over the Knee Boot– Do you all remember our favorite celebrities last year pairing their OTK boots with everything from slip dresses to skinny jeans? This trend isn't going anywhere and this show-stopping red will be an amazing addition to your closet. I also love the soft grey as it has that extra luxe look and I can't wait to pair them back with all of my midi dresses I have accumulated this summer.
4. TOPSHOP Patchwork Cardigan– You may have already seen this on ten bloggers already but that's because this cardigan is just SO stinking cute! Wear it with a basic tee and cutoffs for summer as that extra bit of warmth or with your Over the Knee Noble boots for fall, this cardigan is going to be a surefire favorite in your closet.
5. BLANK NYC 'Easy Rider' Moto Jacket– We all know how much I LOVE faux leather jackets (it's kind of a problem) so I really love finding a substantial jacket in an unusual color like this Blank NYC jacket in the beautiful hunter green. This deep green is not something you come across every day so it would be an amazing way to add a pop of color via your outerwear this fall. Still hunting for the perfect black moto jacket? This bad boy comes in basic black as well so you may just have to get both.
6. REBECCA MINKOFF 'Vanity Saddle' Bag– LOOOOVE this bag! With a distinctly Chloe-esque vibe this is an easy favorite especially on sale! While most of the colors have sold out online I do still love the deep navy and encourage you to opt for a bolder color choice in this classic silhouette.
7. FRAME Denim– Skinny jeans are out and uneven hems, cropped flares and culottes are definitely in. The Frame denim offering on the sale this year is completely on trend and 100% worth the investment. These jeans are going to be the hottest styles of the year so you might as well get them early and on sale!
8. BP Short Sleeved High/Low Tee– I am a sucker for great basics under my statement making jackets and the Anniversary Sale is a great time to stock up on amazing tees and shirts like this striped T from BP.
9. HINGE 'Shadow Floral' Scarf– Seattle already feels like it is transitioning to fall so this amazing blanket-esque summer scarf is a great way to be on trend and stay warm/cool as the weather changes. The print is breathtaking on this beauty and will easily pair with your summer rompers and your fall coats.
10. BLANK NYC Faux Leather Pants– You know the amazing oversized sweater tucked into skinny jeans/leather pants we were talking about earlier? Here are the most perfect pair of faux leather pants that will complete that luxurious outfit. This is also an example of a clear bestseller (see the reviews) that is now on sale for this special occasion so we definitely need to snap it up!
11. TOPSHOP Maria Gold Chelsea Boot– Do I even need to say anything here? I saw these boots in the Anniversary catalogue and may have had a minor heart attack because I don't have any gold boots of any kind… yet! In a classic Chelsea silhouette these couldn't be an easier way to introduce a pop of metallic into your wardrobe for fall.
12. HANKY PANKY Low Rise Thong– UNDERWEAR! We rarely talk about what goes under our clothing but Hanky Pankys have been my go-to FAVORITE underwear for years! Since they usually never go on sale (unless you are buying last years bridal styles) I always wait until the Anniversary sale when they DO go on sale and I stock up for the year. This is also a great time to check the fit on your bra and make sure your foundations fit just as great as the rest of your clothing.
Which was your favorite pick from the sale? Let me know in the comments below and again Happy Anniversary everyone!! -Rebecca