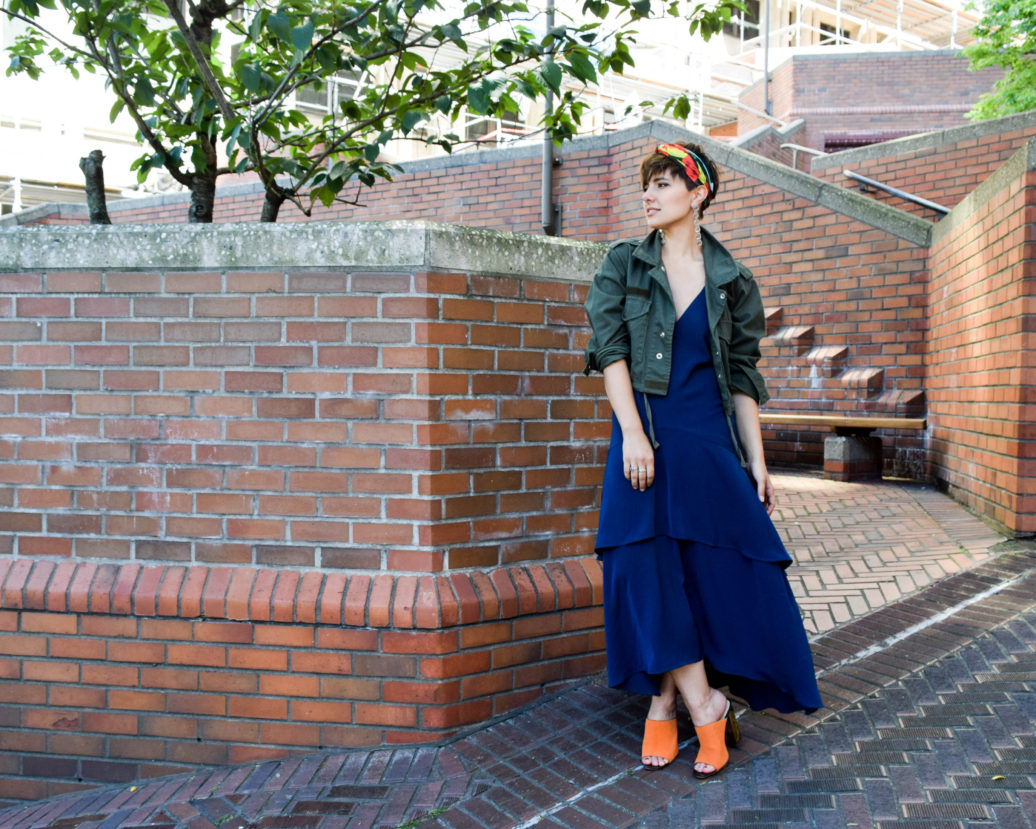 It happens every year, summer rolls around and we buy a conservative, lace usually ill-fitting dress in the color of the season that isn't too short, too low cut and most importantly that doesn't draw too much attention. You guessed it, it's for a wedding. As a currently engaged bride-to-be I have taken a new perspective on the whole 'wedding attending' experience and I have one message for you: STOP BEING THE BORING WEDDING GUEST AND START HAVING FUN.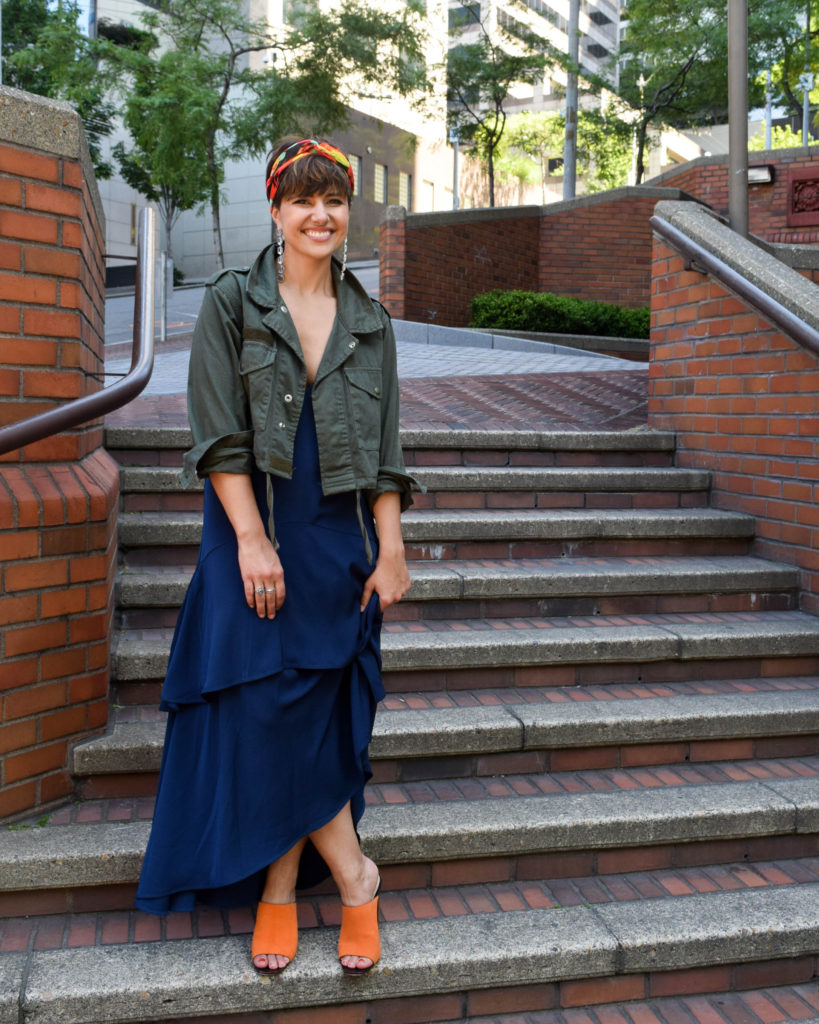 Now brides everywhere might be screaming 'wait, it's supposed to be about me!' and of course it always is, but I promise you wedding guest, your interesting hemline, sassy skirt or splash of color is not going to upstage the bride so stop worrying about that. She will look better than everyone else no matter what. So why shouldn't you be comfortable and within the confines of how formal the event is and actually buy a dress you will wear again? Going one step beyond that, once you have the dress what's stopping you from adding personality to the look? You are your own worst enemy in this situation so get out of your head and live a little.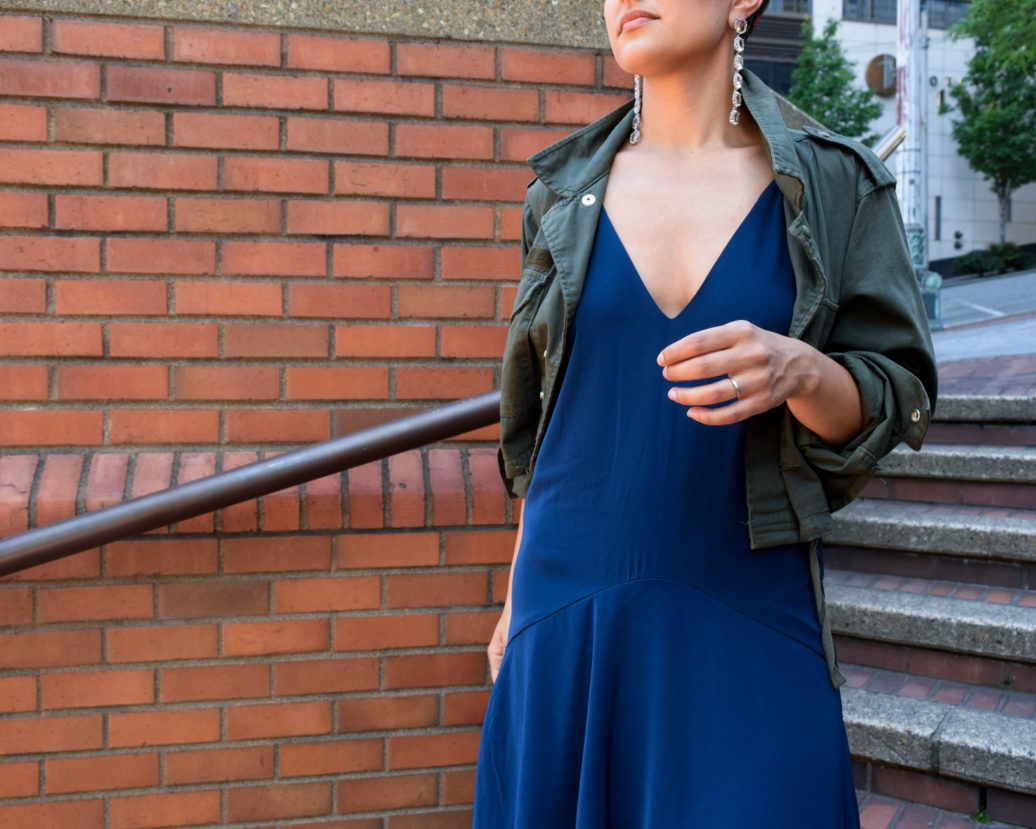 It all starts with the dress. From a silhouette perspective this Keepsake the Label stunner really isn't that risque. The neckline is a bit plunging but if you are like me and aren't busting out of it the long hemline balances it out. Talk about a great dress for the dance floor, the drop-waist and cupcake layers flounce around with every step making it as fun to wear as it is to look at. Last but not least the weight of the fabric on this dress is genius; it creates the perfect weighted drape that shows off your curves in the most flattering way possible. (Did I mention it's also on sale now?)
We could have just stopped with the dress and looked perfectly understated and chic for the wedding we are attending but where is the fun in that? Gucci inspired details such as the head wrap and drop earring are simply too much fun to pass up. They add color and personality to the outfit and are very on trend for the moment. Hair accessories and jewelry can have such a transformative affect and as a result you will get a lot more use out of the dress you are pairing them with.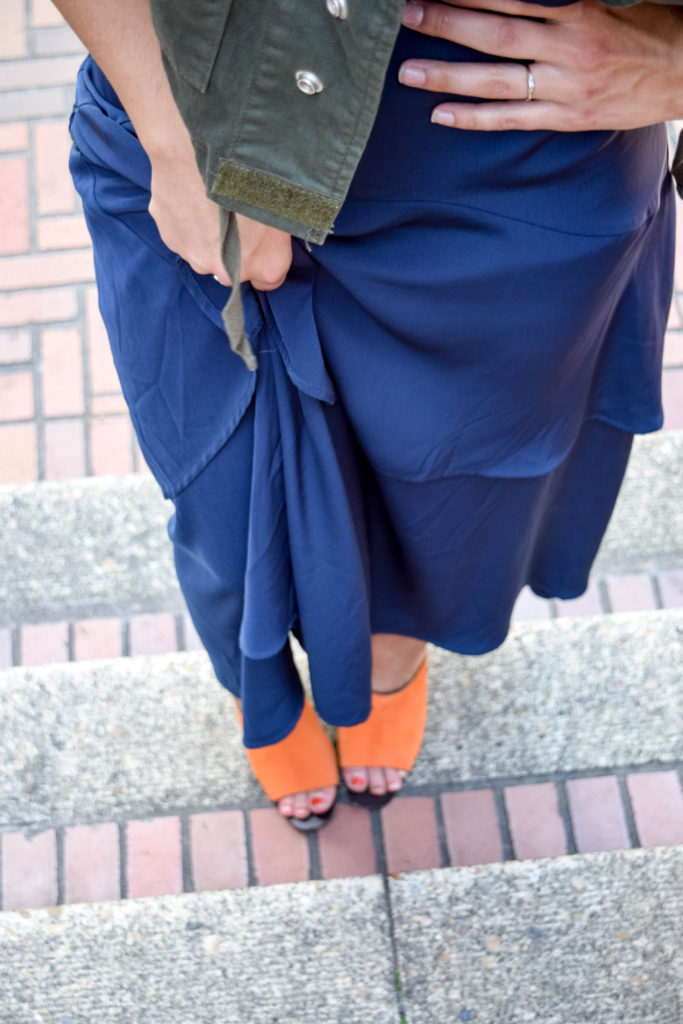 For this particular wedding situation I had in mind it wasn't the dressiest so to tone down the formality of the dress I added a cropped military jacket which also gave it an even more tropical feel. An on-trend pair of orange suede mules made the hemline even more interesting adding one more pop of color and tying the colors of the head wrap into the overall look.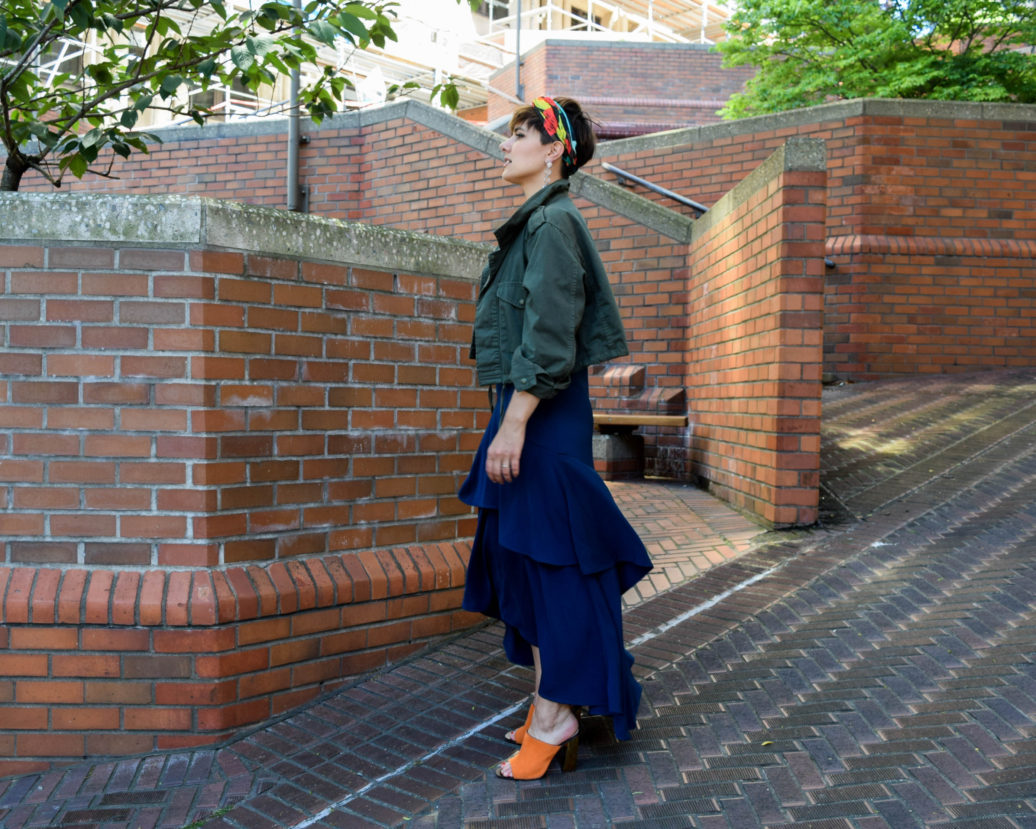 It can be the dress or simply how you style it but make sure that this wedding season you are leaving the unflattering boring outfits at home. You deserve to feel beautiful and confident as well so dress in a way that enhances those feelings instead of detracts from them because at the end of the day everyone should feel great at a wedding.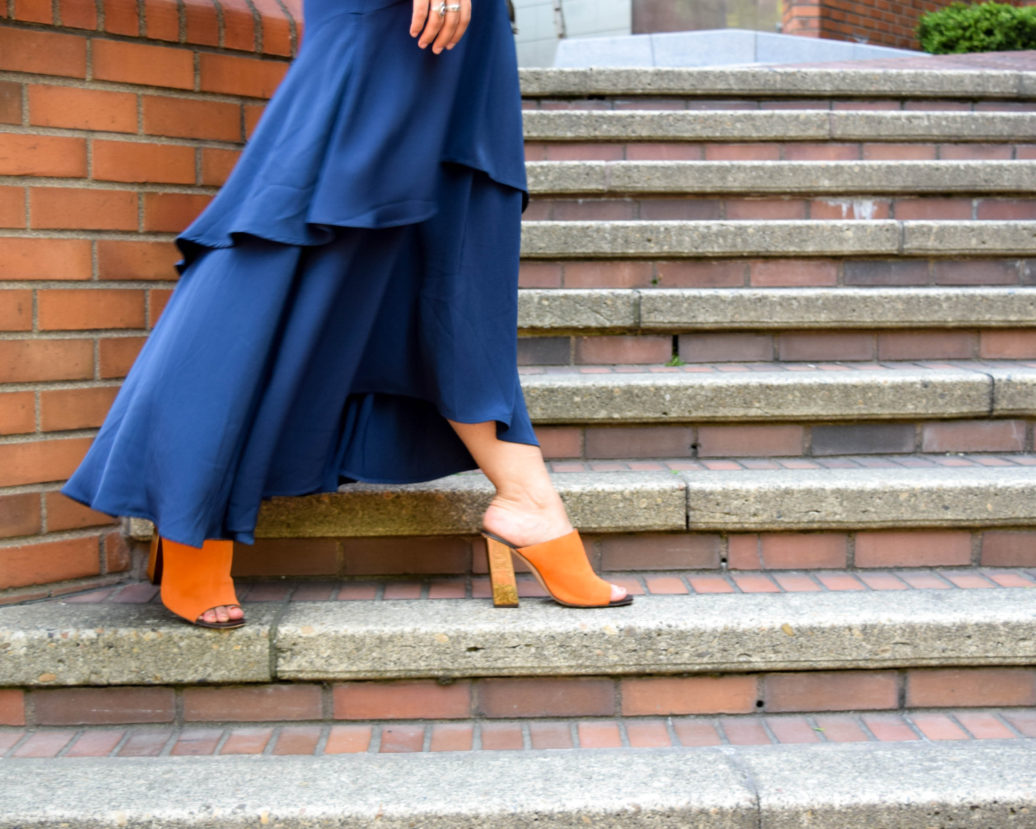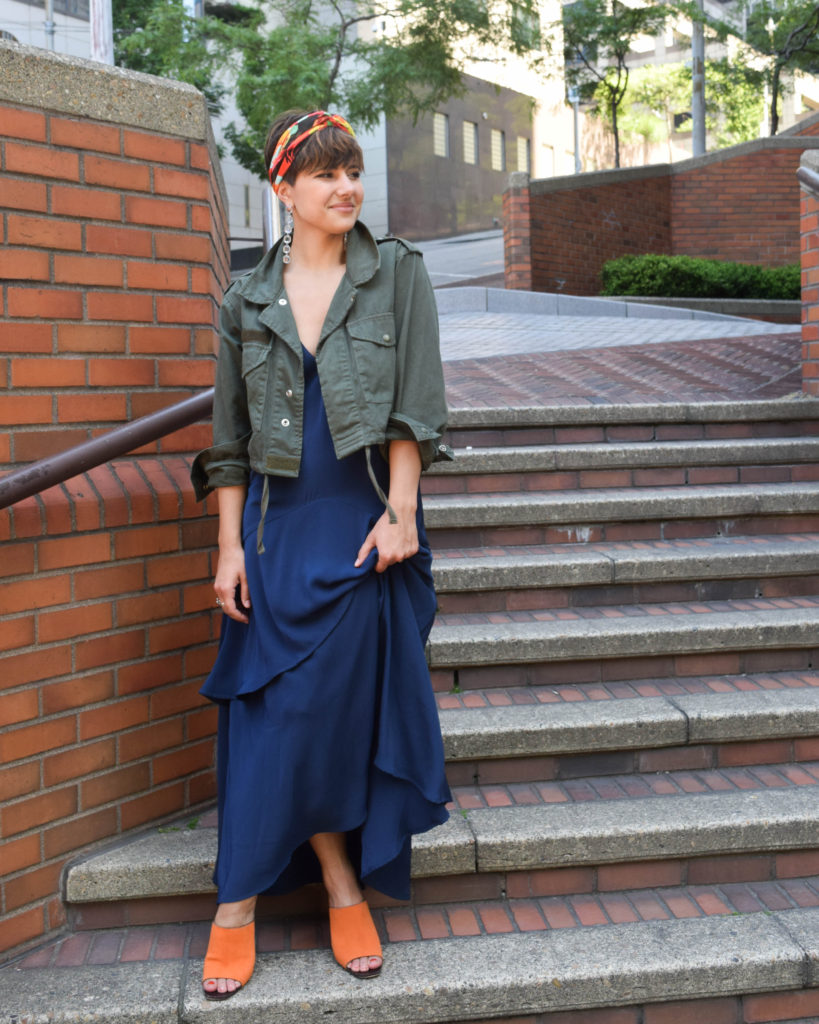 Keepsake the Label Dress (on sale!!) HERE and also in YELLOW HERE
(Keep in mind if purchasing that this is a more oversized dress and is meant to hang on your figure rather than cling to it. It also runs slightly big.)
Zara Head wrap HERE and earrings HERE (so Gucci!)
Military Jacket Topshop similar HERE
(you also could do a bomber option for an even trendier look like this one HERE)
Orange Mules Zara HERE