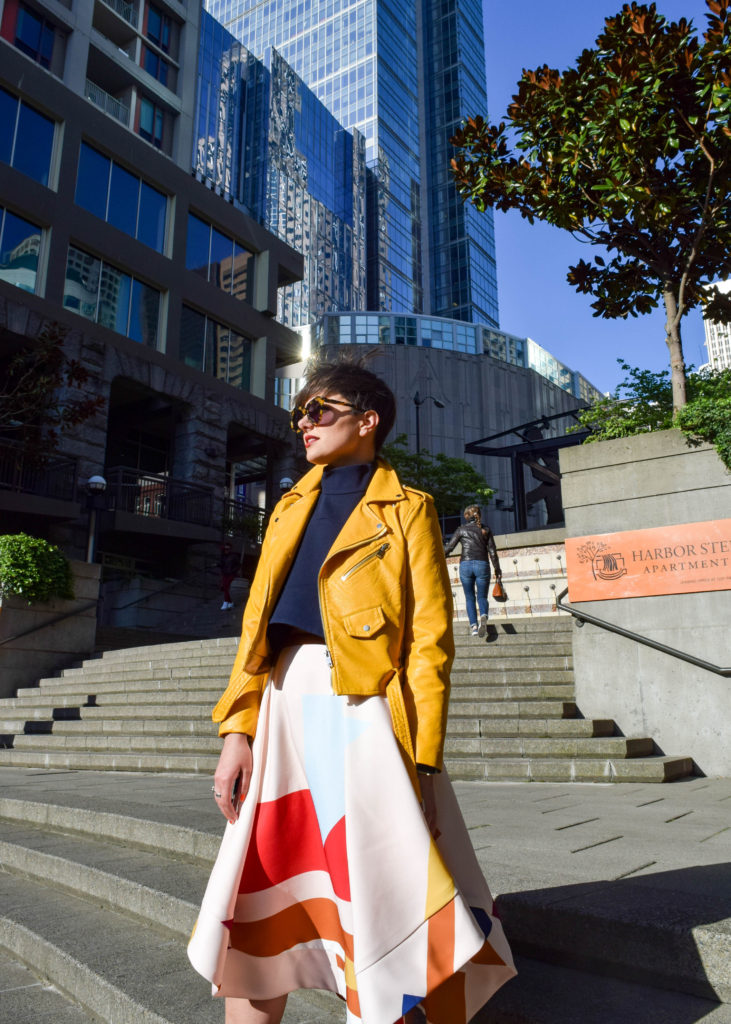 There's that moment when you contemplating purchasing a new article of clothing when you think, "Am I really going to wear this?" All too often this seemingly self-reflective thought keeps us from buying the bold outfit making pieces that  you should be investing in instead of that easy t-Shirt you already have in 4 other colors.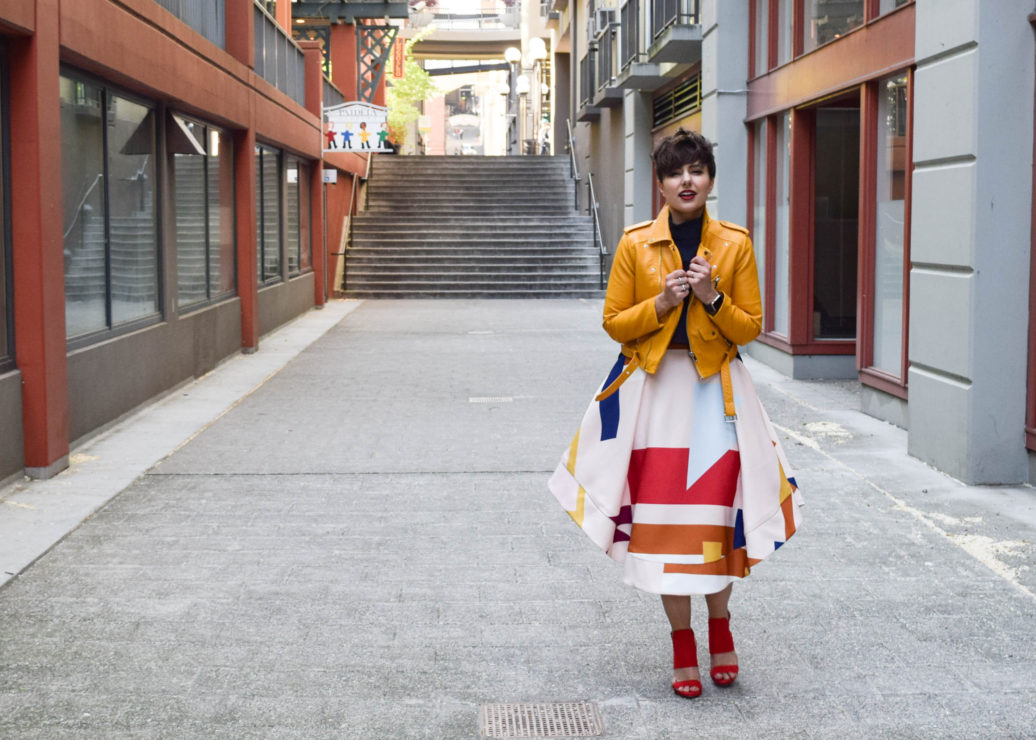 Think of the last time you were searching for something in your closet and you stumbled across something fabulous you hadn't seen in ages. Was it a t-Shirt? A pair of basic jeans? I'm willing to bet it was the opposite: a statement making piece that made you think "I LOVED wearing this!" At the end of the day it's the items that are fun, bold and push us out of our comfort zones that really make an impact. The killer skirt with a fabulous print like today's C/MEO the Label skirt that has literally stopped traffic when I woman just had to yell out a window that she loved it. Or maybe it was an amazing jacket with vibrant colors that made you feel more confident and emboldened every time you wore it. These are the pieces that you should be looking to fill your closet with, conversation pieces or items that help you feel like you are expressing yourself through them.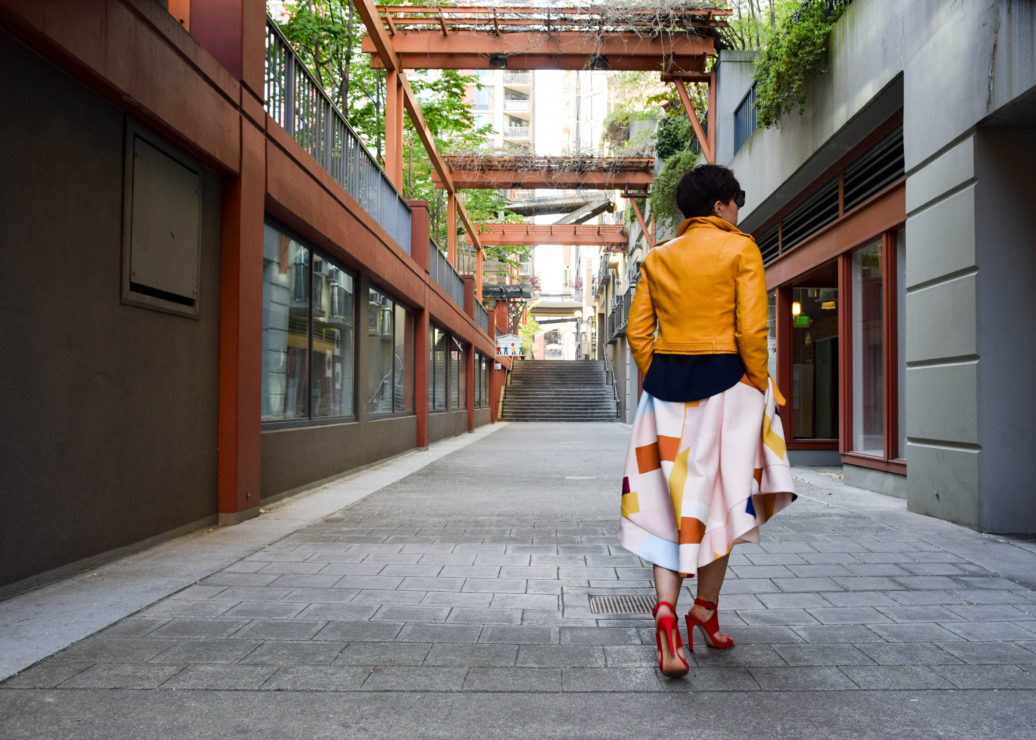 Today's outfit is full of just those kind of pieces. This skirt in particular was one of those "omg I need that" type of purchases and while it took me a few months (waiting for the weather to change) to wear it once I did I knew I would have it for years to come and would love wearing it every single chance I got. (It has pockets!!! Can you blame me?) That wasn't the only real showstopper piece in this look however, and oddly enough sometimes several loud items can blend together as easily a several quiet ones.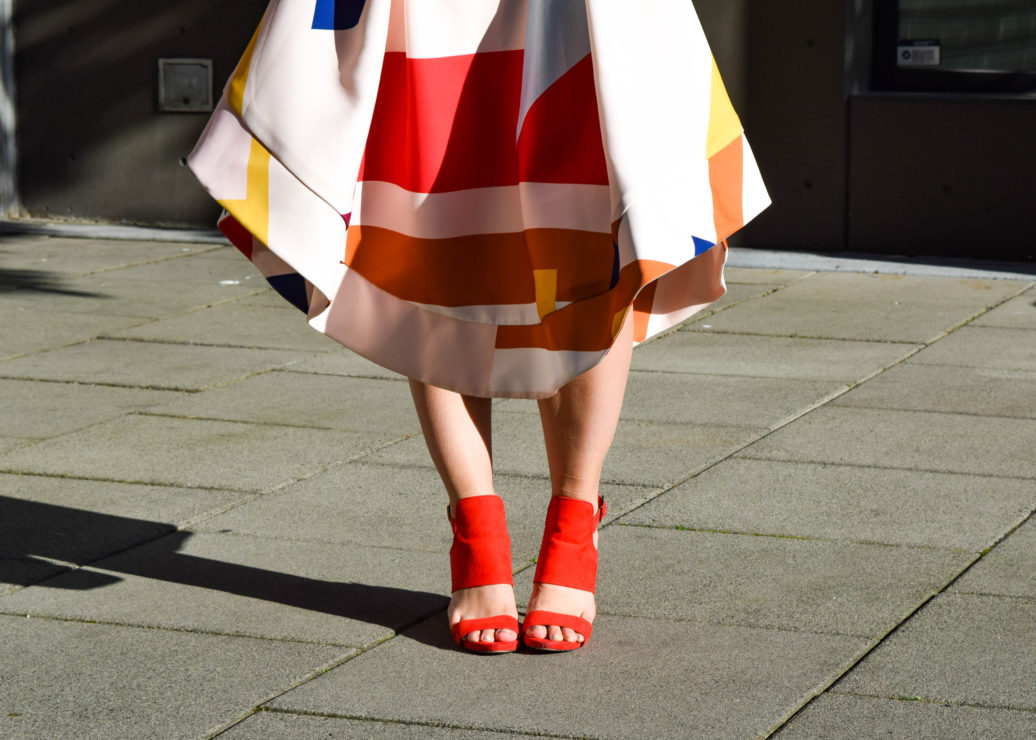 A yellow leather jacket may not seem like the most practical of purchase but when you live in a climate where a light jacket is a daily necessity it's a great way to add a bit of pop and pizzaz to an otherwise basic look. Traditional silhouettes in non traditional colors are always a great way to switch up your wardrobe and I know this particular jacket is going to be a favorite for seasons to come.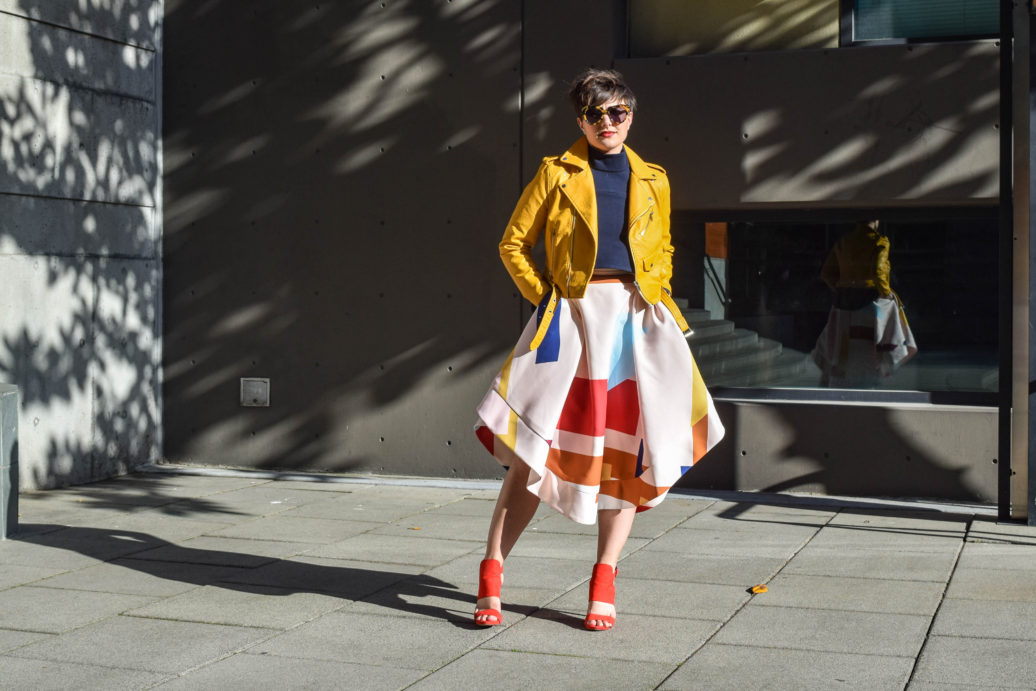 Lastly, if you have been following the blog for a while you know that I love a pair of statement heels and am more often then not wearing a colorful shoe over a neutral one. While to some people this may seem impractical I find that colorful shoes are just as easy to wear as their neutral counterparts, the only difference is they are much more fun to wear!
Treat your clothing like an investment and choose pieces that will stand the test of time as well as keep you excited about wearing them! What are some of your favorite statement pieces in your closet? Let me know in the comments below. Thanks for reading! -Rebecca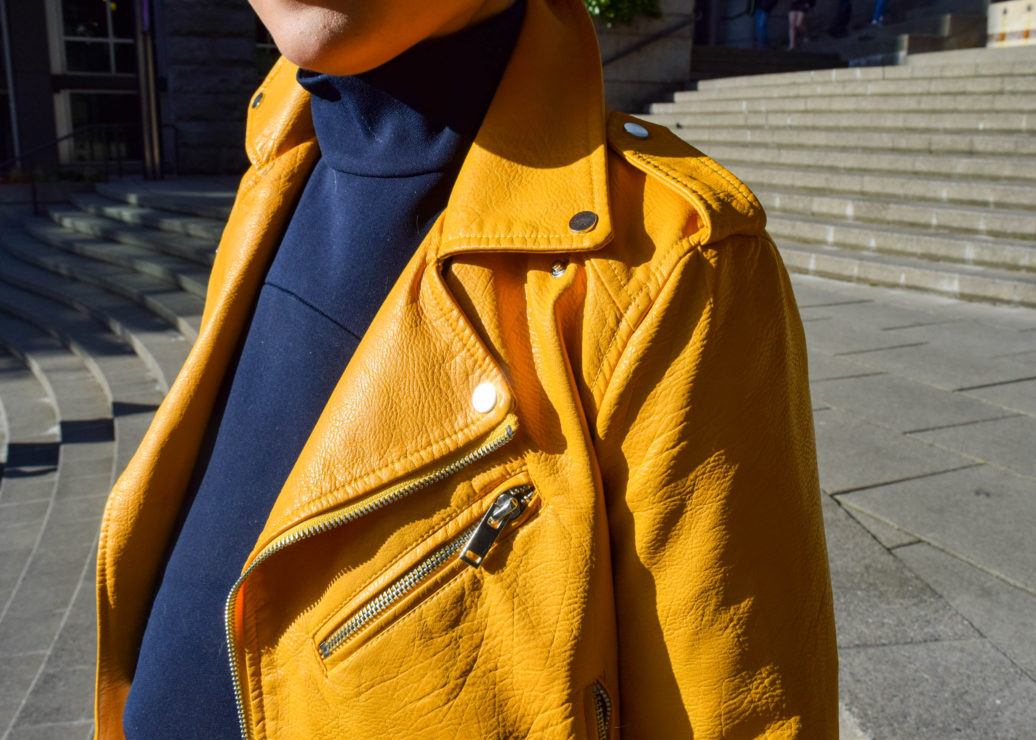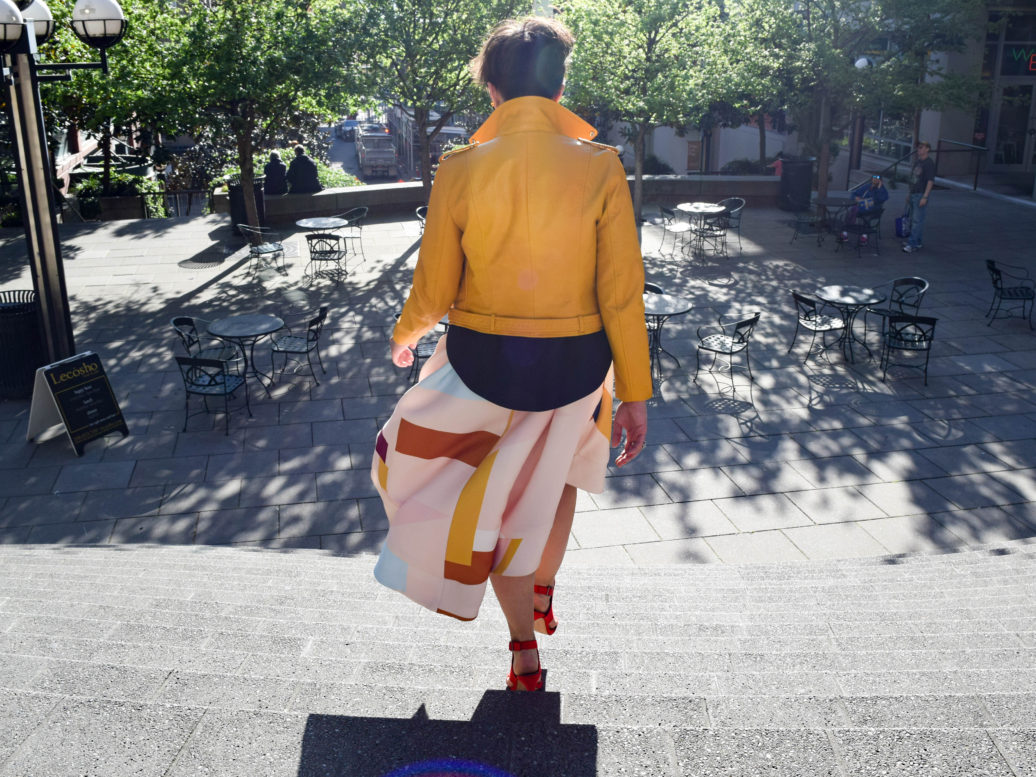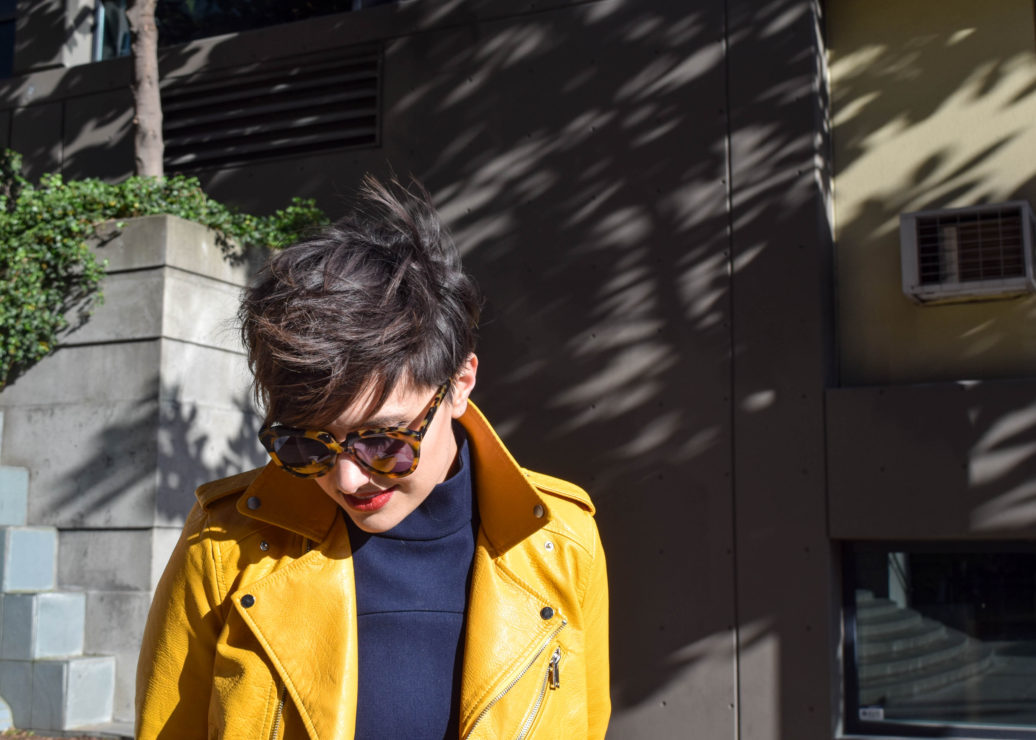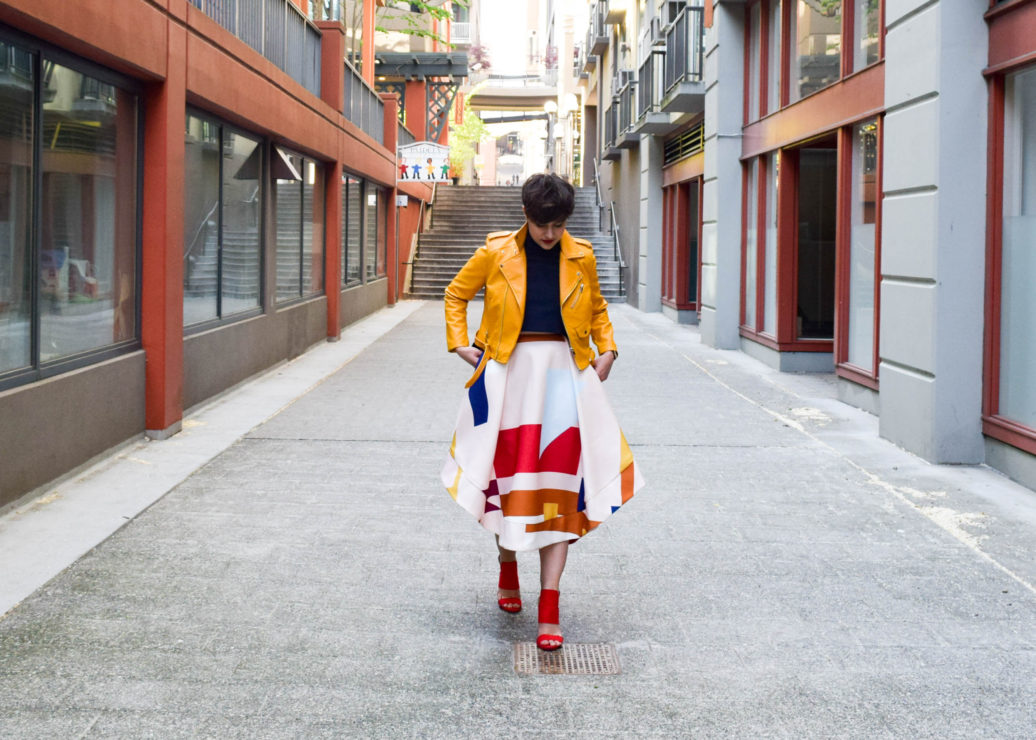 Karen Walker Sunglasses HERE
Top CMEO the Label
Jacket Zara HERE
Red Heels similar HERE