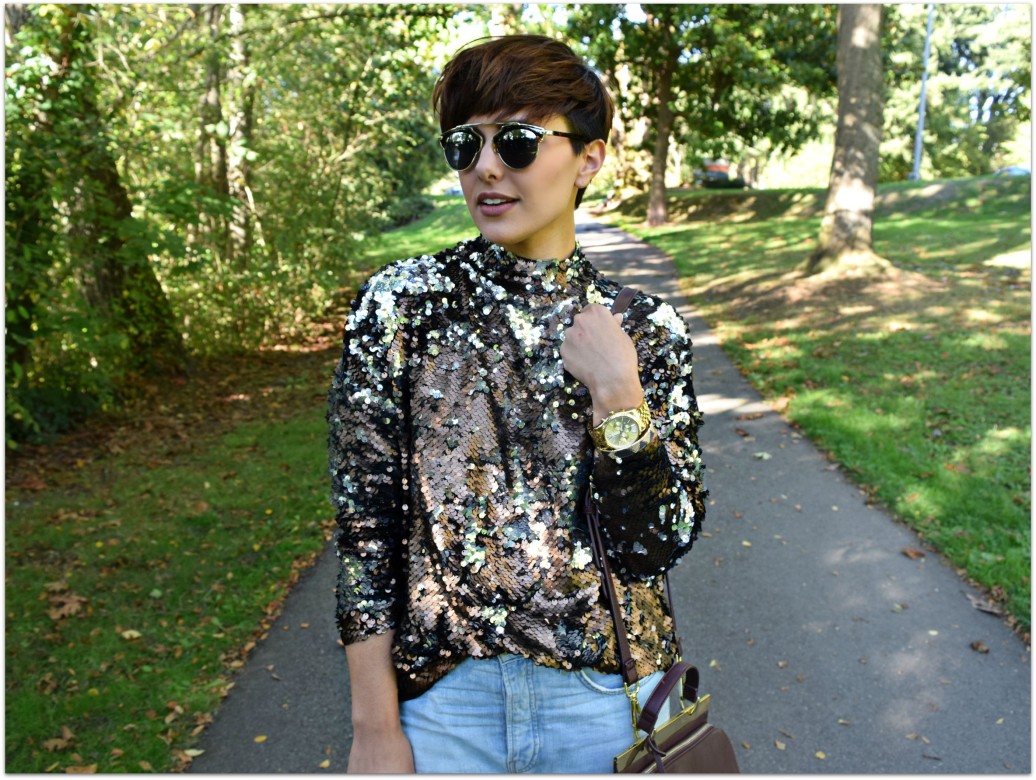 Fall is definitely the season for sequins. The days are getting longer, gorgeous leaves are changing colors and falling and somehow life seems to get a lot busier and a bit more difficult. Whether it's work or your personal life sometimes you just need a pick me up and let me tell you, an all sequin shirt is guaranteed to the do the trick.
Like I have said in the past, there is nothing better than being your own personal disco ball throughout the day, that's half the fun of a sequin shirt. However something very important to consider when choosing your all-sequin item is the lining because sequins aren't just fun and games, they can be sharp too! So rather than looking like you just got attacked an overzealous kitten each time you put on and take off your all-sequin item first make sure it is properly lined to prevent you form this. Now you might be thinking, maybe a sequin shirt is too risky then for me? In that case I highly recommend Topshop's sequin boyfriend jeans. They are the same style as the ones I am wearing today only the front is COVERED IN SEQUINS. Magical yes? Soft denim faces your skin while radiant sequins shine out to the world.
Yes sequins are loud and yes, traditionally they are worn in the evening. But these aren't 'evening' tops we are talking about. Instead pick a fabulous basic like a t-shirt or jeans or a sweatshirt like mine that is covered in sequins and wear it like you would the non-sequined garment for every day life. BE YOUR RADIANT SELF and for goodness sake have some fun doing it!
Have a WONDERFUL week and thanks so much for reading!! – Rebecca