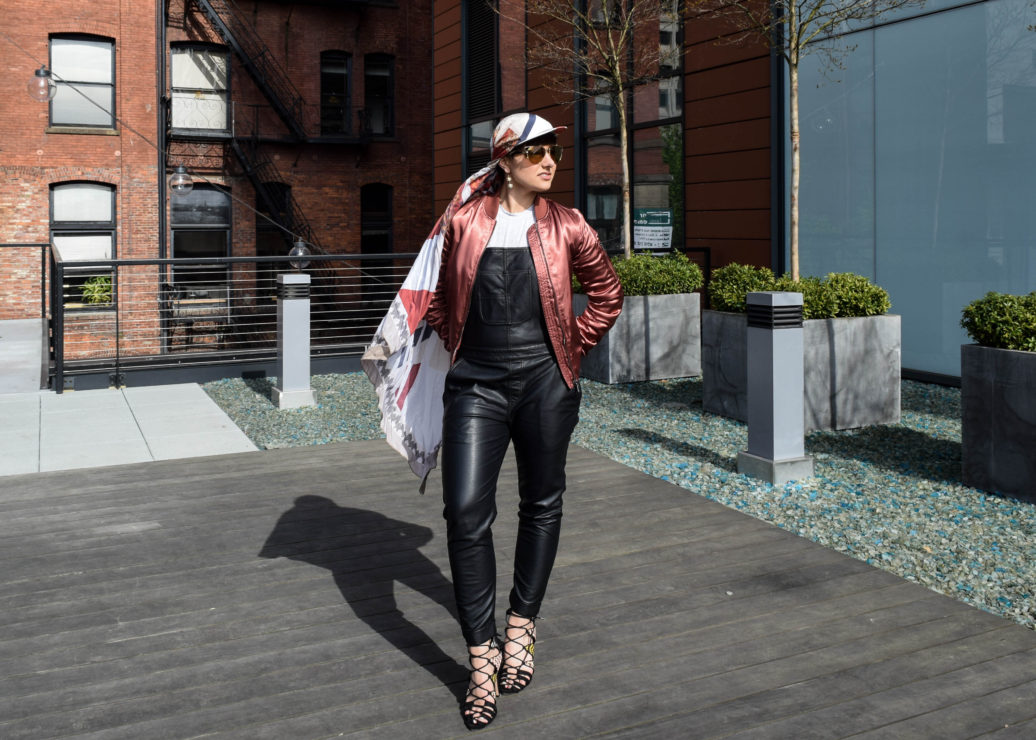 Every once in a blue moon the stars align, trends come into popularity simultaneously and somehow miraculously you get the best outfit combination, ever. Meet the bomber jacket and overalls combination: the perfect balance of edgy yet comfortable, relaxed yet put together. Together they are exactly the go-to you always want to have hanging in your closet and here's why.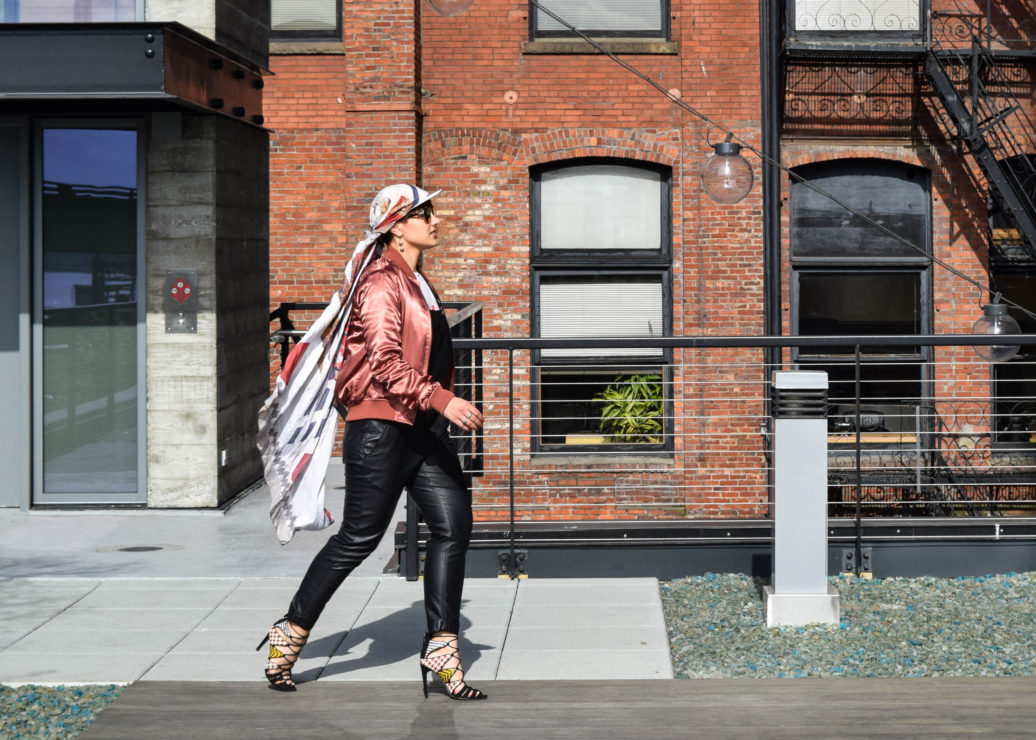 What a perfect combination. As both an overalls lover and a full on adopter of the bomber trend finding that these two go together like PB & J was a serendipitous experience. A bomber and overalls is an easy to swallow recipe for looking amazing each and every time you put on this combination. Feeling too Farmer George? Make them Leather overalls (or faux in my case.) Finding your green army bomber is too masculine? Switch it up for a shiny rose color and feel as feminine as you like. The possibilities with this combination can you take you out on the town, to work or to a casual bbq, it all depends on your choice of ingredients into this overall and bomber outfit.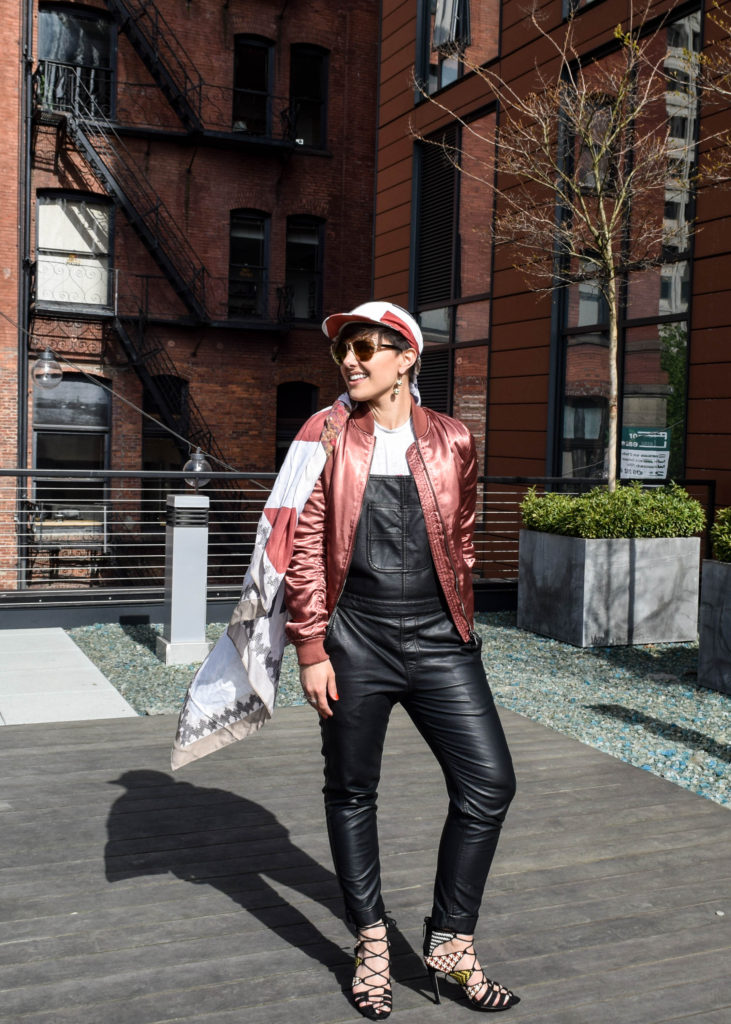 Another reason I love this combination is that it is the perfect palette for some bold accessories, which of course you know I am a HUGE fan of. Paired with a basic tee or in this case a 'The Fifth' logo tee, the combination of rose and black are begging for a pop of interest. This hat/scarf combination was a recent discovery from the H&M Spring Studio collection and while it probably isn't the easiest to wear piece it is worth mentioning that baseball hats in general are starting to have a moment so we should all take notice. In the case of this hat it started with the baseball cap silhouette, but why stop there? With essentially an entire scarf attached to the cap it becomes a headwrap/scarf/shawl/hat/magical combination that makes this outfit even more special.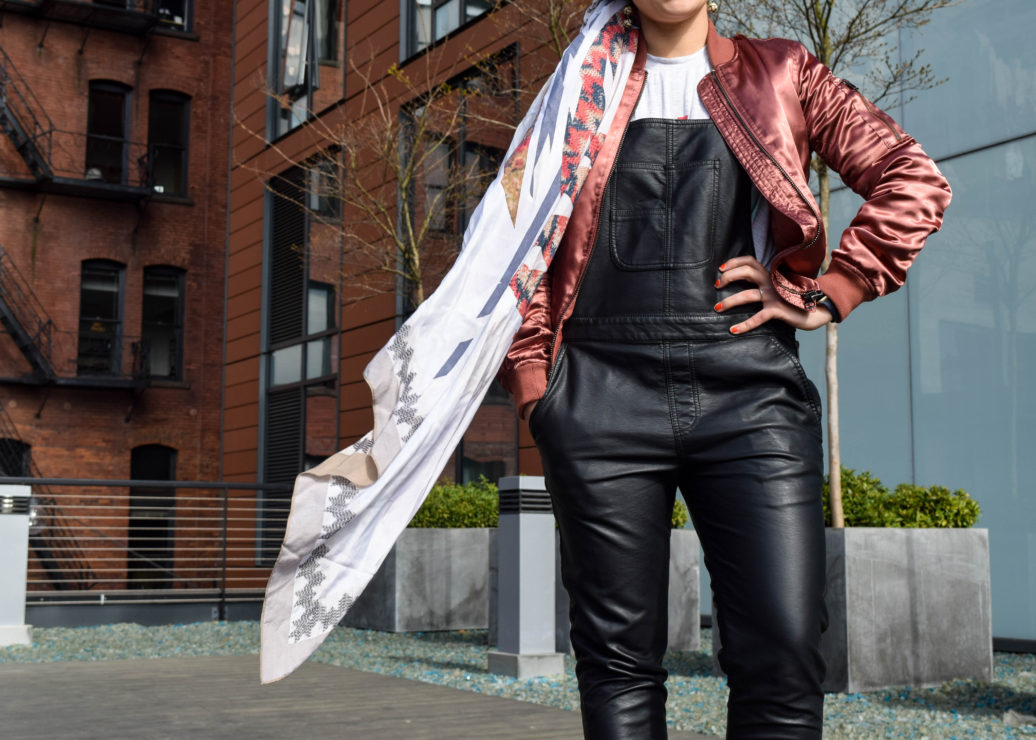 Continuing with my love of knockoff designer sunglasses I was fairly shocked when i found these Dior wannabe's in this lovely gold color. I loved the So Reals last year but I was looking for an update and as usual Dior doesn't disappoint. And neither do these replicas which match almost 1 for 1 with their $500 counterparts so if you are looking for that designer look without revealing the price you paid, check out the link below.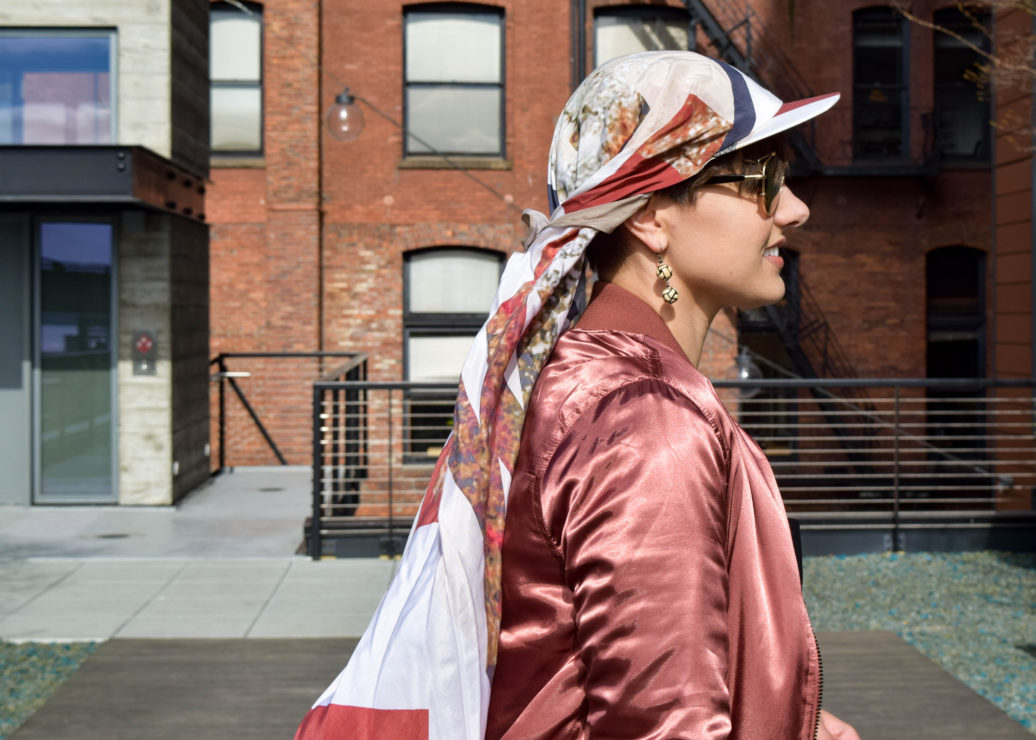 In my personal wardrobe I love buying the statement pieces and pushing the envelope, but this overall/bomber combination is so accessible you don't need to be a cutting edge fashionista to wear it. I love the Topshop M1 bomber in green with patches (linked below) and if you pair that with a basic denim pair of overalls you have a simple, clean, easy to wear and yet incredibly on-trend outfit that anyone can wear. I hope you try it out and let me know what you think because this truly has become a go-to outfit in my closet and I struggle NOT to wear it day in and day out.
Thank you SO much for reading and let me know your thoughts on the overall/bomber jacket situation in the comments below. Cheers! -Rebecca