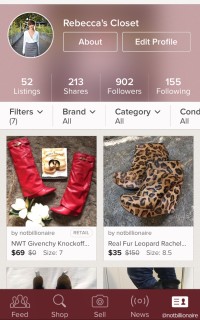 It is rare that I stumble across something so addicting and so much fun that I check it almost as frequently as I check my instagram but Poshmark has made that kind of impression in my life. What the heck is Poshmark you ask? It is a shopping site where everyday people like you and me can sell new or gently used items from their closet to other regular people, aka a permanent garage sale/closet clean out on your phone. It already sounds awesome right? A note about sponshorship: Poshmark in no way asked me to write this post, I simply enjoy the site so much that I had to share it with all of you, so read on and find out why.

My Poshmark account was opened (and left completely inactive) sometime early this year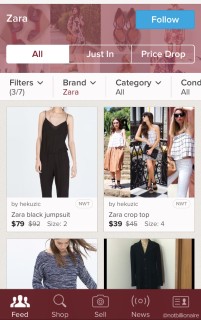 when I was in hot pursuit of a particular pair of Free People Bali Flare Jeans that I couldn't seem to snag on eBay but I did see a Poshmark listing and created an account and then proceeded to do nothing with it. Then one day I notice my sister has all of these new
clothes she is buying and she said she is purchasing all of them "with money she made on Poshmark." Hold the phone, I too had an overflowing closet of items I loved yet couldn't bring myself to donate or bring to a local consignment shop. She sold me on the fact that unlike Ebay where you front the shipping for your customers essentially, Poshmark has the buyer pay the shipping and sends you the seller the shipping label, no money needed. So of course I tried it, sold some things, got hooked and proceeded down the rabbit hole of monitoring my closet, responding to questions and doing my best to give good customer service and get other 'Poshers' (this is a term fyi) to buy my stuff. Sounds great right? Well this was only the beginning…
Shopping sites and especially resale shopping sites tend to have niche markets, eBay kills it with Cars and rare items as well as vintage and was always my go-to for (you guessed it)
rare Zara items from previous seasons. You wonder how I found that rare coin embroidered sweater? Ebay. Those sold out multi-color Louis Vuitton inspired Zara booties? eBay, and believe me those sellers know what they have and exactly how much to charge for it. So imaging my surprise (and delight) when I discover that Poshmark has an entire brand focused shop devoted to Zara!!! AND it is full of gorgeous items at reasonable prices!!! I think you can see where this is going… One of the most fun and challenging features of Poshmark is that the Seller sets the price of an item but a buyer can 'off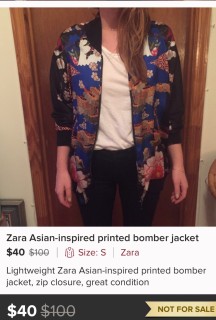 er' whatever price they feel for it, meaning to you it may be worth $10 less than the selling price and you can let the buyer know and usually after a little bit of haggling it is yours! The Zara shop isn't the only branded shop, almost every brand that you could be obsessed with is on here and you can find gorgeous items at any price in those categories. What I also love about Poshmark is generally prices tend to be more reasonable than say an Ebay because it is regular people like you and me selling previously loved items versus
professional sellers trying to inch out every ounce of profit from each listing.
It's fun, addicting and unless you spend it all it can make you some serious $$!! Don't believe me?
Try it for yourself and use the promo code PDGTP to get $10 to spend in the Poshmark App.
If you have used Poshmark before how do you like it? Let me know in the comments below and come find my closet! It's NotBillionaire on Poshmark or simply follow the link HERE. I look forward to Poshing with you all!! Cheers! -Rebecca