The Background
Our first week of the #2021OutfitChallenge has begun and the theme is CABINCORE!!! If your first response is: what is cabincore you are not alone. Googling cabin core you get a vague description of what you might wear to a cabin or the 'winter version' of cottagecore. What is Cottagecore? Cottagecore is a style of dressing wherein you dress as if you were holed up at a distance country relatives home. It became incredibly popular during coronavirus last year as a form of escapism during lockdown. I get it. However, peasant dresses and sun hats don't transition well to winter so in its place we have the winter foil: cabincore.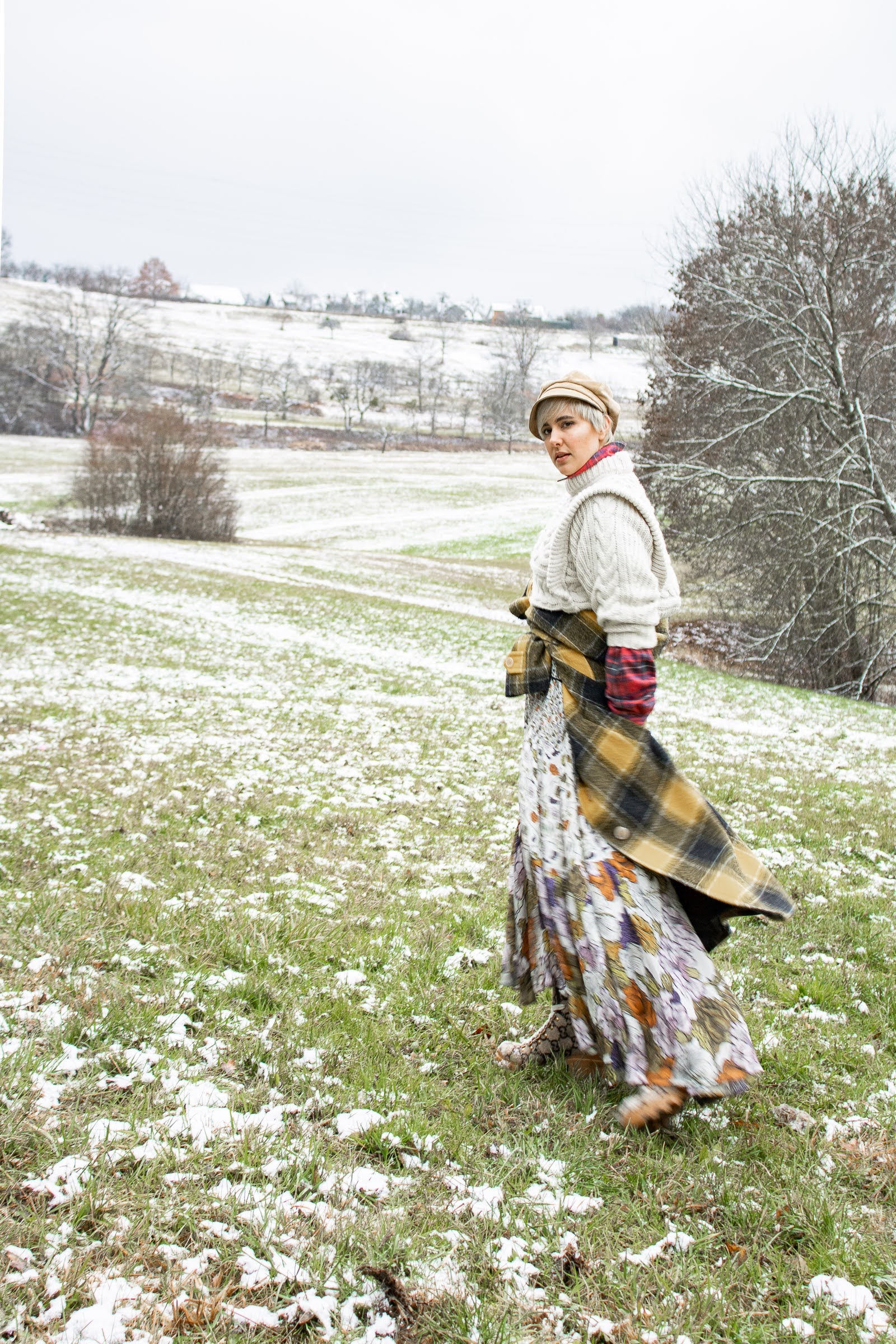 What is Cabincore?
Imagine a snowy country path with a cabin in the distance nestled in the trees. Now imagine yourself in the middle of that setting and you have the foundation of cabin core. Would you wear it to chop wood? Cabincore? Would you sit by a cozy fire on a rug in it? Cabincore! Would you wear it in the city as an interpretation of what that vibe might be if you added wide leg pants and heels…. (look #3 below) you get the point. Cabincore is completely open to your interpretation as long as it satisfies two descriptors: cozy and layered. The rest is up to you.
The Weekly Challenge
For the first week of January the #2021OutfitChallenge is Cabin Core. For the entire week I will be sharing my daily #cabincore inspired outfits on Instagram and Instagram Stories @RebeccaInEurope. I invite you follow the hashtag and start sharing your looks as well! The below outfits are my initial thought starter for you to give you some ideas. (For more on what the heck is a Style Challenge check out my post here.)
Cabincore Look 1: Cozy Neutrals
The first outfit I put together is the epitome of 'I could go on a hike in this OR I could lay be a fire.' It is a quintessential cabincore look. Wool sweats are paired with a mock neck wool sweater in a cozy neutral. Gucci 'hiking boots' and a Munthe check coat add a bit of all-weather (mild weather) aspect to the look. Finally an Acne Beanie tops it off that can be worn both indoors or out. At its core this look is all about sweaters as sweats and I like it.
Cabincore Look 2: You CAN Wear Color
Quilted jackets have been a key component of life in 2021. Part of that ubiquity may be attributed to the cottagecore trend of the previous year. I happen to be a huge fan of the trend as upcycled vintage quilt coats are not only wonderfully sustainable but also make incredible statement pieces in one's wardrobe. I have posted quilted coats entirely too many times in my Instagram feed so there will only be this one featured in this challenge. It is from Lady Lancaster and I encourage you to check out her coats if you are in the market. The rest of the outfit consists of an hommage to the cottage core trend. This patchwork dress is one of my favorites in my closet and it transitions well to winter with these Stella McCartney vegan boots and a wool jacket. The entire Pinterest board for this challenge may have been purely neutrals but I believe in color, even for winter.
Cabincore Look 3: An Alternative Type of Cabin
Sometimes my creativity gets the best of me. Like in this outfit, I love it. It's for my fictional glass igloo cabin in Switzerland where I still need to look put together for apres ski but obviously this world does not exist at the moment and this may be a stretch on the theme of cabincore. Nevertheless, it's a fun one. The oversized Chloe wool sweater (found on the REAL REAL) makes this look a balanced level of cozy and chic. Paired with wide leg trousers from H&M, a 10 year old fur hat and one of my favorite IRO vests and you have a LOOK.
Cabincore Look 4: Just Add Plaid
The first description I read of cabincore was 'plaid, lot's of plaid' and it is a fair approach to the trend. In this particular look I took that sentiment to heart. I am wearing a winter floral Proenza Schouler dress as a skirt with a plaid coat tied over it. A flannel shirt is layered under my sweater and my Gucci hiking boots prove I am ready to take nature and in this case the snowy fields by my house. Cabincore feels very English countryside to me as well and this outfit was the embodiment of that.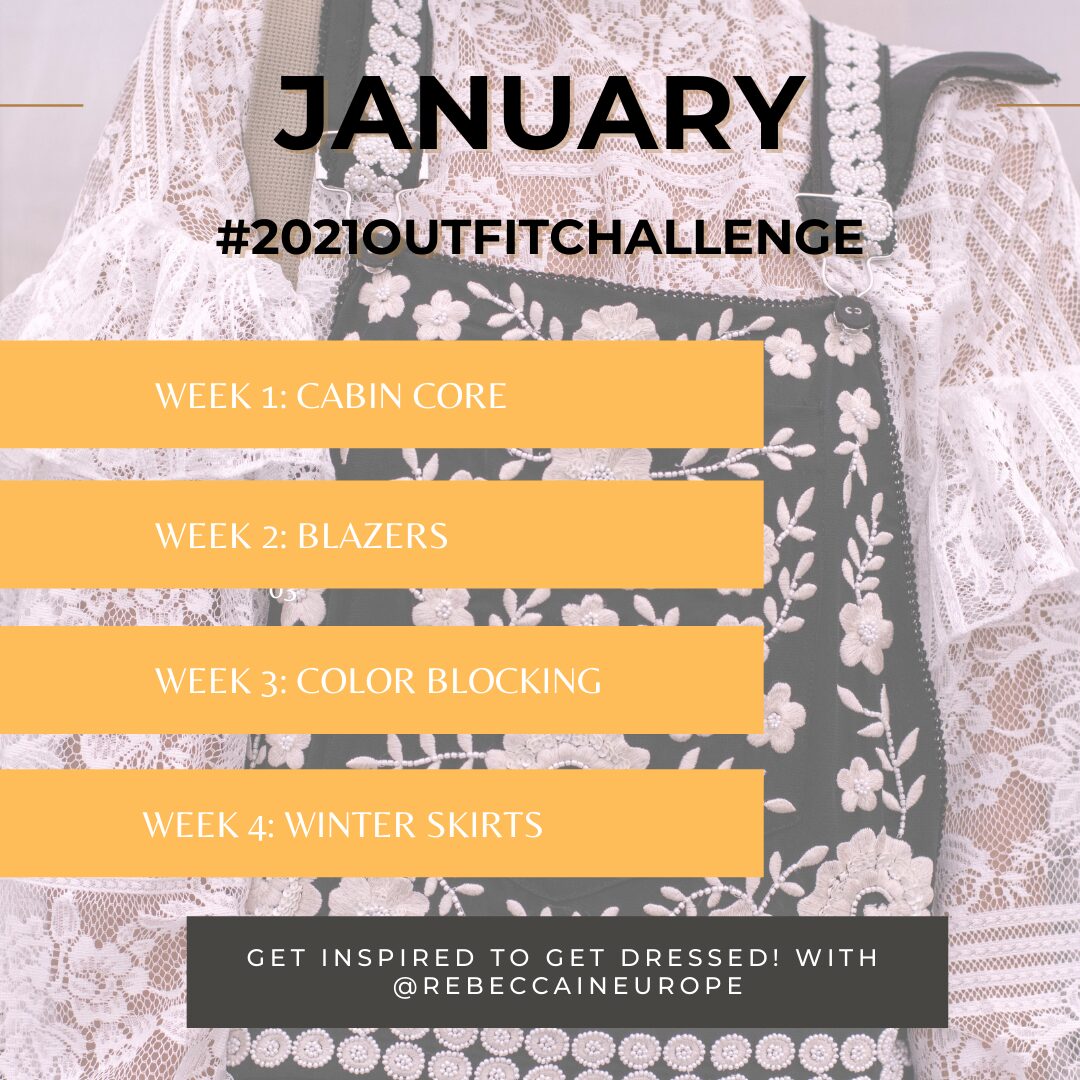 The January outfit challenge has just begun and I encourage you to join in on any of the prompts above. Find me @RebeccainEurope for more daily outfit inspiration.