Let's rewind to New York Fashion week: red was absolutely everywhere. Red shoes, red dresses, red everything! In fact even head to toe red ensembles. Undisputed red is the color of the season, but that doesn't mean it wasn't the only color making a splash on the streets of New York.  A cheery shade of blue, not quite a cobalt but richer than a cornflower was popping up in dresses and coats in particular. The shade was a beautiful and rich statement color and frequently was paired with a crisp white that made it pop. While red may be having its hay day it's this particular blue that we need to be watching for Spring and starting to incorporate into our wardrobes now.

Blue: The Proof is in the Pudding
While seeing a trend at fashion week may be a strong indicator that it is coming for the masses in future months, an even better indicator that this trend is popular is seeing it in your favorite shop. Zara, H&M, Topshop and other quick adapting retailers are already showing a myriad of options in this hue. This isn't to say designers like Tibi weren't all over this hue far before high street was, but once it hits the a mass market you know it's a trend!

How to Style an All Blue Look
Just do it! Ok, that isn't much of a styling tip but getting yourself to wear head to toe all one color takes a little bit of courage. There are two key tricks to wearing a solid colored outfit and if you follow both you are bound to look fantastic.
1.) The colors don't have to match exactly, but the color families do. For example, a greenish blue won't look good with a more purpleish blue or an orangey red won't look as good with a blue red. Instead play with how light or dark the shades are for contrast.
2.) Wear items you would usually wear together. This means don't start combining weird wardrobe elements just because they happen to be the same color. In today's example I love an oversized top with a great pair of trousers and occasionally I will throw a jacket over all of it. Since it's a natural outfit combination it looks good together and in a matching hue it simply adds the 'wow' factor.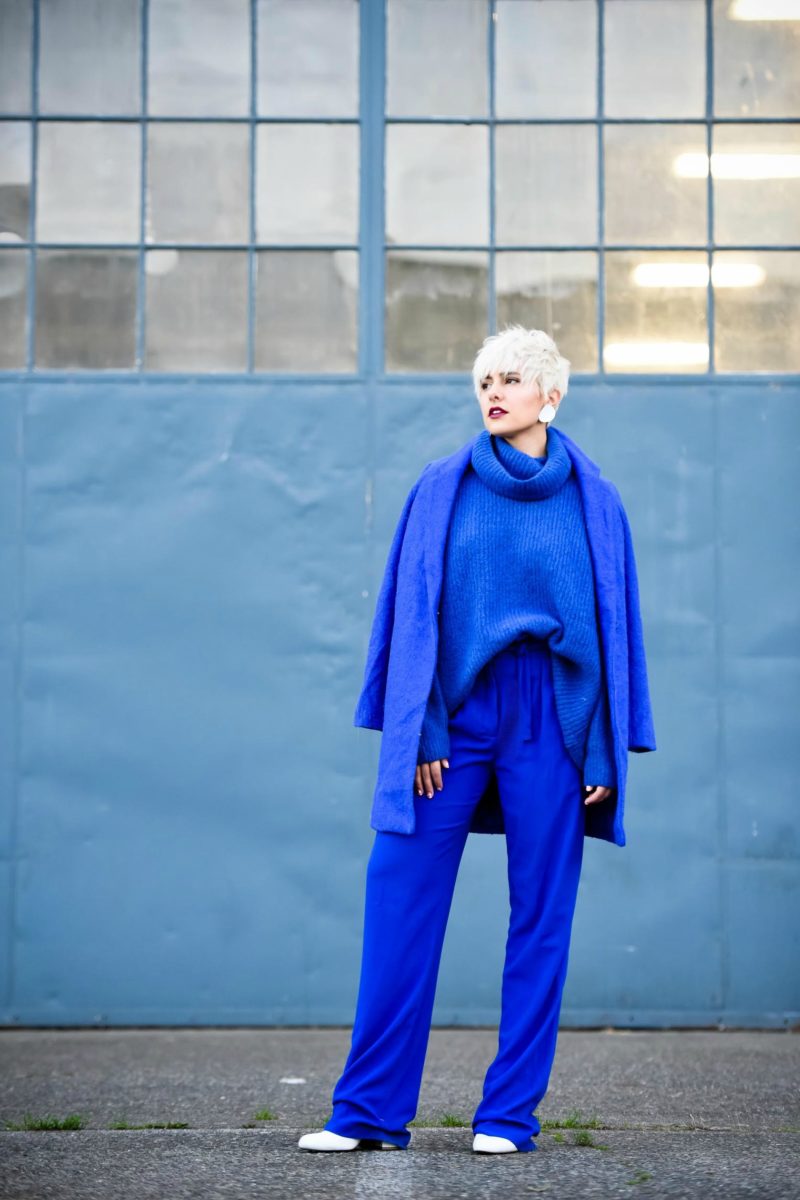 Shop the Look
In true spirit of the theme of 'wearing what you have' most of these items are not new. Shop similar styles below.
Sweater Zara (this season) | Pants Zara (old) | JOA Jacket HERE | Steve Madden Boots

A Note on Personal Style
A monochromatic look may seem loud and out there for most people but for me it has always been a go-to way of styling. Last fall I did an all orange toned look and last holiday season I did an all red look and there have been numerous all white looks, and those are simply the blog posts. When it comes to every day life this is one of my easy styling go-to's. This is all to point out that a monochromatic look can be impactful regardless of it's 'trendiness' and if it is something that suits your personal style it will always be on trend.
Thanks for reading! -Rebecca





Photography: Vivian Hsu
Styling: Rebecca Thayer
*DISCLOSURE: This post contains affiliate links. If you click on a link I may earn a small commission.