The White Ankle Boot
It started this last Spring outside of the Fall 17 shows: a crisp white, completely impractical in the streets of NYC the unbelievably crisp white leather boot. I you have been to NYC recently especially in inclimate weather you know that a white clad foot or leg is a recipe for commuting disaster yet season after season this trend keeps going strong.  The white boot was popular in winter time heading into Spring, but for NYWF SS18 this trend wasn't just popular it was EVERYWHERE solidifying for us that undeniably, the white ankle boot is the shoe you need to turn heads as we head into the fall season.

The Winner of the Popularity Contest
IF you spend a moment flipping through NYFW photos, even on vogue.com, you will quickly see that all white boots were not created equal. These Laurence Dacade 'Mod' white boots were decidedly the most popular according to every single credit given on a street style photo. I love the curved toe and block heel as it does evoke a strong '60's vibe while still feeling incredibly current. The white boot trend is manifesting in all sorts of ways in addition to this classic shape: be it a pointed toe a-la Balenciaga, a contrasting heel or a higher ankle shaft. Regardless of your preferred silhouette this is a must-have boot for Fall.

The Best Affordable Imitator
While I love Laurence Dacade (my favorite Stud Boots are their label) something about the nature of the  boot being white (and bound to get scuffed/dirty/etc) makes me want an affordable version rather than the break the bank version. The best dupe I found for the Laurence Dacade version was the Gaze by Steve Madden. The block heel is a friendly mid-height giving you a bit of lift while still allowing you to be comfortable and wear these all day. The all white and round toe are perfectly on trend with the mod look and the slightly higher ankle shaft also taps into the sock boot trend everyone is loving right now. If you saw my insta-stories @BloggerNotBillionaire you know that I put my money where my mouth is and bought these earlier in the week and I can't wait to wear them!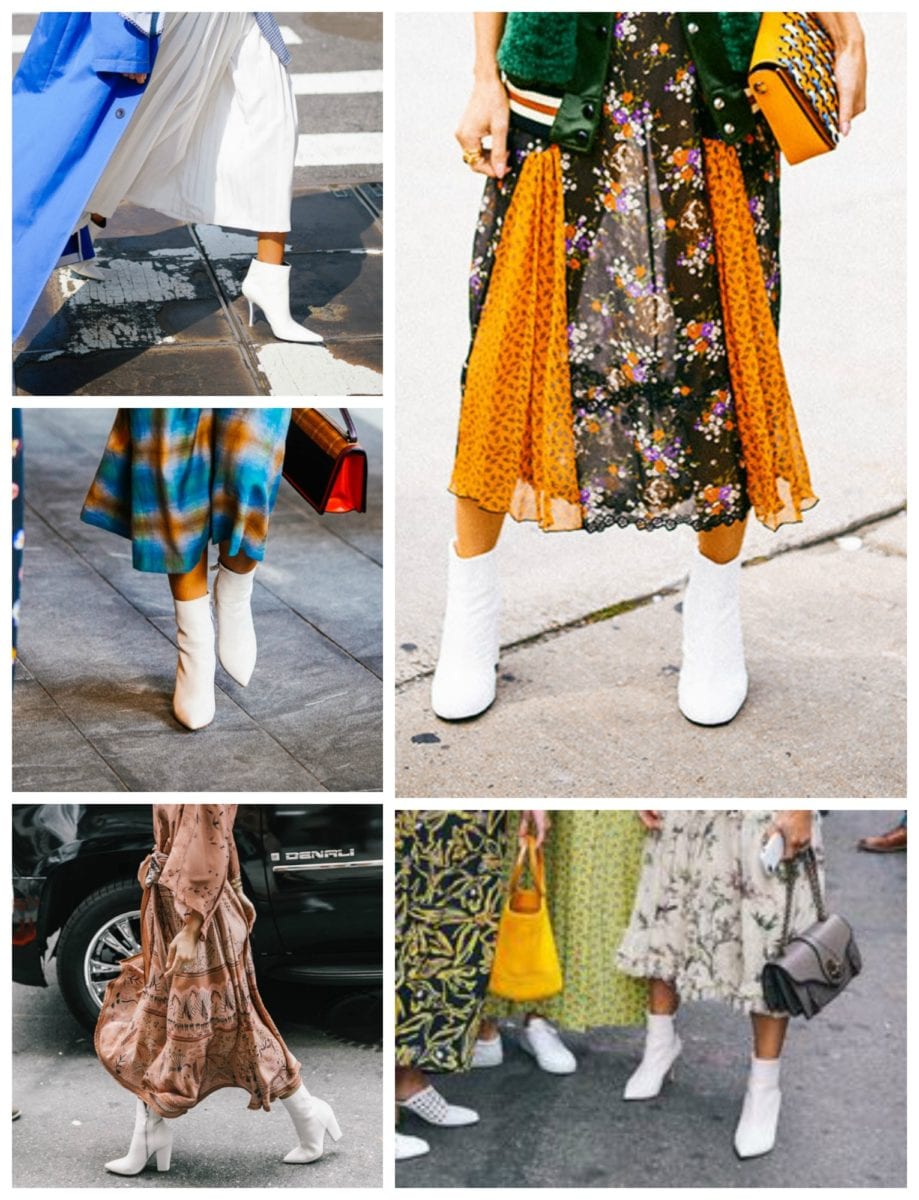 The Best of the Rest
Here are some of my other favorites that are in the more affordable category. The first is my favorite 'alternative' boot, a pointed toe by Dolce Vita with a slightly higher shaft. Second we have the best 'Balenciaga' of course from Jeffrey Campbell. Third, we have a higher heeled option from Steve Madden in their classic 'Editor' shape, a favorite from last year. Lastly we have a great Marc Jacobs knockoff for the fashionista who wants the white boot but wants to show her own take on it as well.

How do YOU feel about the white ankle boot?  Let me know in the comments below and thanks for reading!
*Image sources: manrepeller.com, voguerunway.com
[contact-form-7 404 "Not Found"]
Save
Save
Save