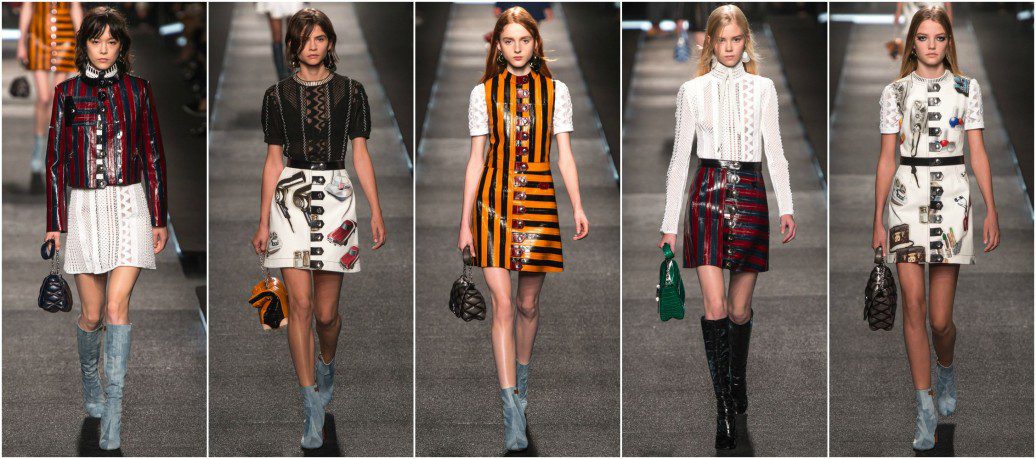 It is rare that a ready-to-wear collection comes along and not only introduces a new silhouette into our wardrobe but also has us clamoring to replicate every look far after the original season has past, but that was before Nicolas Ghesquière. took over at Louis Vuitton.
In case you need a refresher, this last Spring '15 collection from Nicolas Ghesquière for Louis Vuitton incorporated late blouses and dresses in an almost Chloe-esque vein only their lace details were more laser cut than crocheted and their details were harsh and black instead of camel. These 70's inspired pieces were paired with leather pieced together a-line distinctly 70s skirts and jackets who's patchwork nature was aggressive and architectural making the use of the term 'patchwork' almost seem unfit for the collection. Ring zippers and painted leather as well as denim boots turned the 70's motif on its head while making sure we all readily understood it's presence and I for one finished watching the shoe and immediately started counting my pennies since GGhesquière's pieces were just so special, I couldn't even imagine trying to find a good knockoff.
Fast forward to now as we are approaching Fall and Ghesquière's Spring silhouettes couldn't be more relevant paired with a reptile leather knee high boot. Yet as tends to happen with fashion, many other designers and retailers haven't caught on quite yet that the standout piece, the button front A-line skirt from the LV collection is going to be the 'it skirt' for several more seasons to come. That leaves those of us without the pocket book for ready-to-wear collections scrambling to find an alternative from out favorite fast fashion companies. Now a word of caution: no one can directly replicate a Louis Vuitton to perfection nor perhaps should they as that wouldn't be right, so our options for 'getting the look for less' all still fall heavily towards the Chloe 70's era. They colors are softer, the lines less extreme and the details infinitely more boho than architectural. Yet when dressed properly with a more structural blouse and the right high-ankle or knee high boots these skirts will absolutely give you the style and silhouette that the Spring Louis Vuitton show left us craving.
Thanks for reading and happy shopping! Which fast fashion skirt do you think best fits the Louis Vuitton trend? Let me know in the comments section. Cheers! -Rebecca