As with any time of seasonal transition there are always those awkward weather moments when you have fully transitioned into the new season in how you are dressing yet the temperature doubles back and decides to head back the other way. Here in Seattle this seems to be happening quite frequently, although that isn't too unexpected considering our famously bipolar weather. This poses a challenge when getting dressed in the morning because we still want to feel seasonally appropriate but we may not be ready for full on Fall outfits. Here is my solution: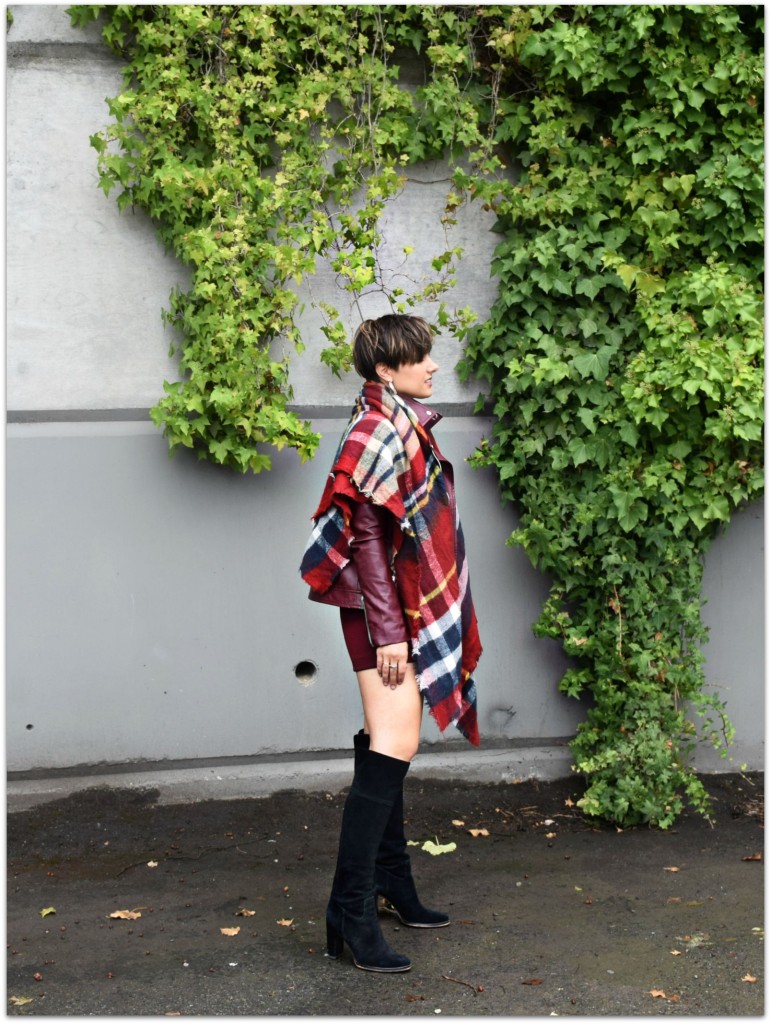 When you are dealing with weather changes and seasonal ambiguity there is one thing you need to remember: layers. Today's outfit is a perfect example of this. The weather was warm with a cool breeze and while a summary dress with a jacket might have been warm enough with the changing leaves it just didn't feel appropriate. Instead I opted for my favorite rich fall color, oxblood, and grabbed a pair of Zara shorts that work both in the summer and the Fall. The white short sleeved shirt was great on it's own when it heated up, but the leather jacket kept me nice and toasty when needed.
The scarf and boots are essential Fall items that clearly state which seasonal look you are going for. A high boot is also one of my favorite ways to make shorts appropriate in the winter seasons so  I utilized that trick. Scarves are such versatile items I chose to wear today's as more of a cape than a true scarf to add interest to my jacket and give me a bit more of a bundled up factor when needed. The trick here is balancing out the shirt and the shorts which on their own would be a solid summer look and using your accessories and outerwear to set the tone for what you are trying to achieve. So grab those layers, you will be glad you did when the sun comes out and then will be glad again when it goes away.
Have a lovely day and thank you for reading. Check back tomorrow for a special Double Post day as I share an exciting collection hitting stores tomorrow. Cheers! -Rebecca