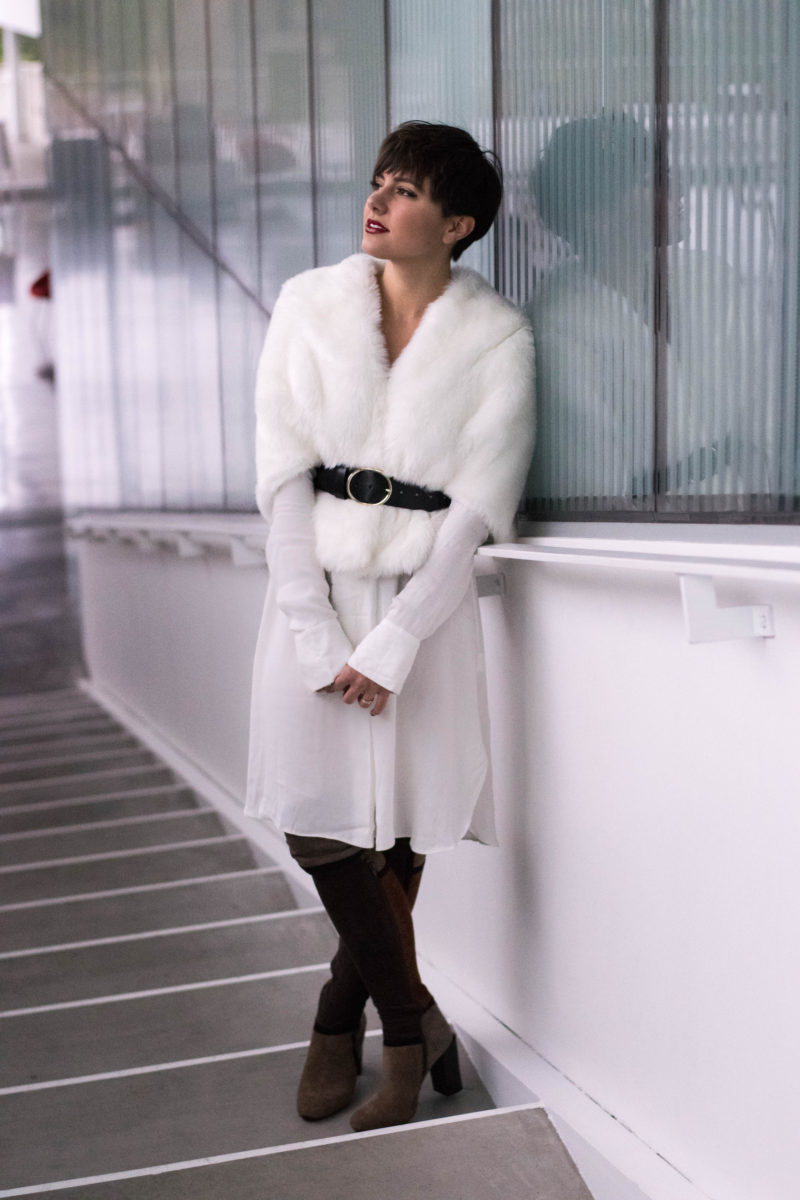 It's officially December now which means holiday party invites have most likely already started to role in. Here at Blogger Not Billionaire we LOVE getting dressed for holiday parties (especially the ugly sweater variety) but like many of you we also would prefer to create a look mostly out of items we already have our closets. Today we will show you how to do just that and what key pieces you need to pull this together.
First, this look started with this white faux fur stole I had in my closet. It seems like we all have something like this be it in a more cape version like mine or even in a thicker scarf due to how trendy faux fur has been in recent years. Rather than simply wearing it as intended, I belted the stole to make it look like more of a part of the dress itself.
Next I had a very simple long white dress in my closet that I wear under everything and it worked for a holiday event as well due to its fabrication being more of a silk blend which translates well into more of an evening use. You probably have a staple dress like this in your closet and if you don't I highly recommend getting one. Just cruise through some old looks and you will see this dress used season after season, under skirts, under coats and standing alone as a great basic. The white monochromatic palette of the stole and the dress also work together to give this look both a holiday feel and a level of sophistication so don't shy away from white this season or keeping your look all in one color family.
The accent pieces in this outfit are what make it pop: the belt and the boots. The belt is new, a sophisticated round buckle option that is a bit wider and a trend straight off the runway. Not only does it provide a great contrast to the all white look it also tailors what would otherwise be a more free form silhouette and adds structure and intention to the look aka it makes everything look like it they were meant to be worn together. The thigh high boots are a fun addition here that actually serve the purpose of keeping you warm (yay!) and make this outfit a bit more casual and fun. These Jeffrey Campbell stunners are very 60's mod influenced and the color blocking is nothing if not whimsical and fun. My favorite thing about these boots? I have larger calves and muscular legs so thigh high boots NEVER fit me or if they do they make the tops of my legs look like sausages but these beauties, due to the miracle of stretchy faux suede, fit like a dream!! Even over jeans!! So don't be afraid to let your pop of excitement in your holiday look be more subtle with a fun shoe and a great belt rather than simple sequins.
To recap here, you need a faux fur stole or scarf, a long dressier shift dress, a great belt and a statement pair of high boots and this look is all yours. I am betting you have at least 90% of these things in your closet so don't be afraid to get creative and make your own look this season rather than heading to the mall. Missing a few things to pull it all together? Shop my options below. Thanks for reading and happy Holiday season! -Rebecca
CREDITS:
Photography : Katie Miyagi
Styling: Rebecca Cornelius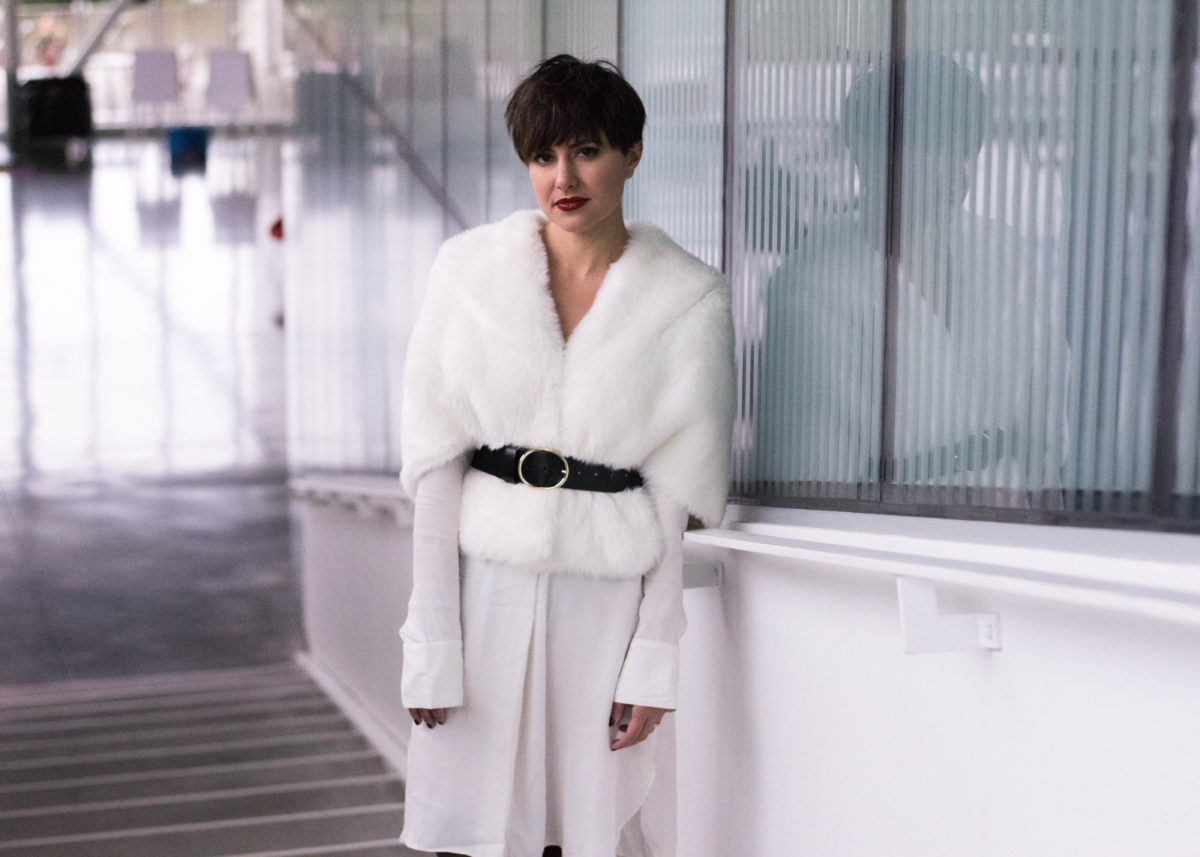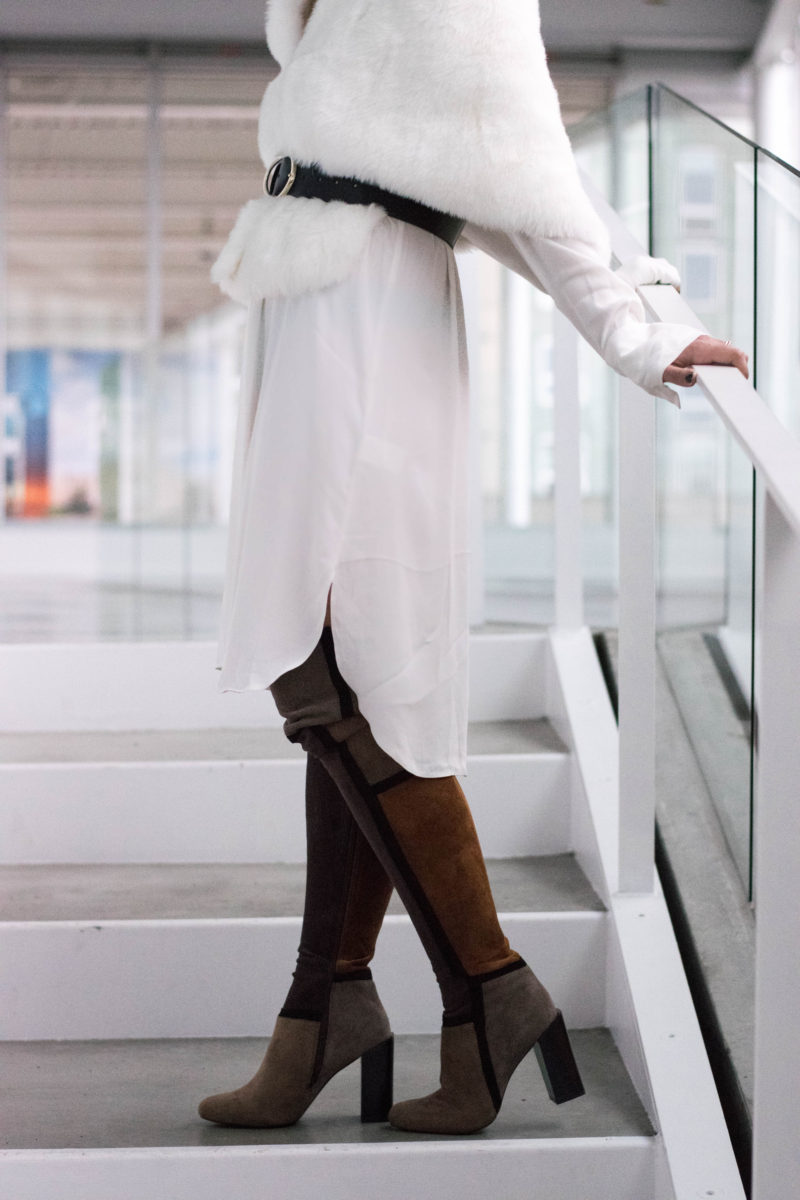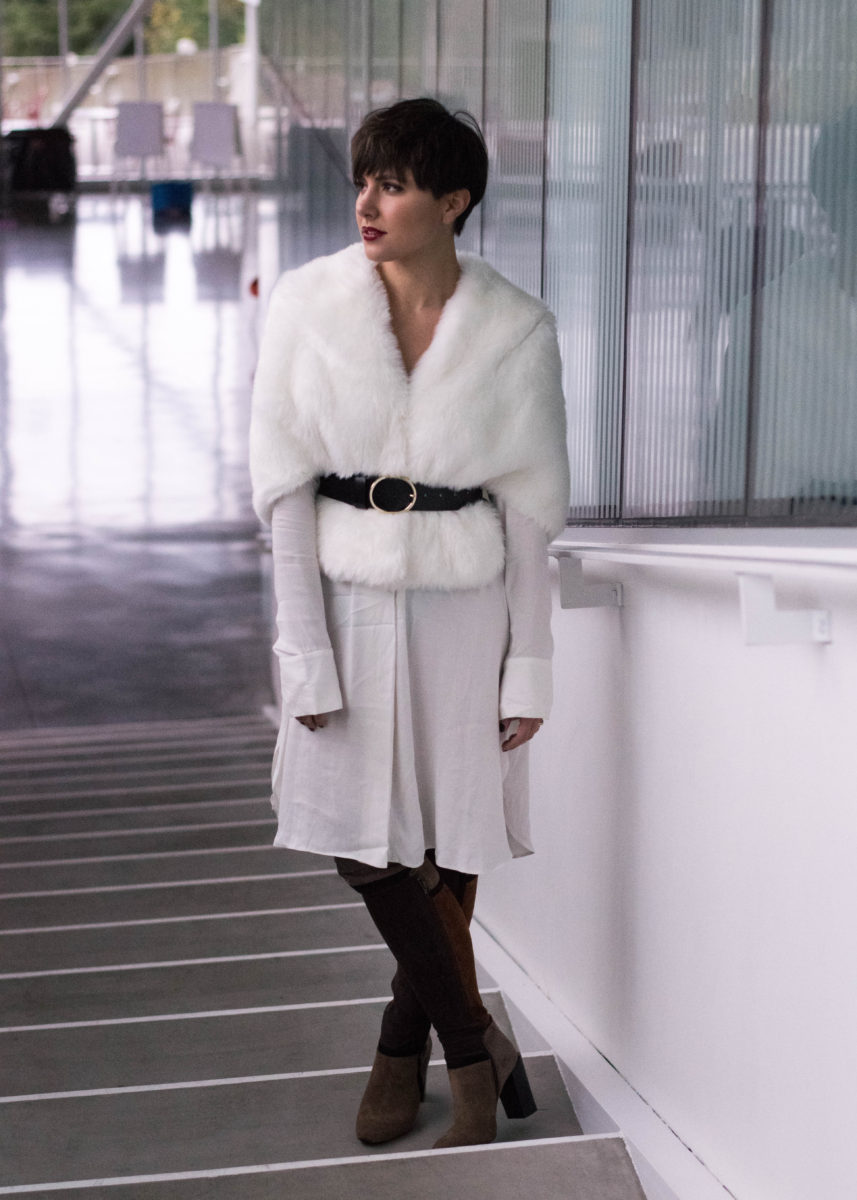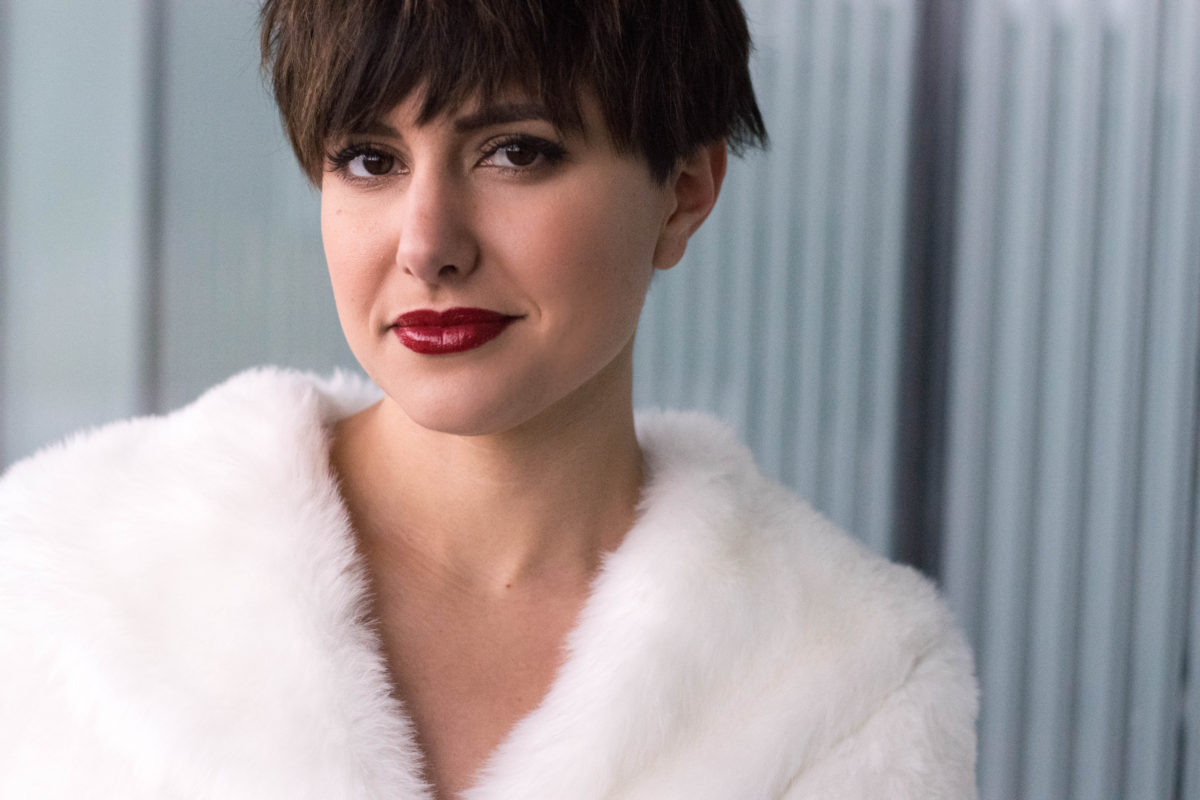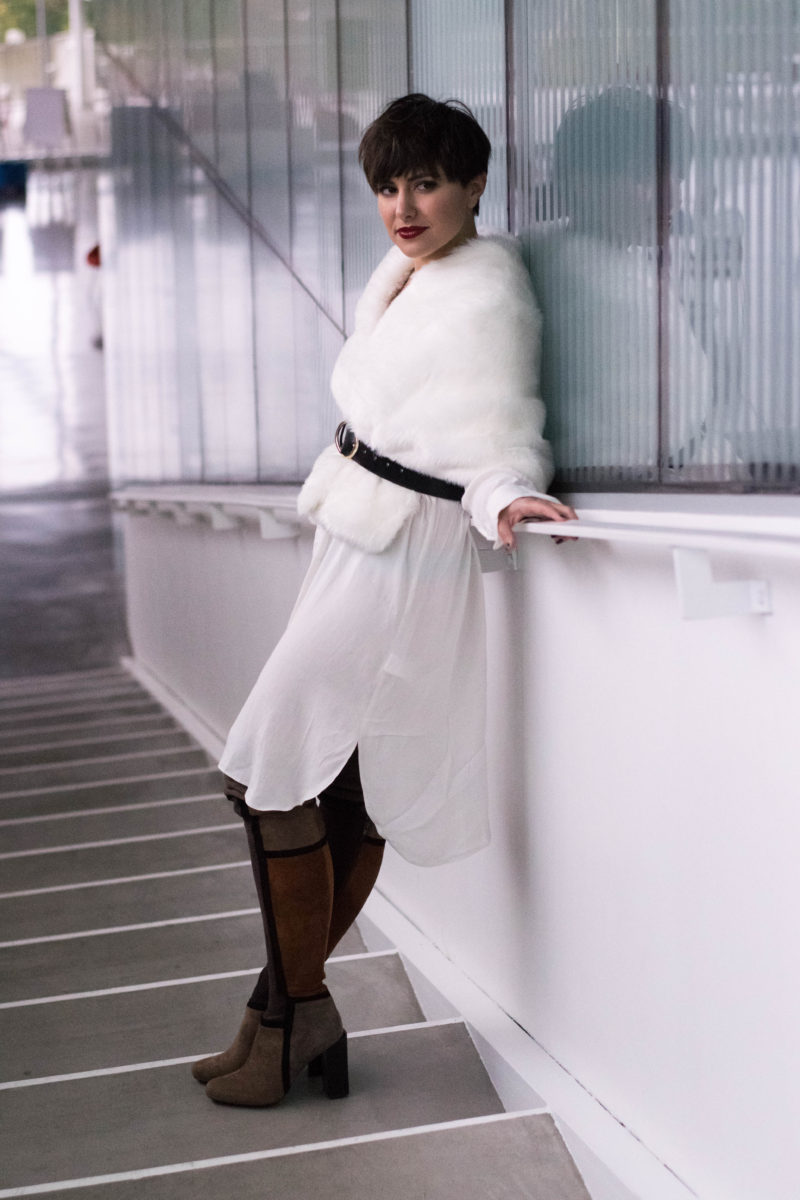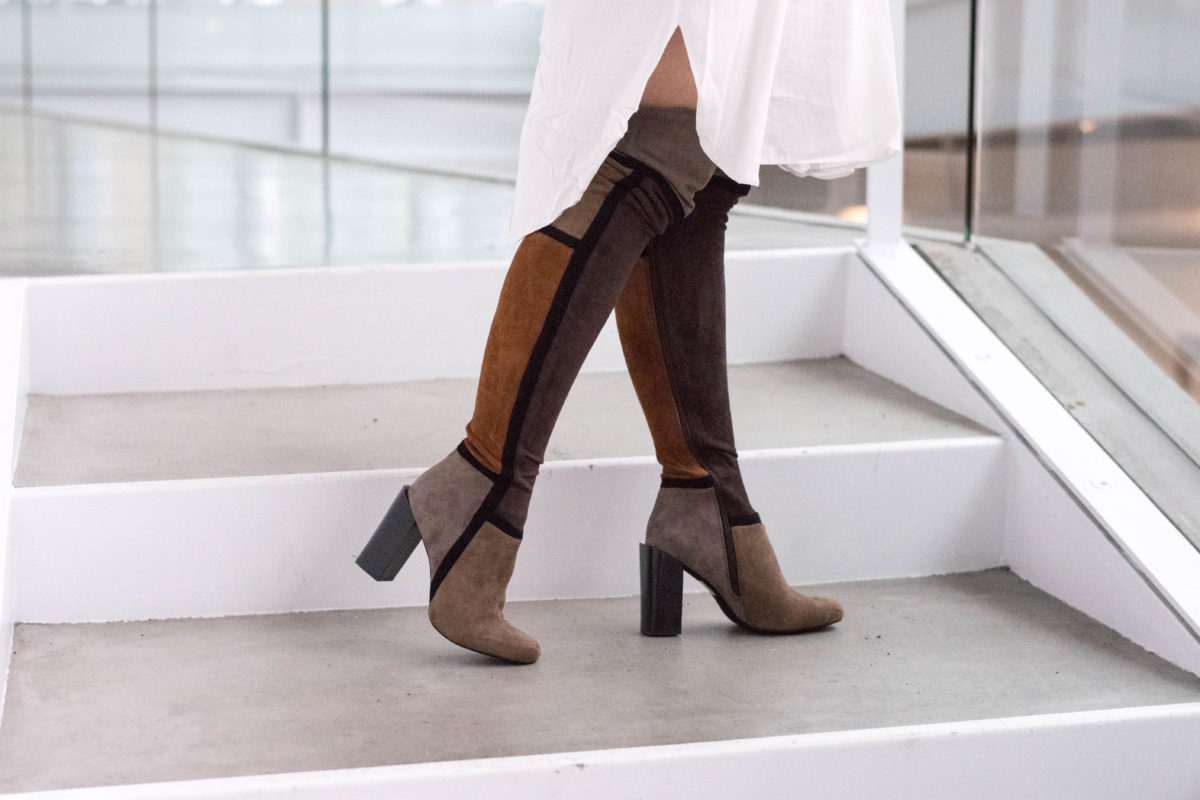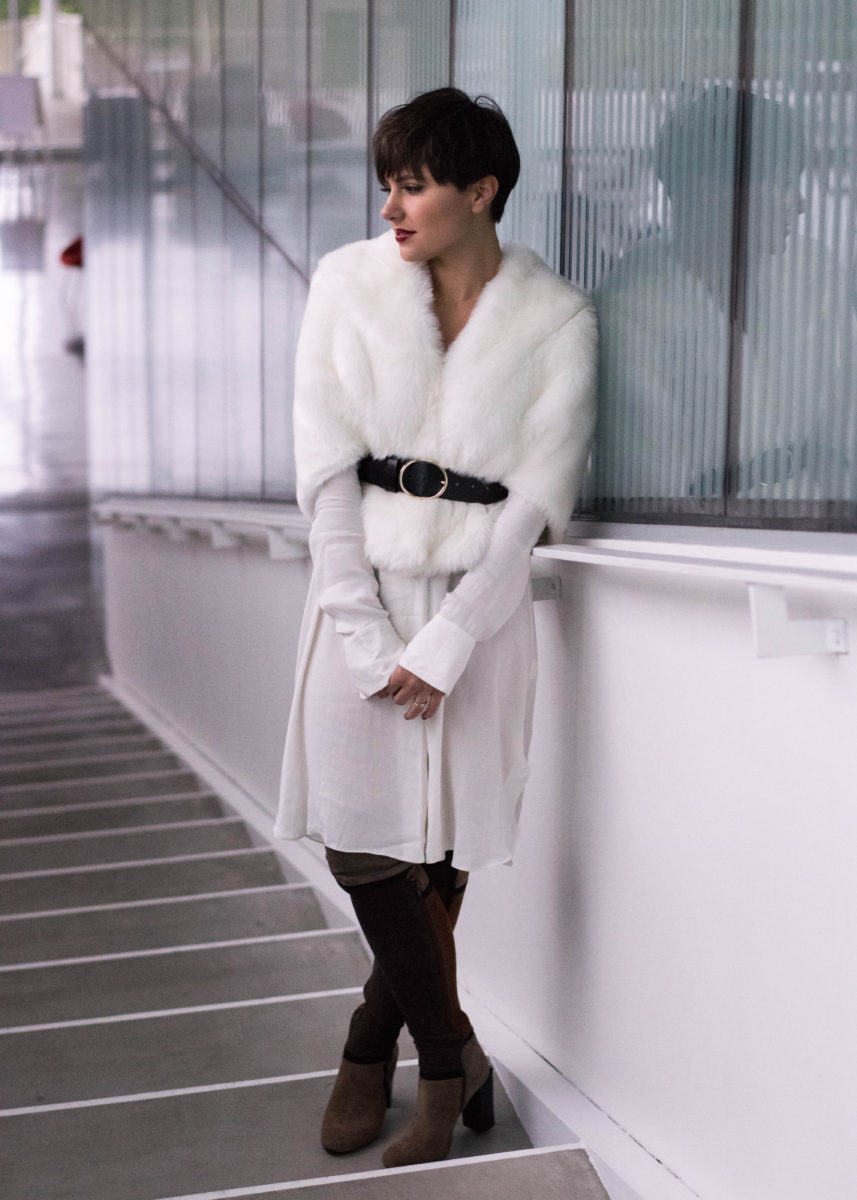 Save