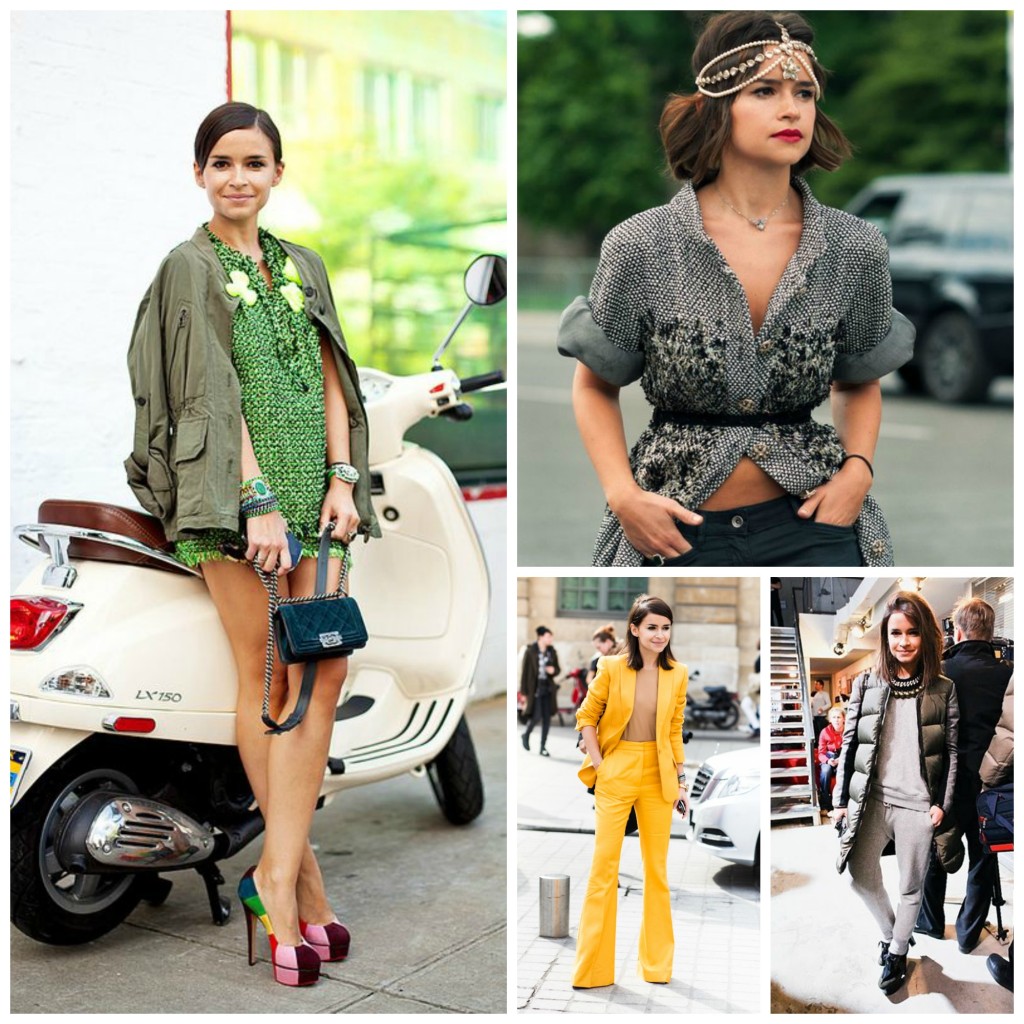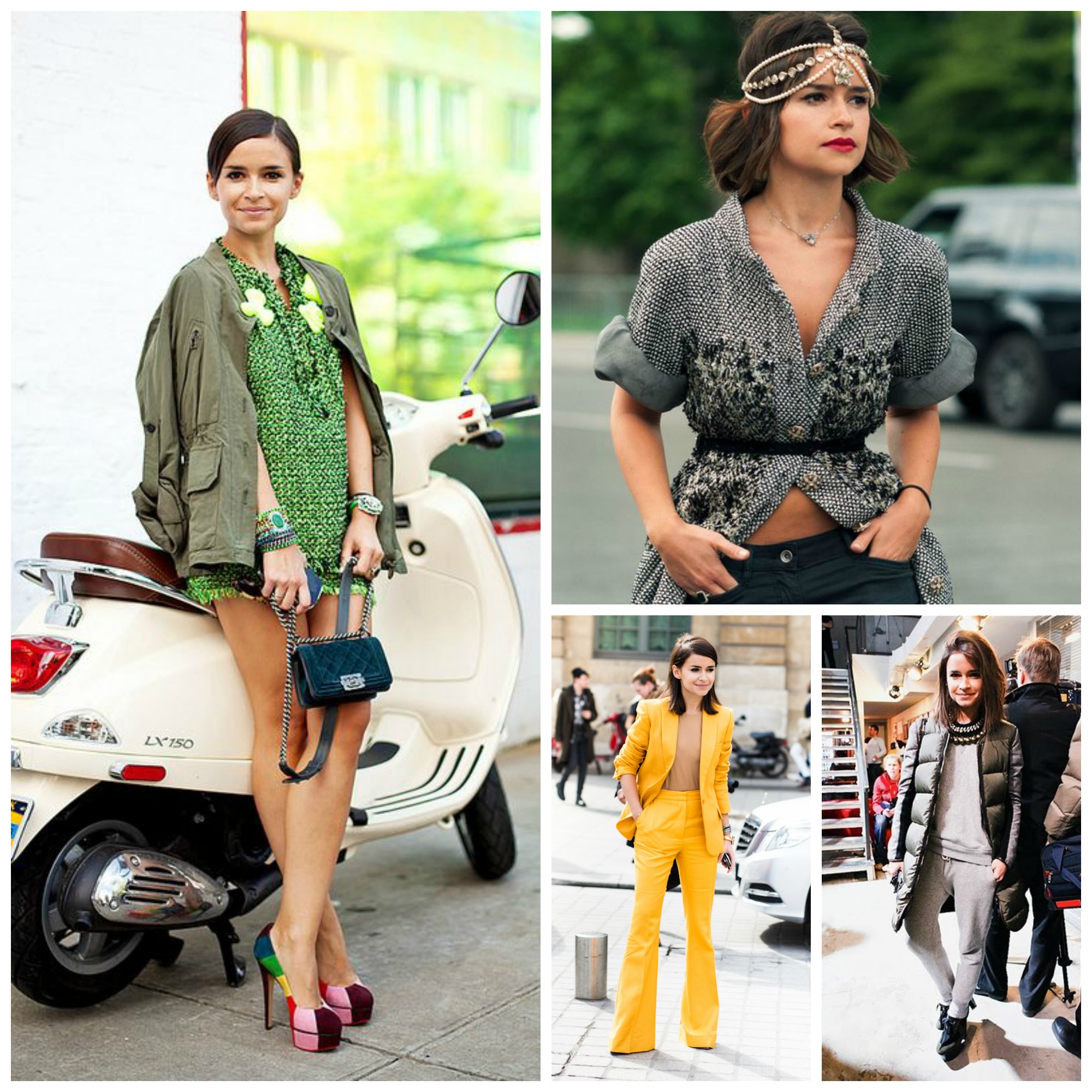 If you have ever looked at street style snaps from any fashion week in the past 5 years you know who Miroslava Duma is, if not by name by face and certainly by her impeccable style. One of my personal style icons, Mira had an uncanny way to make very forward trends seem both casual and accessible. A petite woman, she also balances her height and frame well accomplishing everything from wearing short shorts with sky high heels to true men's size overalls with the ease of a pro and  the curated eye that defines her unique style. Every outfit is unlike the previous one and from every look Mira wears we can learn a bit more about how we too can style ourselves like the ultimate street style star. Read on to find out the top 7 things we can learn from Miroslava Duma's impeccable style.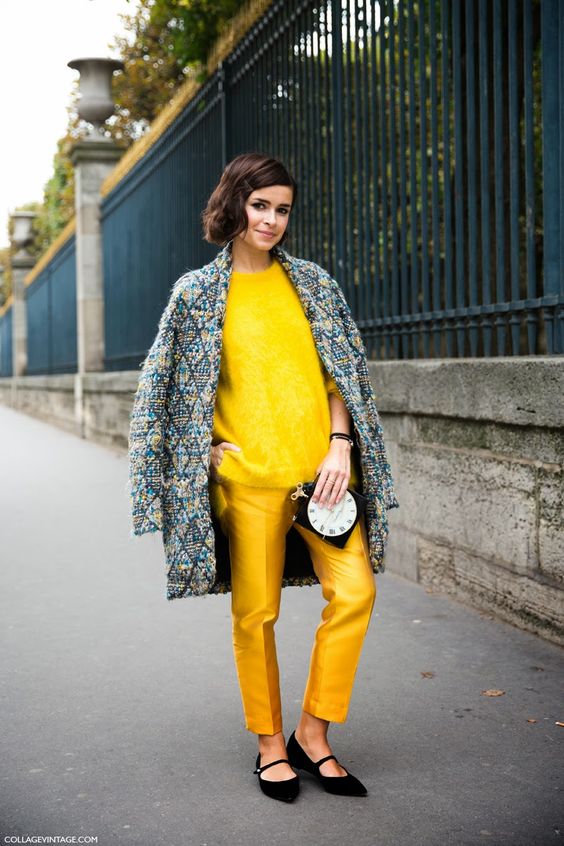 1. Don't Be Afraid of Color
In a sea of minimalism and black & white Mira always shines with her fearlessness when it comes to wearing color. The rich hues she selects turn otherwise ordinary looks into show stealing statements that light up the street wherever she goes. Mira also is not afraid to combine unconventional color ways together to create something new and even more appealing like the blue and marigold yellow shown above.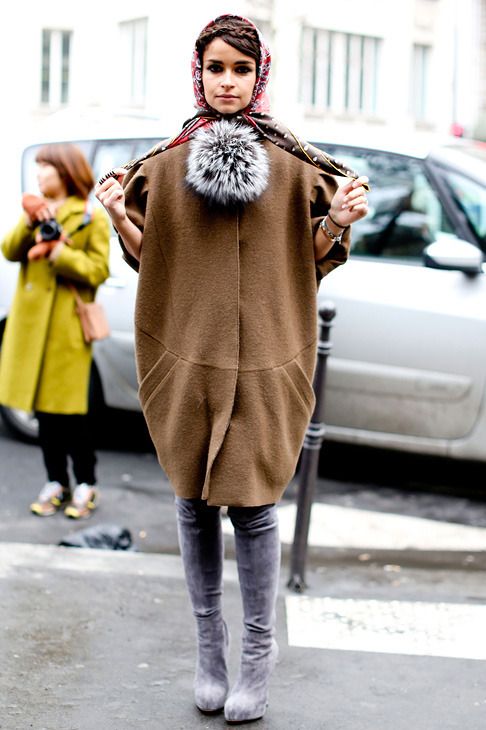 2. Embrace Your Heritage
Perhaps one of the most famous of the Russian fashionistas, Miroslava Duma has never lost site of her heritage and in fact incorporates elements of traditional Russian clothing quite frequently in her wardrobe. While not everyone in Russia is running around wearing a headscarf, Mira takes elements of more traditional dressing and works them into modern outfits like the one above  showing off her pride in her heritage while making a fantastic sartorial statement.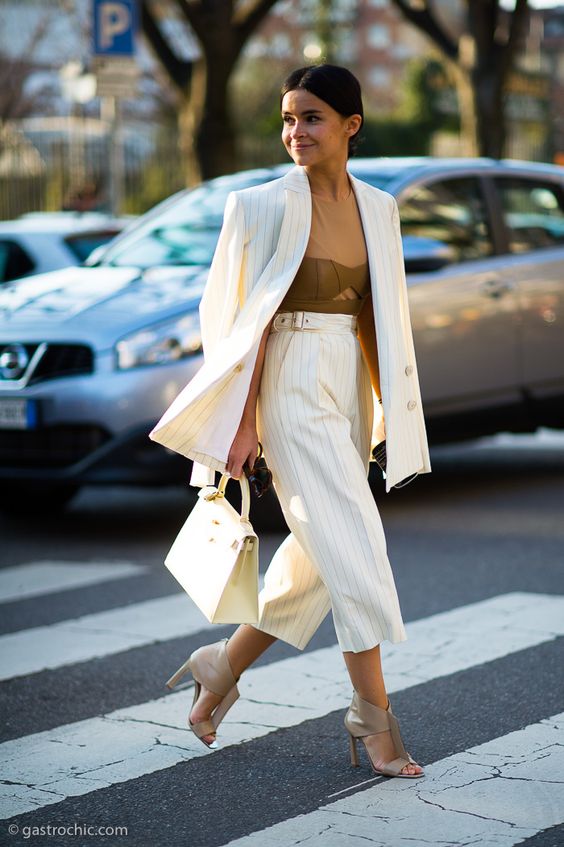 3. A Suit Is ALWAYS a Good Idea
A matching suit seems to be one of Miroslava Duma's most frequent go-to's when it comes to sophisticated dressing. Most often only matching her coat with her trousers Mira shows us that suiting can be both polished and fashionable and she executes this in a laid back fashion. These certainly aren't your mother's bank suits, Miroslava opts instead to less traditional forms of suiting especially in bright colors thus updating the suiting category making it feel fresh and very, very relevant.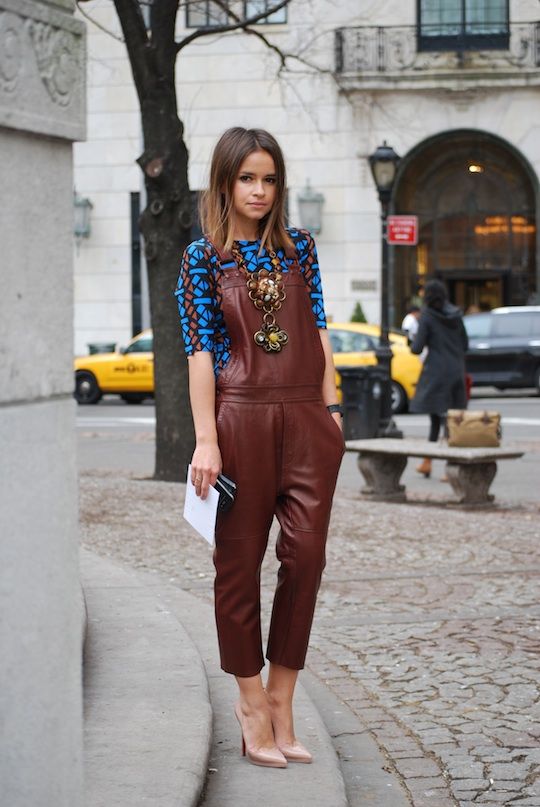 4. You Are Never Too Old For Overalls (Especially Leather Ones)
Whether they are in vogue at the time or not you can almost always find Miroslava Duma in a great pair of overalls at least once a seasons. Perhaps it is how easy they are to throw on and pull an outfit together with or maybe it is how well they fit her laid back style that draws her to them. Regardless of the trend Mira has shown us that overalls can always define a look especially in an amazing leather combination so make sure you have at least one go-to pair in your closet at all times.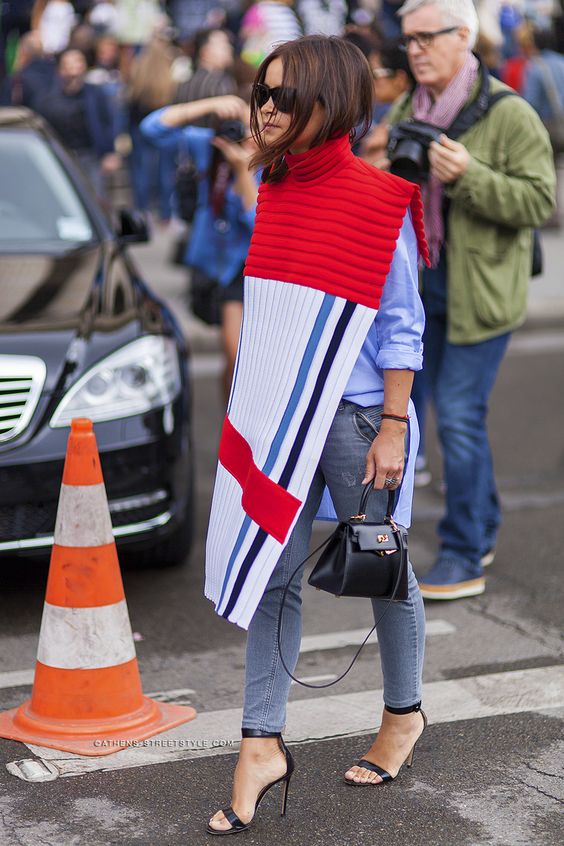 5. When in Doubt Wear Denim
Despite her penchant for suiting, sophisticated costs and dresses this fashion week darling is just like you in I in that she loves her denim. Whether she is combining a Celine poncho with a pair of skinnies or a pair of boyfriend jeans with a basic tank Mira always keeps these casual looks on trend and moderately dressed up. Denim, as we have seen at recent fashion weeks, is no longer something just for her the grocery store or the weekends so look to Mira's inspiration for a more sophisticated work ready way to wear it.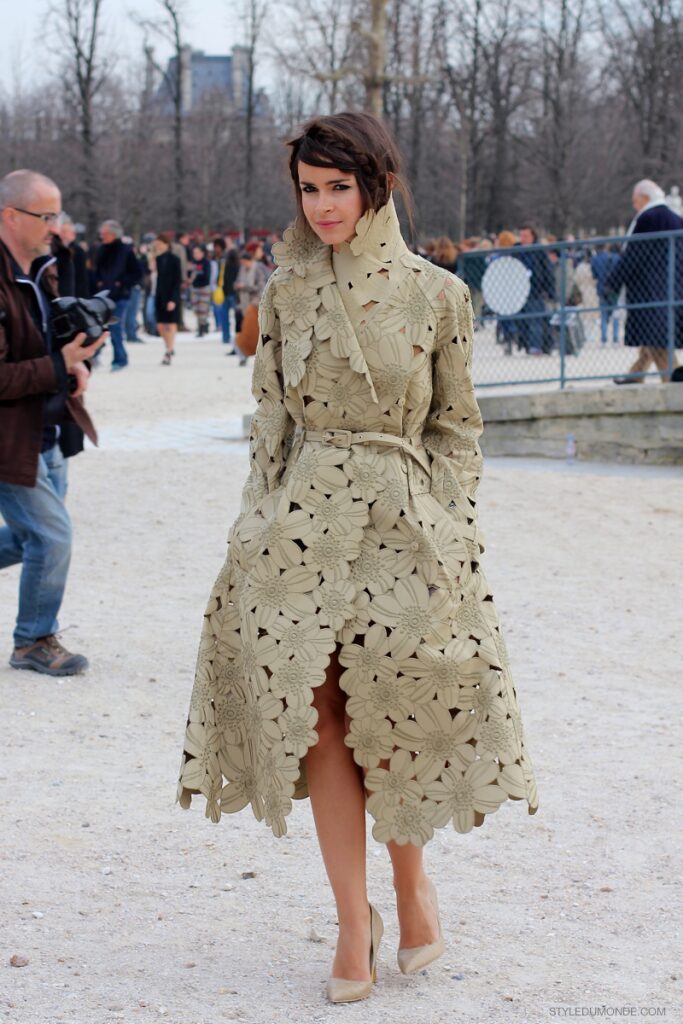 6. All You Need is A Great Coat
If there is one thing Miroslava rarely leaves the house without it's a great statement coat or jacket. Oftentimes that 1 killer piece of outerwear even ends up comprising the entire look. This is genius because the rest of your outfit is left to the imagination and no one really cares what you are wearing underneath if they can't see it. A gorgeous laser cut jacket or your oversized, impeccably tailored coat steals the show anyway and Mira's layering choices with her larger outerwear items always perfectly balance her petite figure, nothing is ever too overwhelming. If there ever was a Miroslava Duma's 'getting dressed quickly' shortcut this would be the trick as amazing outerwear can always make a look.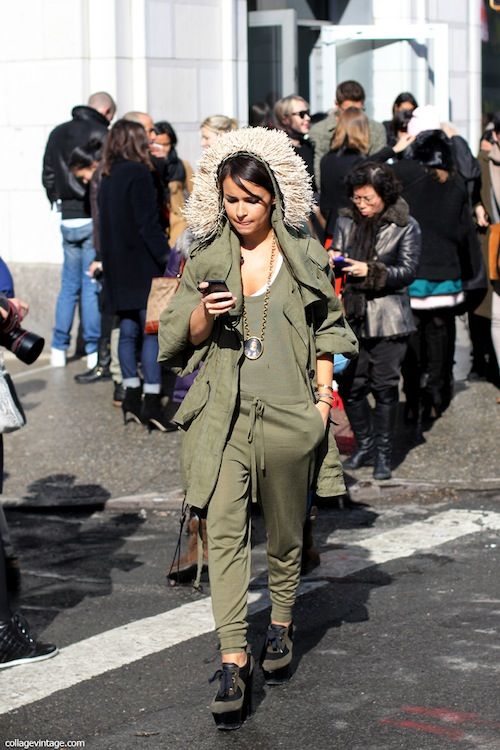 7. Wear the Trend, Don't Let the Trend Wear You
Rarely do we see street style stars celebrities or anyone at all try so many different trends, silhouettes, patterns and styles as Miroslava Duma does, and certainly no one pulls them off quite like she does. Regardless of the trend or what is in vogue at the moment, every outfit Mira wears is always distinctly her. From an army style head to toe look to a pair of boyfriend jeans or even a ball gown she always looks exactly like herself and no one else.  With a great attention to what flatters her petite figure she imbues the clothing with her personality and always dresses in a way that says 'I know who I am, look how great these clothes look on me' rather than look how drowned out I am in these clothes. Maintaining that individuality and confidence is what allows Miroslava to be such a chameleon and own each garment she chooses to dress herself in and it is something we should all keep in mind and try to aspire to each day as we get dressed. Dress for yourself and be confident doing it.
Thanks for reading-Rebecca