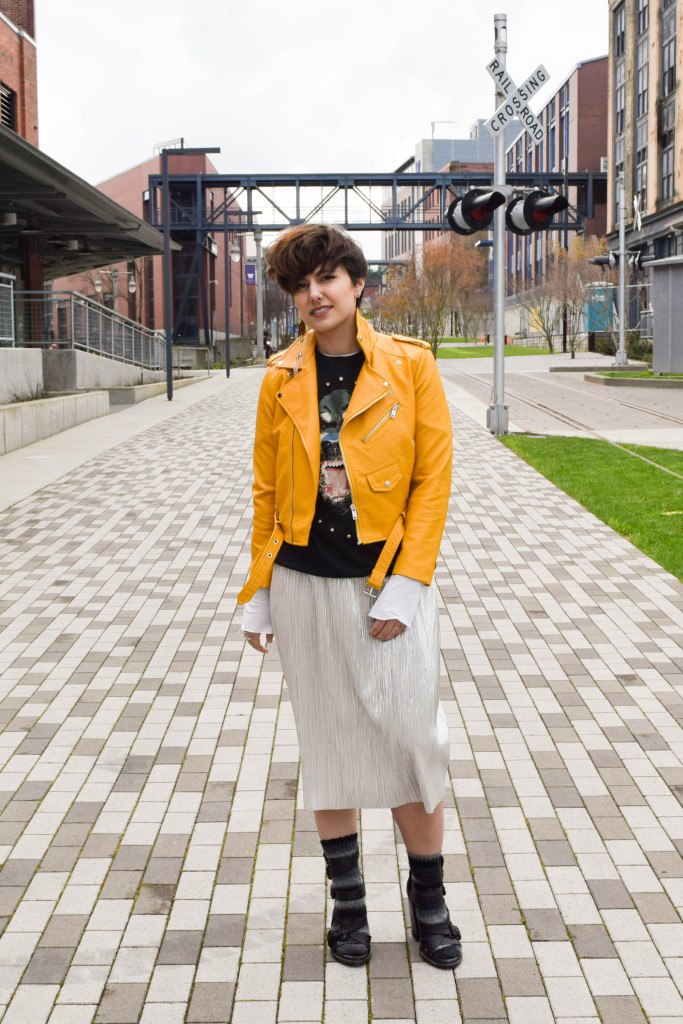 Oh the metallic pleated skirt. First making a bold appearance on the Gucci Spring 16 runways this midi length knife cut swath of sass has become a wardrobe stable for the fashionably conscious. the appeal is easy to see, they are flashy fit with the other trends of the moment and they generally are forgiving for your figure depending on the weight of the fabric. So why has this fantastic item sat in my closet for several months without being worn? Well despite all of its stylistic superiority this shape of skirt isn't the easiest thing to build an outfit around.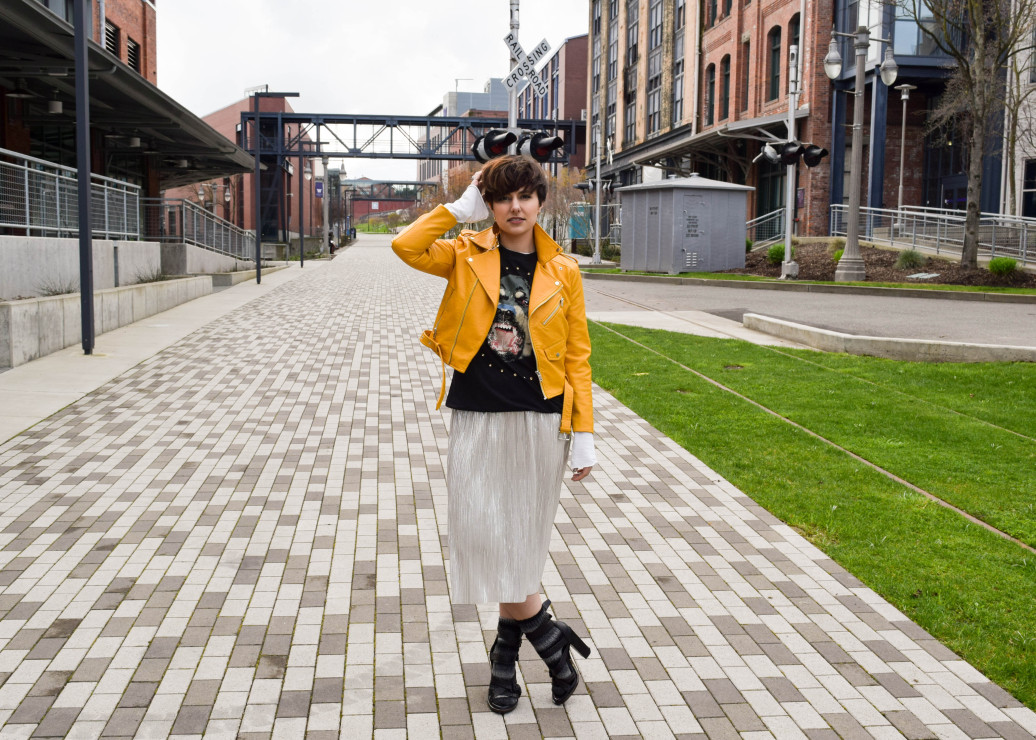 There is something that should be shared about knife pleating in a skirt, it's many folds that lend to eye catching movement also tend to cling to your figure and show off everything underneath, whether you sometimes like it or not which means your outfit must be planned with this in mind. That brings us to our first tip for how to wear a metallic pleated skirt.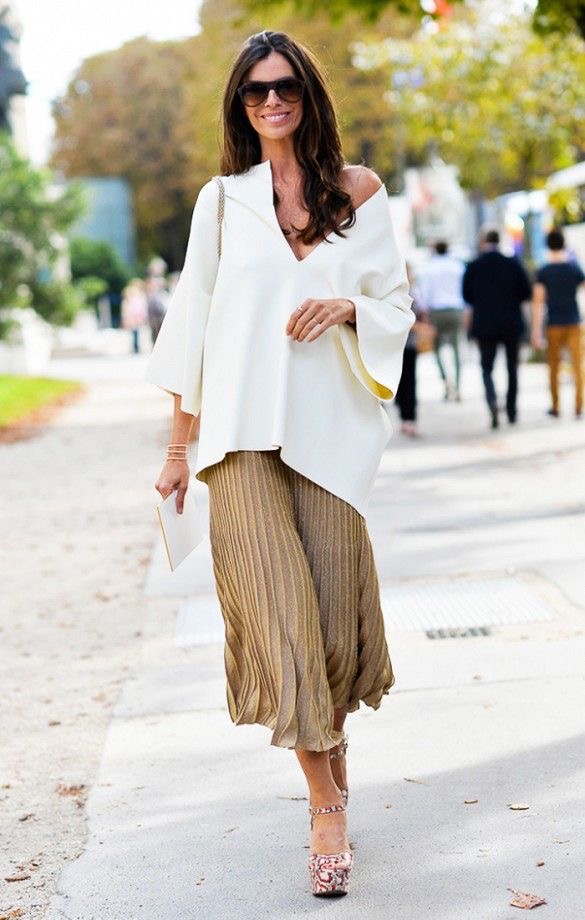 Tip #1: The long sweater.
Conscious of how this particular style of skirt can hug our curves a little too well many a street style star opted for an oversized sweater as its partner in order to draw attention away from the hips. This is also a fun way to play with layering as it restricts the movement of the top of the skirt but allows the bottom portions to play around your calves and knees as you walk.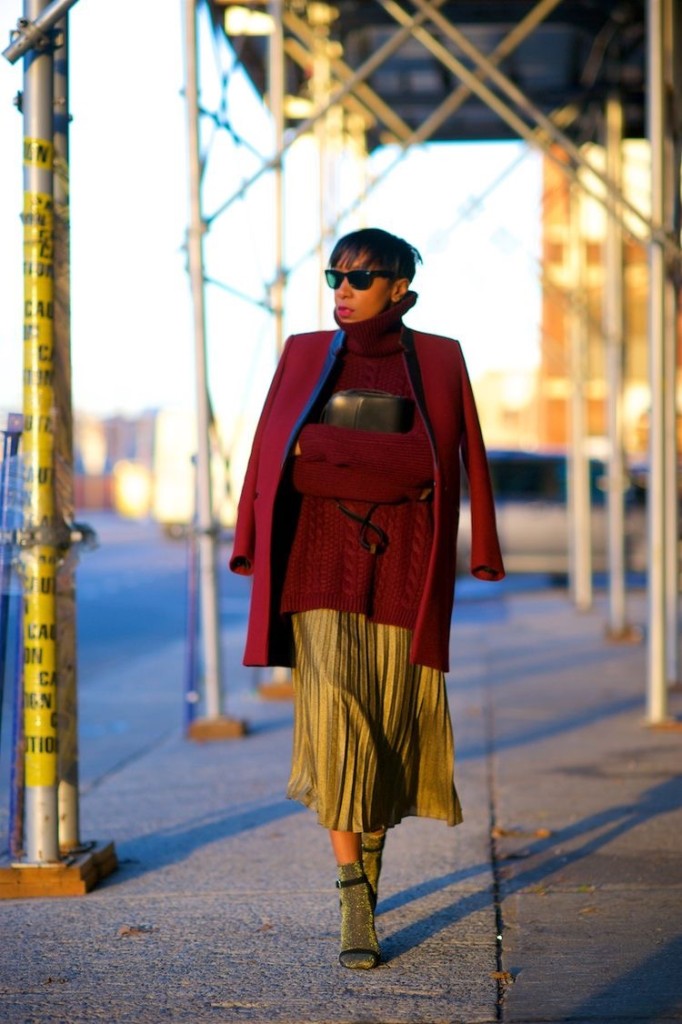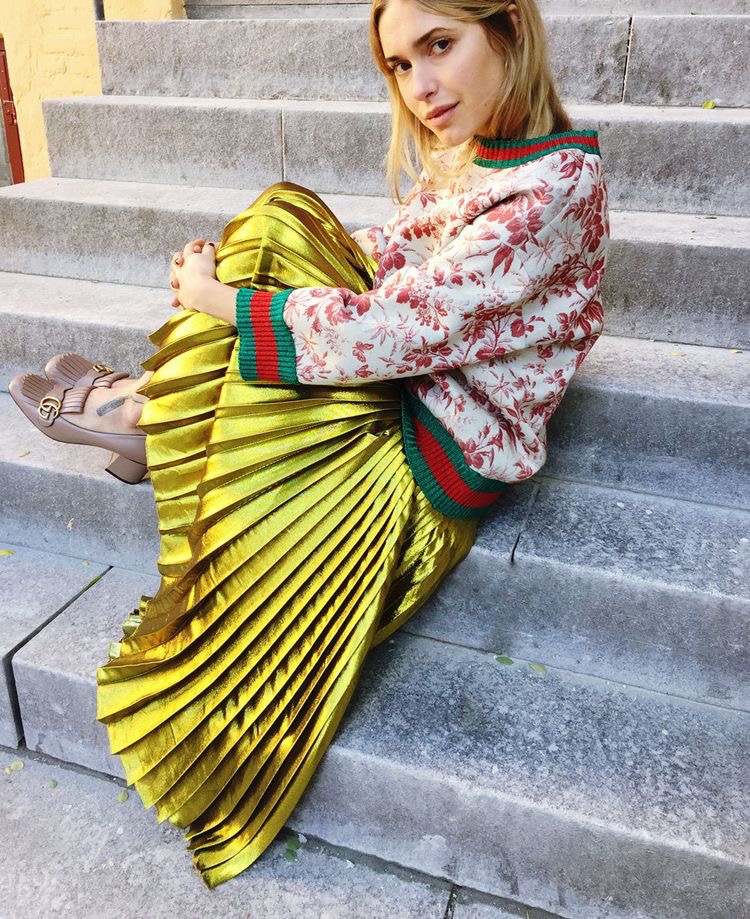 Tip #2: The Gucci sweater/sweatshirt.
Not quite the same as the oversized sweater this is a dressed down, cool girl way to wear this skirt that adds interest through perportions. Both this and the oversized sweater add a more 20's relaxed feeling of sportswear to this lady like skirt; perfect for anyone who is a Downton abbey fan.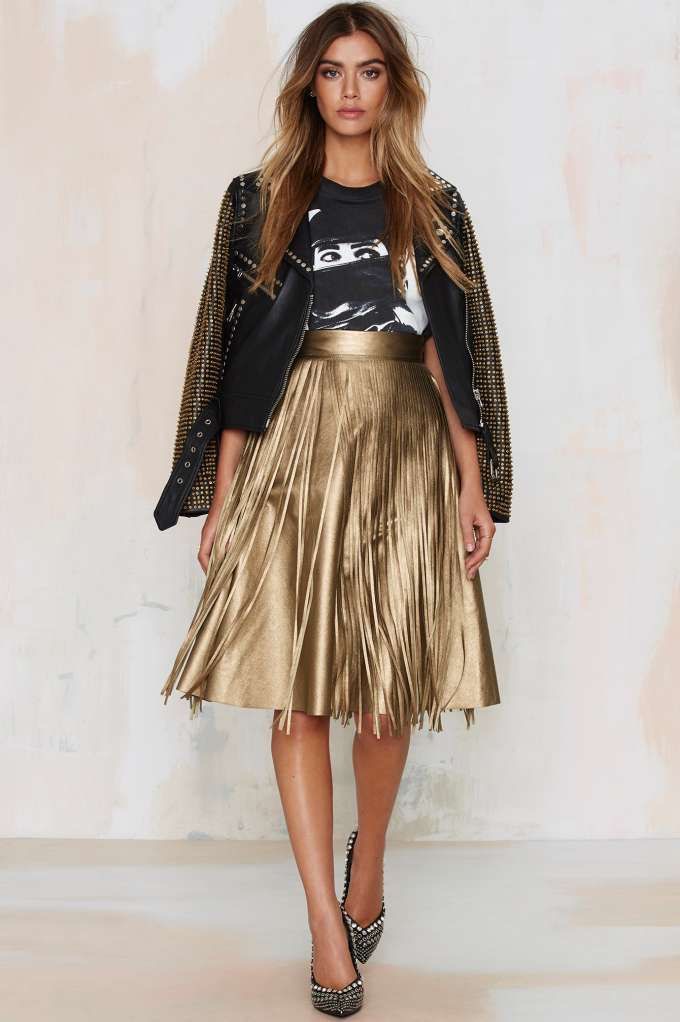 Tip #3: The Oversized Band Tee + Leather Jacket.
If you are noticing a theme here, you are right. The trend is not to wear something fitted with this voluminous skirt. Instead it's a story of contrasts and your favorite band tee shirt with rolled cuffs is no different. Giving your look a carefree rock and roll attitude a loose tshirt and perhaps a leather jacket make this a very wearable option. No prim and proper ladies in this outfit.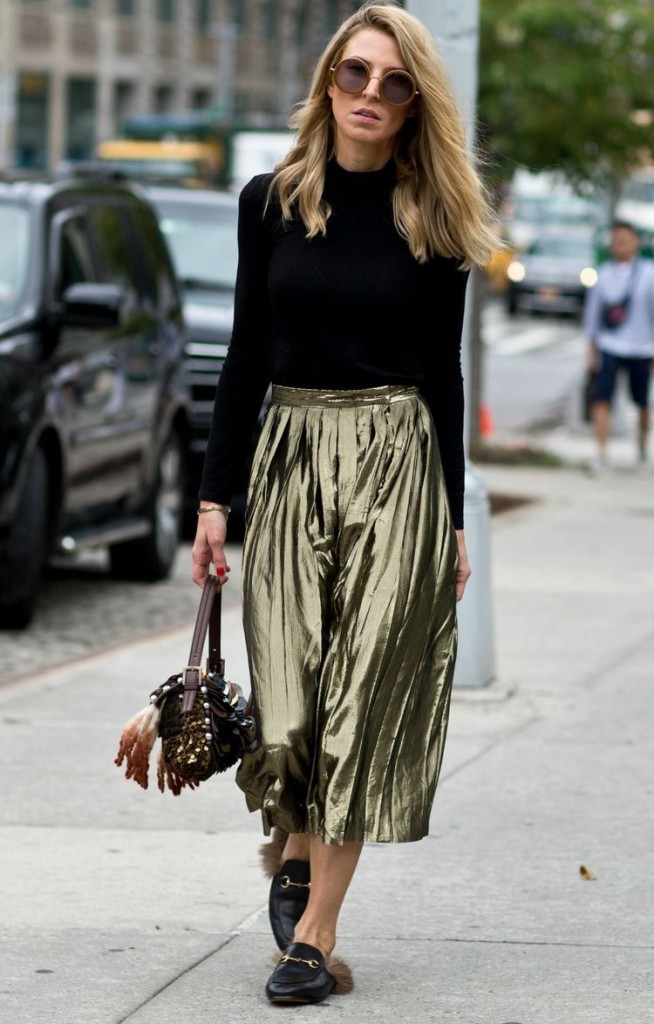 Tip #4: The Simple Sweater
When all other ideas fail and you DO want to look put together a fitted sweater is perhaps the easiest option you can sign up for when it comes to wearing your metallic pleated skirt. While simple may not be the loudest or boldest outfit choice it is nonetheless chic and still statement that making especially when balanced out with a furry pair of Gucci slippers like our model above.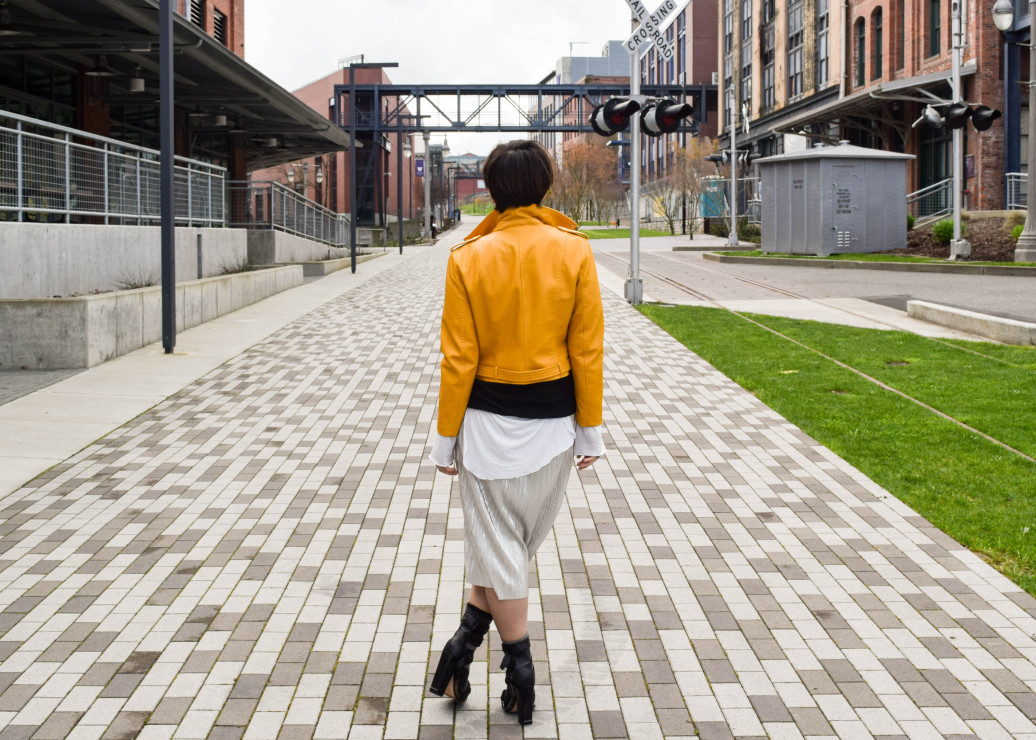 So how did I decide to style the metallic skirt? The answer, with a little bit of all 4 tips. I love to layer so I started with an oversized layer on top but instead of a sweater I opted for a long sleeved layer because there was so much more I wanted to incorporate. Next I added my favorite Givenchy wannabe sweatshirt since that slightly oversized banded look plays so well with the straight cut of the knife pleated skirt. I topped the entire look off with a great pop of color through a Zara leather coat. Especially entering the summer months I can't stress enough how amazing a colorful leather jacket can be in your wardrobe. Lastly I added a thick pair of socks with a thick pair of heels and voila, layers for days and a very accessible way to wear a pleated metallic skirt.
Which tip was your favorite? Let me know in the comments below and as always thank you for reading! Cheers! -Rebecca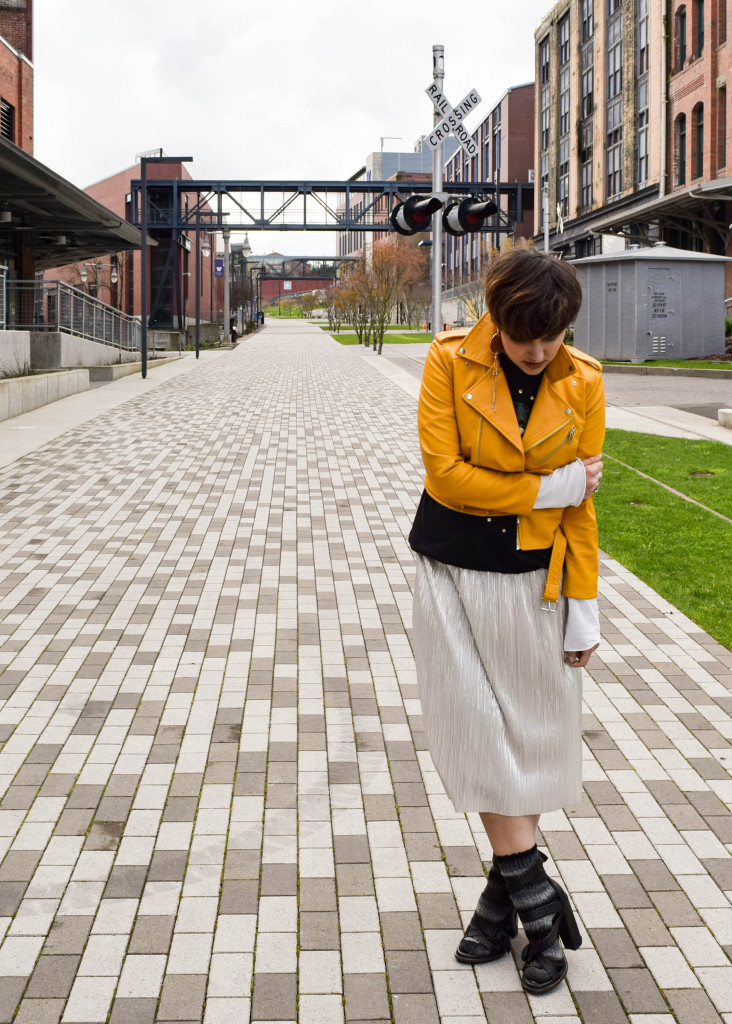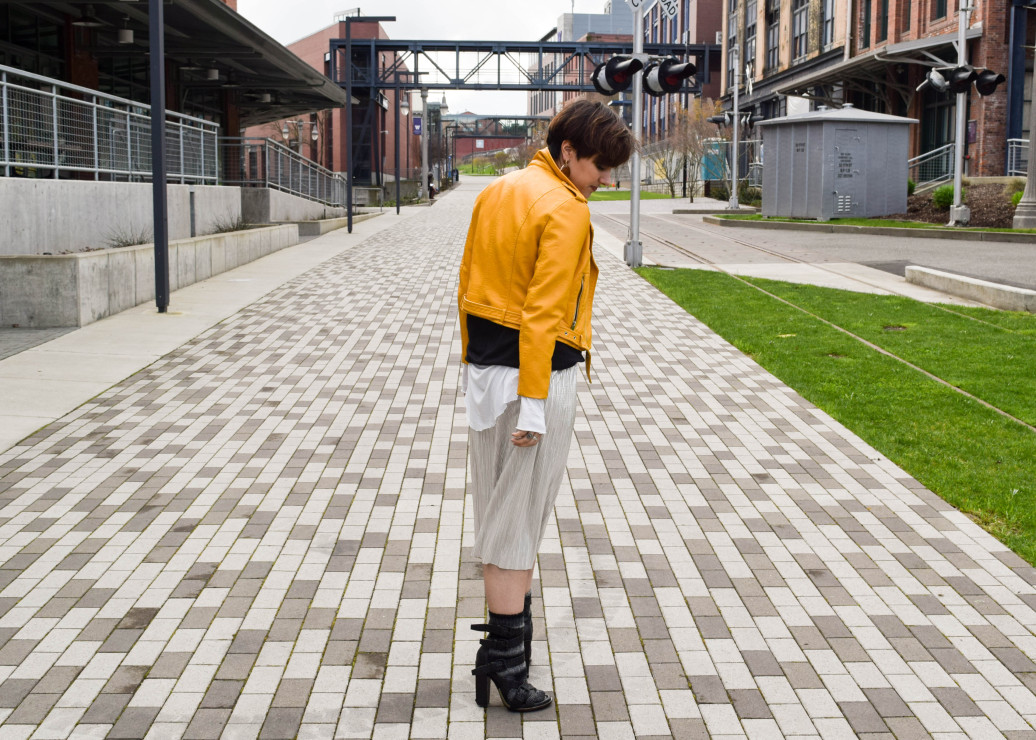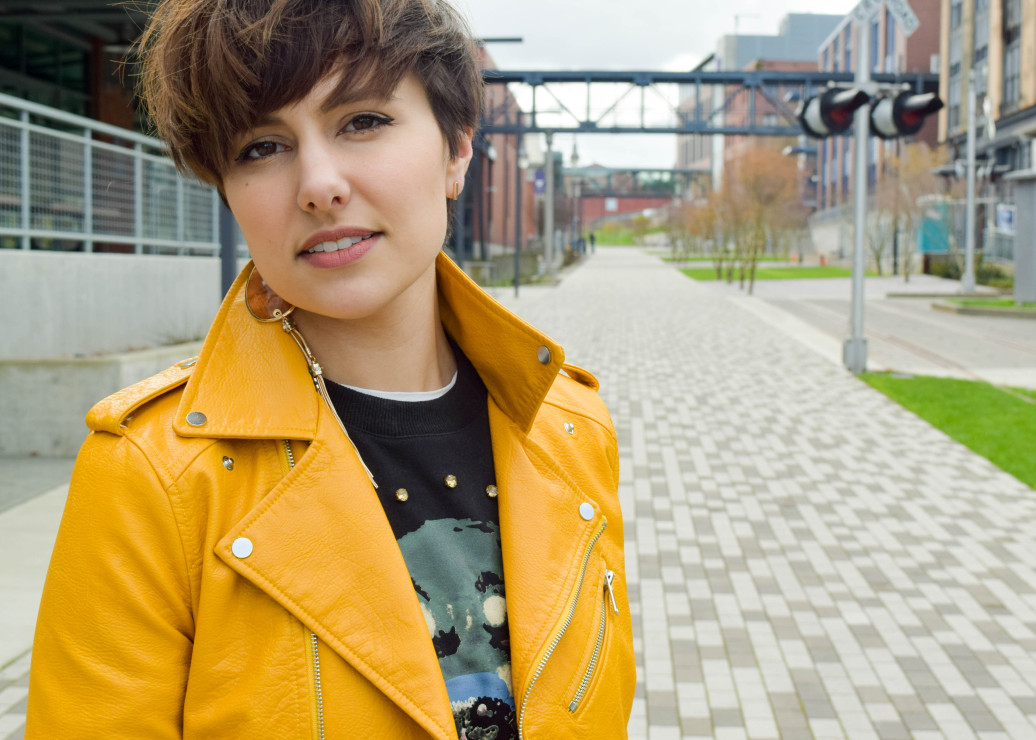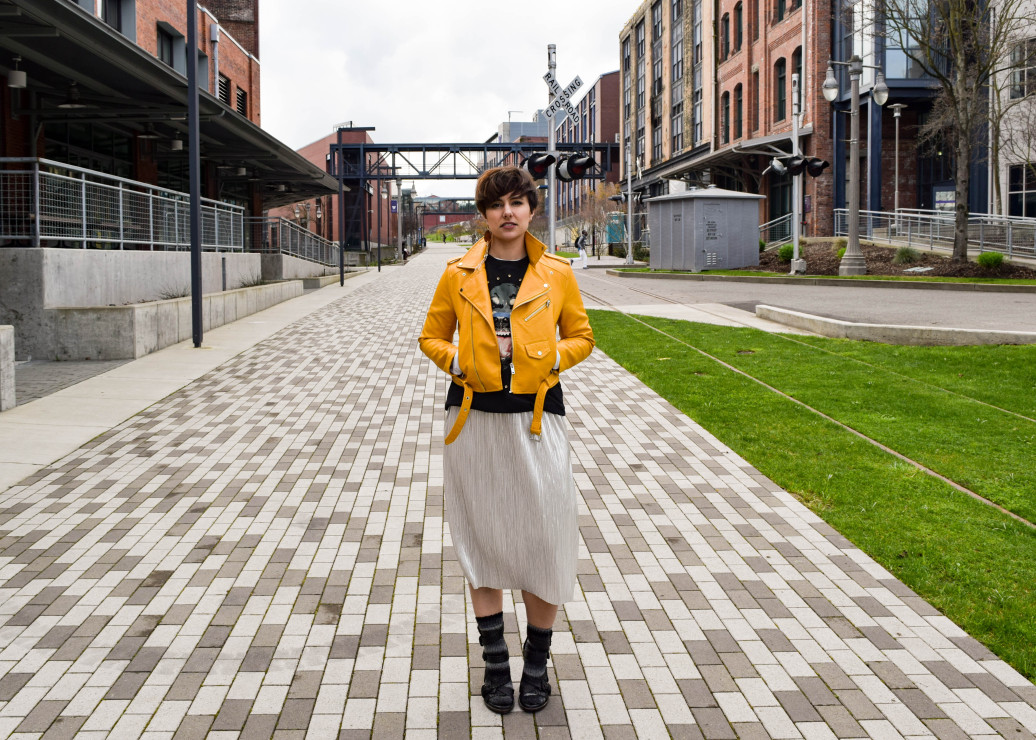 *All additional images via Pinterest