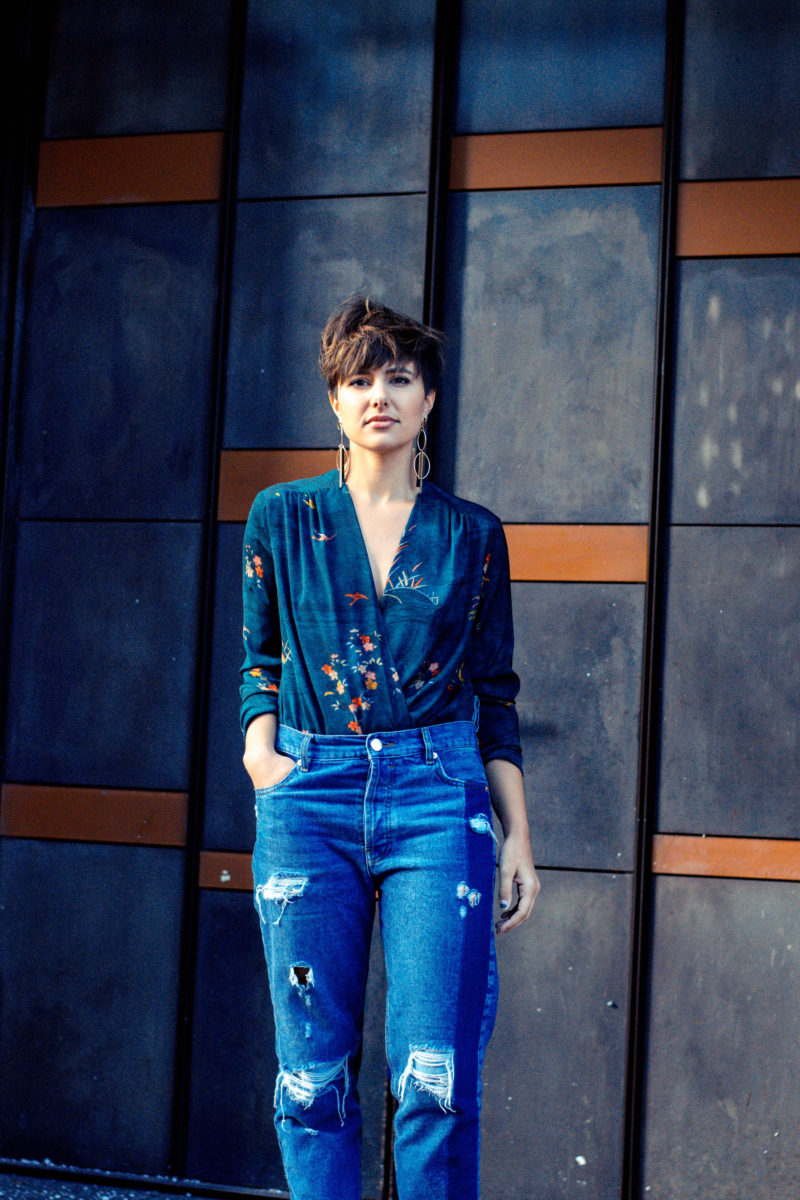 If you had told me a year ago that I would be buying bodysuits left and right and LOVING them I probably would have laughed and told you that sure, I love the 80's but we all have our limits!!… and I would have wrong. This Zara floral number is what begrudgingly convinced me to try the trend. It was such a pretty top and LORD HELP US it had basically underwear attached. Perhaps I should have seen this coming though as I am a huge fan of the 'ditch the bra and wear a shirt open down to there' showing off lots of rib cage trend, one of the perks of being a smaller chested individual.
The challenge with simply wearing an open shirt? It isn't held closely to your skin at the bottom which can cause gaping and accidental boob shots if you aren't careful. So in comes the bodysuit.Yes, it basically is a leotard, I can admit that, but the beauty of a bodysuit with a low cut situation like this one is that since the fabric of the top is attached to an elastic portion at the bottom that keeps the fabric against your skin. No constant adjusting, boob flashing on this horizon, it simply stays put.
So let's talk about tips for wearing a bodysuit so that you feel confident and don't end up showing more skin than you intended to.
1.High Wasted Things ARE YOUR FRIEND
Your favorite mom jeans, that true-waist pleated metallic skirt, these are all amazing options to wear with your bodysuit. Why do you need a high waist?  Remember that leotard/underwear situation I was talking about? Depending on your torso the shirt portion of the bodysuit only goes down so far so you need to make sure your chosen bottoms with the outfit keep that hidden. Also a higher waist helps keep the drape of the fabric even better held in place if you are like me and do NOT love an accidental boob shot. My favorite boyfriend jeans from ASOS (HERE) were a great fit with this bodysuit especially with the back of the jeans coming up higher than the front.
2. Don't wear a jacket (if your bodysuit involves draped fabric like this one.)
This was SO hard for me because I love layering however that great 'stick to your body' attribute of a bodysuit was rendered null when I added a jacket. With a draped fabric bodysuit a jacket is going to shift the fabric a bit and most likely cause some gaping that isn't there without the jacket. If you MUST wear one I suggest draping it over your shoulders so that it pulls on the fabric less.
3. Embrace your Bra or Just Don't Wear One.
So many of these bodysuits are incredibly low cut leaving you with only two options: show off the bra you are wearing (or the center of it at least) or just don't wear one. If you need the support and don't mind showing a little lace own it ladies. A sassy little black number is perfect just slightly peaking out from under your bodysuit. On the other hand if you are a bit smaller like myself and feel comfortable just owning it then go right ahead. A little bit of rib cage can be incredibly sassy without going too far but at the end of the day it's all about the attitude.
What do you think,  are bodysuits in your future? Let me know in the comments below and thanks for reading!-Rebecca
CREDITS:
Photography : Katie Miyagi
Styling: Rebecca Cornelius