Unless you have been living under a rock (no offense to cave-dwellers) you know that sneakers/slip-ons are trend in a BIG way.We all know Vans and have seen similar trends of designer sneakers come and go, but one has to admit that this round is getting quite interesting. Calf hair, textured, printed and floral sneakers abound making the choices as fun and daring as you so chose.
I would go into the history of the sneaker and this fantastic trend, who started this edition etc, except for my friends over at we-heart-fashion did SUCH a good job that I would rather you check out their fantastic post, direct link here: Must Have Slip-Ons. If further investigation is desired the TallNShort also has some wonderful musings on the subject and the usual suspects on the scene.
I personally however am rather cheap when it comes to trendy pieces but I also love the hunt for even knock-offs of the knock-offs so here are a few EXTRA budget friendly options, most not broaching more than $50. Enjoy!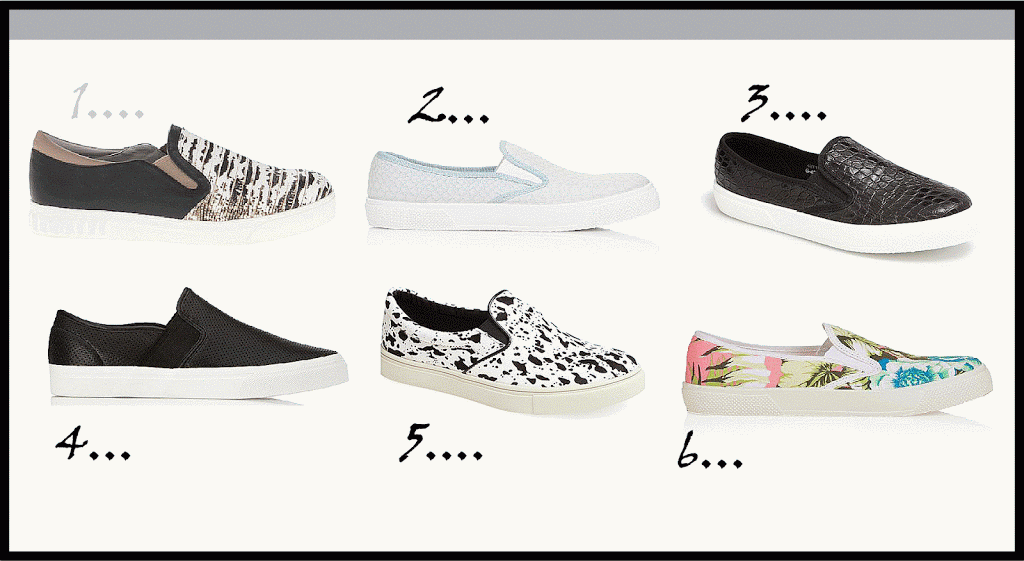 1. Circus by Sam Edelman

–$50 here and in other color ways for $39.95 here

2. Topshop Tika2 in Mint Embossed Snake

–$35 here (also in pink!)

3. Topshop Black Crock Tika2

-$35 also in maroon here

4. Forever21 Perforated Slip-On

–$26.80 also in white here

5. Steve Madden 'Ecentric' in Pony

–$99, on sale for $76.96 here

6. Topshop Tropical Skaters

–$35 here (don't buy all of them before I get a pair!)
The best knock-off in my opinion is definitely #4, the Perforated Forever21 sneaker. It is a splitting image of the Vince pair and honestly, I think I may prefer the overall look of these ones. If you like them definitely
snatch them up fast because at that price with that look they will probably be sold out tomorrow.
The Steve Madden 'Ecentric' comes in many a pony-hair variety, which definitely helps us with our pony-animal print fix that comes along every now and again. These shoes are on the higher end of the spectrum which is why I found them ON SALE. You are so very welcome. If they have stopped being on sale by the time you see this, maybe wait a little later into the season and eventually they will go back down again. All merchandise in the retail world seems to eventually if you are patient enough.
FINALLY, my personal favorites are the Tropical Skaters. All of the other sneakers have been on my radar for some time, however I only stumbled upon them today and they are NEW! I must have them. I haven't personally bought into the tropical trend very heavily as prints seem to date themselves too quickly usually however I think these just might be the little jungle accent I have been waiting for. Stay tuned for seeing them hopefully in my closet and in later posts.
There shouldn't be a price barrier preventing anyone from participating in the world of fashion trends, and hopefully this little collection will help make this Slip-on Loafer/Sneaker trend something you feel you can afford to have a little fun with.
Cheers!
-Rebecca