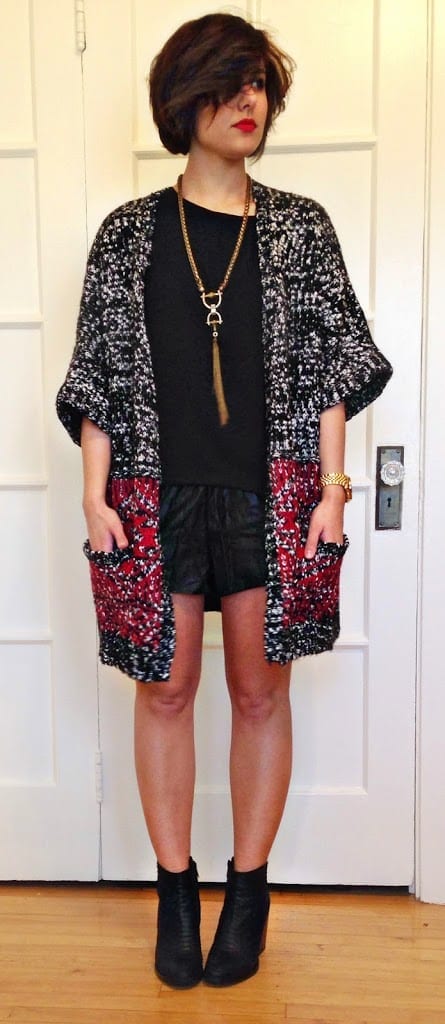 Sweater-Forever21 // Tildon Blouse here // Faux Leather Dolphin Shorts here (also in white, RAD!) // shoes Zara
A sartorial struggle I find to be extra pronounced in the Seattle area is the changing of the seasons and the shifting of weather appropriate clothing. One reason is our seasons tend to be a bit blurry and occasionally discontinuous, meaning it gets warm in February then snows in late March. Because of that I often find myself losing closet real estate to my winter sweaters as I try to shift my wardrobe towards Spring which is why I have to find 'blendy' outfits like this one that make those sweaters wearable without looking like you are prepping for a deep freeze.
Add to the mix the fact that I recently acquired a new pair of faux leather dolphin shorts (everyone needs some in my opinion and they come in white too, how chic… probably should have gotten white as well.) Anyway, it was too early to be running around in shorts and even a blouse or a jacket but this blanket of a sweater (also an INCREDIBLE steal from F21) did the trick keeping me warm and giving me a bit of a softer edge to an otherwise all-black outfit.
I was shopping at another of my favorite retailers (*caugh ZARA *caugh) while wearing this highly detailed, heavy sweater and one of their sales associates inquired as to wear I purchased that splendid thing. When I replied "Forever21" she promptly asked if I spent hours digging for it. My response: sometimes, yes. But I enjoy the hunt every now and again in the store and I pride myself in being able to quickly single out the high quality pieces. This is one of them, the detail and quality of the weave is better than many a sweater multiple times its $35 price. But you also can expedite the hunt by shopping online however you lose the ability to touch/feel quality and have to prepare yourself for disappointment and returns. That's just the way it is.
I wanted to take a moment to say hello as well. I took a long Menchies break during today's shoot and tried to get a 'real photo' since I am just a normal gal who doesn't exactly run around posing for pictures all day. So hello from between bites of froyo and I sincerely hope you are enjoying the blog because I certainly appreciate getting the opportunity to share my thoughts with you.
Cheers!
-Rebecca