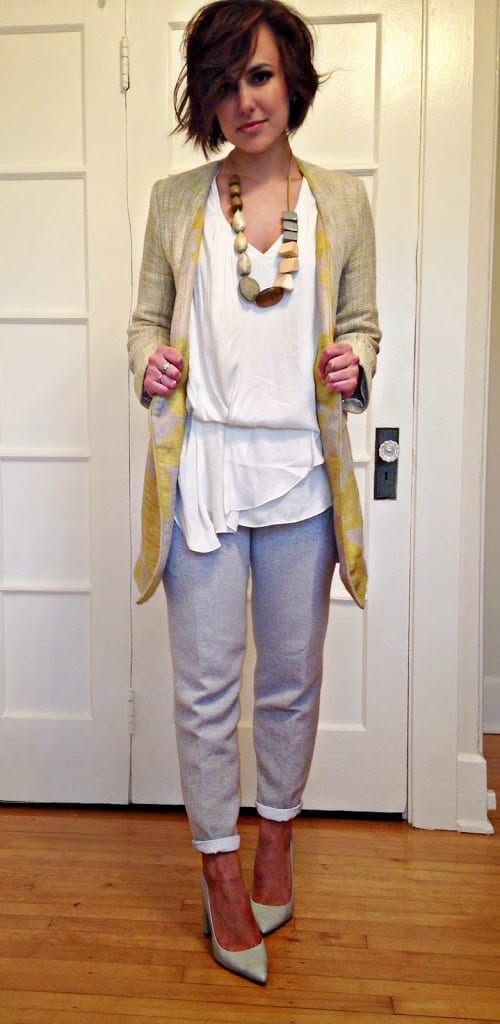 Zara Jacket here, Zara pants here, Zara shoes black here, forever21 blouse (old), World Market Necklace (seriously!) old.
I opened a Zara box today (in case you can't tell, yes I love the store and yes, I probably shop there too frequently, but I admitted it right?) Anyway, this charming little sticker was holding the tissue together that said:
Ok, maybe I made up the "it's" part, but it was implied. What a lovely gesture from the company to remind me that flowers are blooming and that here in Seattle, it's raining. A lot.
(a note on this necklace: It was purchased at World Market, a place my mother loves to go for linens dishes etc that are slightly out of the ordinary. I think their ethnic-inspired jewelry is not only a steal but an amazing way to find statement pieces at non-statement prices. Roughly $6-$30 for jewelry. Amazing.)
Today I wore this lovely little almost-all-Zara outfit, with lightness in the air, no black to be found. I was ready for that sunshine. I was not, however, ready with a coat when the 70% chance of rain became 100% and I didn't have protective outerwear. You live and you learn but Zara and I are on the same page: wear something bright, wear some color, show some pearly whites. Smile, it's Spring. Love-Zara.
(see, I smile sometimes!)
I decided I liked the snapshot last time where I wasn't trying to be the blogger extraordinaire but instead was just being myself and reminding everyone that I am just a normal gal, hence the need for inexpensive clothing. And, in case you were wondering, I am not eating Mechies today, instead I am having Molly Moon's. 🙂 Yum!
Cheers!
-Rebecca