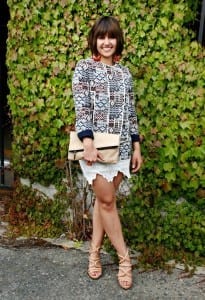 Embroidered Jacket here, Skirt similar here, Heels in Black here, Bag French Connection, Earrings Forever21
I must admit at times I am a very literal person when it comes to fashion. I will wear one monochromatic color head to toe or I will explain casually that an outfit was inspired by Mick Jagger and then will be thrilled if we have the same pants (highly unlikely considering his would cost lots of money I am sure.) When it comes to the Fourth of July however, I have never been a head-to-toe stars and stripes kind of a person. This year I'm letting this killer Zara jacket do all the talking with its subtle red, white and blue embroidery. This way I still feel posh yet festive without looking like a walking flag. Plus the ridiculous earrings just make everything more fun, no?
Have a fantastic Holiday/long weekend and thank you for reading! Cheers!