The Blanket Cape: Otherwise known in less formal circles as the poncho, at Burberry the name is most decidedly Blanket Cape and nothing else. When Burberry's Fall '14 fashion show ended with models draped in well, Burberry blankets, we knew this was going to be a trend, and boy is it ever.
I personally love a good multifunction piece that keeps me extra warm (ever turned a poncho into a scarf? It's fantastic and HUGE! Cue the dramatic music.) I was instantly in love and trying to contemplate where I could dig up $1300 dollars for this blanket, I mean coat, I mean scarf… thing, that was so fabulous! Fast forward six months to actual fall and right on cue Zara pulls the colors of Burberry's fall blankets into an amazing oversize chunky scarf that is, you got it, large enough to serve as all of the aforementioned clothing items.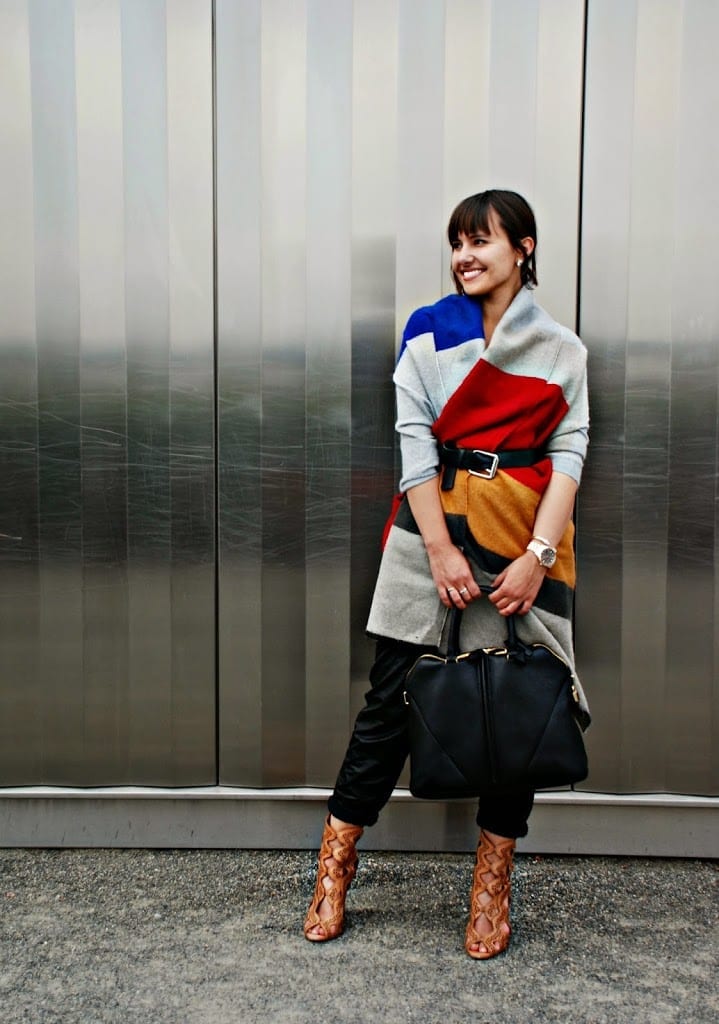 Scarf Zara, Faux Leather Trousers Similar Here, Laser Cut Heels Similar Here
So know for the How-To: What makes a poncho or blanket-cape-coat different from your regular scarf? The shape. If you lay them flat you will notice a horse shoe shape that creates space for your arms while covering your front and back. The best way to fake this type of shape in my opinion is a belt which allows you to form the scarf away from your arms a bit and hold it in place. If you notice in the photos above, there was actually too much fabric on this scarf so I folded it over about 6 inches on the side nearest my face and upper body creating a collar like look that added a bit more polish and helped corral the shape.
Moral of the story, wrap a giant scarf around your shoulders, belt it and voila! Blanket cape! No Burberry required. Get inspired with similar poncho/scarves below:
Happy Wednesday and thanks for reading! Cheers!
-Rebecca