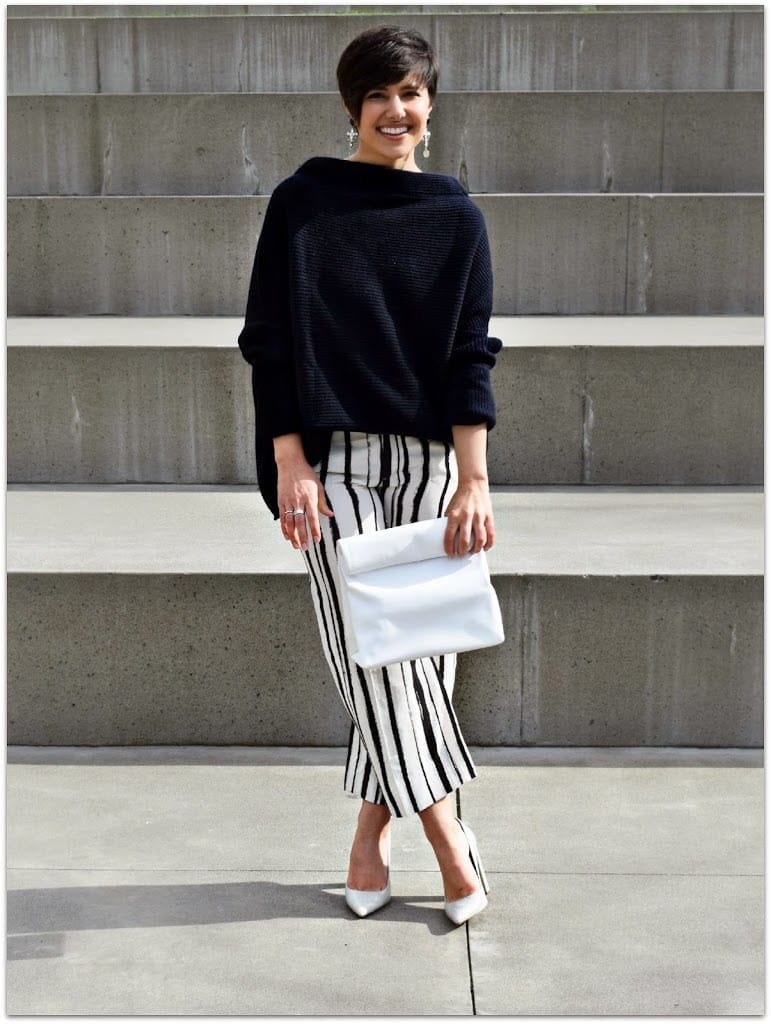 Any day of any year give me a ticket to France and I am there! Unfortunately no one has blessed me with a ticket to France lately so I will have to settle for simply dressing like I belong there. Here are my 3 insider (joke) tips to dressing like you are fabulous and French.
Step 1: Breton Stripes.
A trickle down trend from the French Navy, the Breton nautical stripe is so incredibly French that it almost works better if your use of it is a little less blatantly. Take today's culottes: they are striped in a white and navy that reminds you of the French stripe pattern without making you look like you row a gondola (Italians wear it too.)
Step 2: A Boat/Ballet Neck
There is something about a wide, open yet not necessarily low neckline that makes us think of ballet, elegance and an allure that is undeniably French. I will always have a soft spot for the mysterious sexiness of the collarbone provided by a boat-neck blouse. Call it what you will this art of subtle revealing shown garments such as today's sweater exude that French je ne sais quoi.
Step 3: Attitude
Fake it 'til you make it people, the perception is the reality, attitude is everything, you know the drill. French women are fierce, alluring and never, never try too hard. Show that kind of confidence in yourself and how you dress and you will have nailed the elusive French vibe.
Three elements, those are all you need in order to insinuate that you just were whisked away from the Louvre… or at least you look like you could belong sipping your coffee across the street from it. Have a fabulous Wednesday and Vive la France! Or at least, Vive la dressing like you think your French.
Cheers! -Rebecca

---
---