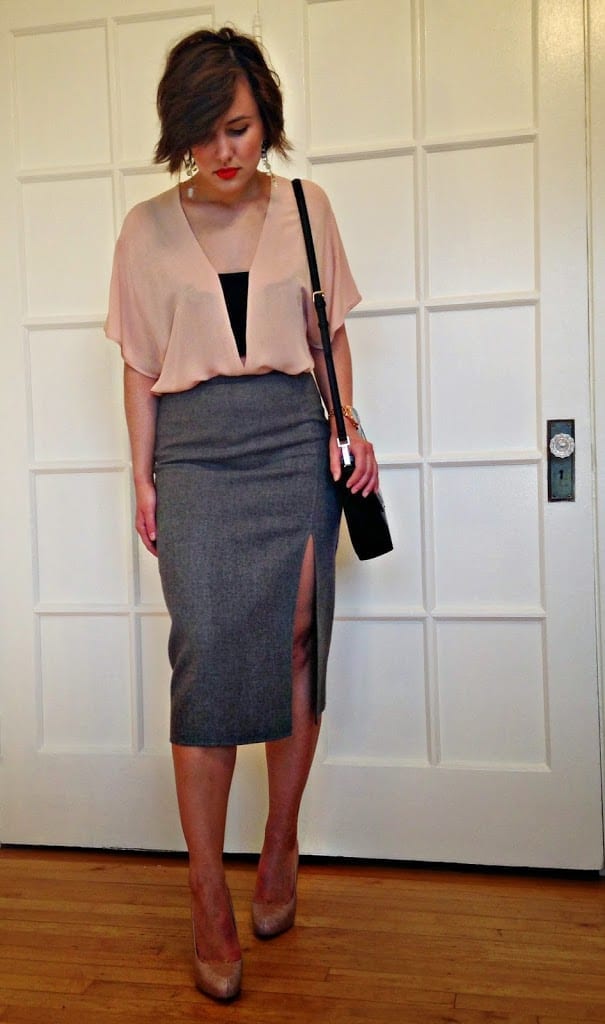 Zara Blouse (here), Michael Kors Skirt (old) (nordstromRACK),
Zara shoes (old) similar (here), Zara Handbag (larger version here)
ZARA: The world's largest retailer. When Zara first appeared on this Seattleite's radar it only appeared on foreign fashion bloggers or New Yorkers only adding to the mystique and wonder of this Spanish retailer. The clothes Zara produced were ridiculously on-trend and better yet, inexpensive! *relatively speaking depending on what your usual shopping price point is, but more on that later.* Occasionally a friend would go on a vacation and return with colorful, perfectly tailored trousers (back when colored trousers weren't a thing) or an avant garde blouse that looked like nothing you had seen anywhere but a runway.
Last summer when Zara started selling its clothing online I went from a distant admirer to an instant addict. Suddenly I had access to clothing that no one else in Washington was wearing (or at least only a few.) Those in the know became almost an underground cult of online shoppers regardless if our preference was for brick and mortar stores or not. A new coworker of mine was spotted wearing a plaid Zara trouser, then a maroon striped Zara blouse. I cornered her and together we conspired over our obsession: our love/hate relationship with their free return shipping we needed so frequently for faulty sizing.
February 13th was the day that our Seattle version finally opened. Above you will see the blouse I scored, without trying it on that first day (being an expert at Zara online shopping helped greatly with eyeballing pieces and knowing which size would fit.) I purchased 3 pieces total in 2 trips that inaugural day.
Somehow, however, the physical presence of a Zara store in downtown Seattle has actually decreased my Zara shopping. The fantastic styling on a model doesn't translate to a hanger and more often then not recently I enter the store eager to find a piece I had fallen in love with online only to be disappointed by its actual physical form.
Nevertheless, I will always love my Zara jackets and trousers and will continue to covet their wares as consumable fashion-forward pieces that elevate ordinary people to extremely fashionable ones and on the rare occasion even turns them into bloggers. I'm a blogger, not a billionaire and Zara is a place where my modest clothing budget can get some pretty incredible bangs for its buck.
One note about this skirt, I found it at the NordstromRACK for $98. It is a Michael Kors Designer piece, beautiful gray wool with an incredibly sexy slit. If I remember correctly the retail price was listed at roughly $1900 meaning that at clearance it was roughly 95% off. If you ever have wondered if the hunt was worth it, I would argue, ABSOLUTELY. I love this darn skirt.
GRR Shoes. Cheers!