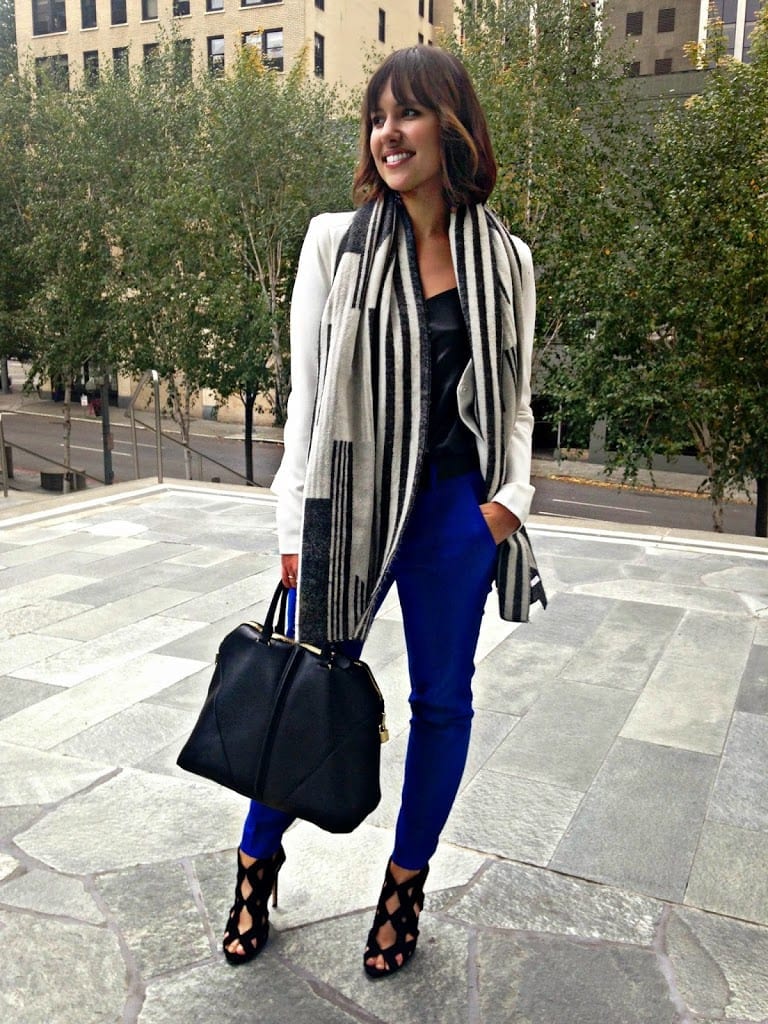 Blazer Nordstrom similar here, Faux Leather Tank F21, Zara Trousers similar here, Topshop Scarf similar here and below, Zara heels
Let me take a moment to acknowledge that not everyone who reads this blog or loves fashion has a workplace that allows them to experiment with fashion to the luxurious extent that I do. In spite of that every now and again I too try to pull it together and appear with a look that is both office appropriate and fashionable. I hope all of you that have a more restrictive dress code will find this post to be more accessible and wearable, and it all starts with a blazer.
Stolen from Menswear, blazers are one of my favorite pieces to wear whenever I need to instantly pull a look together and want to bump up its class factor in the process. I am sure you all can tell by now that I LOVE jackets and often use them to finish an outfit but blazers do more. The structured nature of a blazer tends to clean up a look, provide sharper lines and tailoring which we associate always with sophistication. I love a classically cut blazer as much as the next person, but I also enjoy a play on the norm such as the skirted peplum on this white number. Also present on this little number are leather patches that are almost impossible to see unless you are looking for that slight variation in texture, but those buttery soft swatches take this blazer to the next level in my opinion.
I feel a trend coming on folks as we move away from a more casual bohemian feel tailoring seems to be the most natural next step (as pendulum swings in fashion, etc.) Let me know your favorite blazer variation in the comments below and stay tuned for more of these tailored beauties.