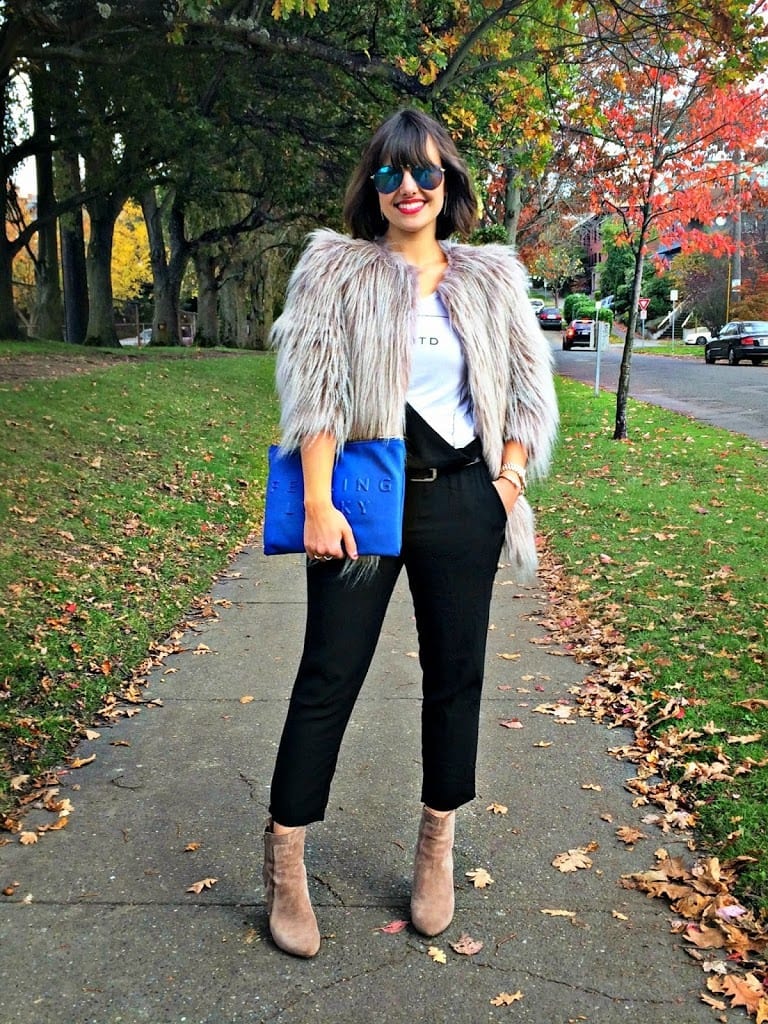 Fur Coat Forever21 here (I pushed up the sleeves) similar & equally fab here, Overalls Tobi similar here, OOTD T-shirt by the Laundry Room, Sweater version here, Sunglasses Tobi.com, Clutch Zara
I would love to say I simply rolled out of bed in the morning with the PERFECT outfit in my head that I miraculously came up with and that outfit just happened to fit well and look great on me so I could instantly walk out the door and confidently get on with the rest of my day. That would be a lie and as a regular person we all know that without a stylist laying out your clothing for you, that will never happen. As a blogger it is challenging to come up with new and interesting looks every week but that is nothing in comparison with the rest of daily life because we all have to get dressed EVERY DAY.
Since I work at a fashion company it is important to me that I reflect that in what I wear, but honestly I run out ideas quite frequently. My favorite way to get inspired is to purchase a new statement piece but my wallet doesn't exactly support that as a consistent solution to by outfit-block lets call it.
My go to cure is what you would expect: Pinterest, blogs, Instagram, social media sites, look book sites like Styekick & Pose etc. HOWEVER I think my secret is I try to focus on looks that include pieces I already own. For example, Chiara of the Blonde Salad wore a 'I Woke Up Like This' sweatshirt with a fur coat over it. That is a blatantly obvious one since I own that sweatshirt but I had never thought to pair it with something such as the Yeti coat above, yet that was one fun combo! (See my Instagram @BloggerNotBillionaire for photos.) Also from that photo came inspiration for colored aviators and a fur coat which I translated in the photos above and that was not only fun but turned out great!
Another secret of mine is that on all of these social media sites I tend to follow lots of people from all around the world so that I get exposed to fashion ideas outside of the US. You have to admit we generally aren't the biggest risk takers in the world and if I had a dime for every time I wished I would have started adopting a trend when all the UK High Street shops were doing it I would not only be wealthy but a trend setter.
Last tip: Keep an eye out for items that look like clothing you already own and get inspired to wear them a different way. I saw a french blogger on Instagram that tucked her chunky sweater into a pair of black overalls and it was amazing yet I had never done anything like that before in my life. I also happen to own an almost identical chunky turtleneck so the next day I squashed it into my overalls and was rewarded by many a compliment for my daring look. Getting inspired and creating amazing looks doesn't require a new wardrobe. All you need is to do is get inspired and be open to seeing your current clothing in a new light and hopefully I can provide some of that inspiration for you on a regular basis.
Thanks so much for reading! Feel free to comment if you ever have questions! Shop today's inspired look and similar items below! Happy Wednesday!