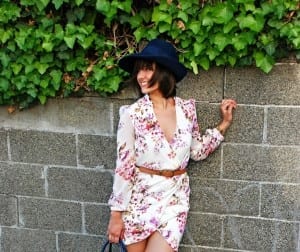 Hat BCBG similar here, Dress Tobi in a gorgeous Mint here, Booties Zara (old), Bag Michael Kors
I love a good hat in the summertime, or really anytime, but I feel like it is difficult to separate my 'winter hats' from my 'summer hats' despite conventional standards. Yes, it makes sense that a wool hat should be restricted to winter months due to composition, yet if it isn't too toasty out I often will throw caution to the wind and wear it anyway.
Exhibit A above: My wintery wool blue hat that I LOVE revamped for summertime with one of my favorite lightweight dresses. Granted on the East Coast this combo may cause over-heated hat hair but in Seattle sometimes you need a shawl over your summer dress. In this case my shawl comes in the form of a hat. So say what you will but I will always try to utilize my wardrobe all year round and this blue number will be no exception. Happy Tuesday and thanks for stopping by! Be bold: wear hats. Cheers!