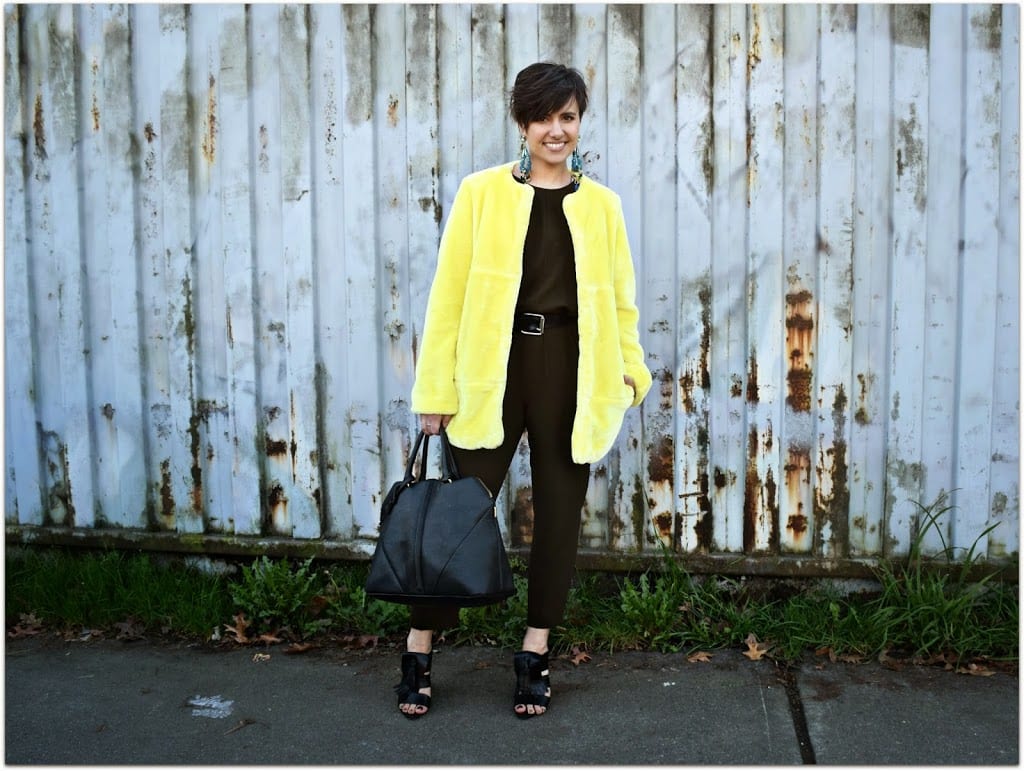 If Spring isn't the time to bring out a Big-Bird Yellow faux fur coat, I don't know when is… except maybe the other 3 seasons as well. This coat is one of those items that I instantly fell in love with and just as quickly as I bought it realized I had no idea how on earth to wear it without looking like I was working the main stage at the Golden Nugget (to quote Devil Wears Prada.) Add color to bright yellow and you instantly get way too much color. Add black to it and you lend yourself to bumble bee jokes. I ended up deciding I needed a neutral to balance out this coat and what better than a pair of army green overalls?
Now you might say, Rebecca, is Tweety really a trend? Take 5 minutes and google yellow fur coat Fashion Week and watch your screen fill with shows, street style photos and most importantly a few key Editor in Chiefs of some key magazines flaunting their own yellow fluff. While this may be an emerging trend out of 2014/early 2015 rest assured I am already fully on board with it, am ridiculously warm and intend on wearing this outlandish coat as frequently as allowed without being completely ridiculous.
To finish off, obviously a statement jacket needs pieces to balance it out like the neutral shoe, bag and jumpsuit, but adding something like these lengthy earrings to the mix to compliment the color helps prevent things from becoming dull. And with a Big Bird Yellow Coat on, the last thing you can be going for is dull. Have a wonderful Thursday! -Rebecca
Zara Faux Fur Coat similar, Military Green Overalls similar, Asos Earrings, Zara Shoes & Bag.
Shop Coats below inspired by today's look.
---
---