>A while ago in my professional career I made a pivotal decision regarding my wardrobe: I decided that since I dress for the office 5 out of 7 days of the week I focus solely on acquiring work appropriate clothing with the exception of event wear. This may not seem like a big decision but it really changed the way I shopped by clarifying quickly whether or not I actually should buy something based on whether I could wear it. Let's face it, that dress you want to wear out to a date night sometime but certainly could not be worn to work, or that hole -filled t-shirt that is oh so effortlessly chic but too scrubby for the office: you haven't worn them in months. So with this acknowledgement I must say I am very happy with my clothing selection until I noticed that there was one key item that was completely missing: blue jeans.
While their are many work appropriate alternatives to blue jeans especially at a fashion company (colored jeans, printed pants, leggings etc.) the casual jean are the key to dressing down an otherwise 'work ready' outfit. Cue the ripped boyfriend jean.
After reading multiple rave reviews of Topshop's Hayden Boyfriend jean I submitted and tried a pair for myself since I was in desperate need of that casual off-duty pair of go to jeans. Since I am a girl with normal let's say 'athletic' thighs boyfriend jeans are often hard to fit without getting a gaping waist on the pant but the Hayden lived up to its reviews and I quickly found a pair to take home. Granted the ripped nature of this jean again does not make the cut for work wear appropriate, slip these on in place of the skirt or trousers you wore to work and instantly you have the perfect drinks, dinner, not-trying-to-hard look that we all try to achieve.
The takeaway here is balance, you can still have a work ready wardrobe but every now and again include a few pieces that create some versatility for you. I great casual go-to jean goes a long way and if you decide you need a great boyfriend pair, check out Topshop's Hayden. Outfit details below, have a wonderful Monday!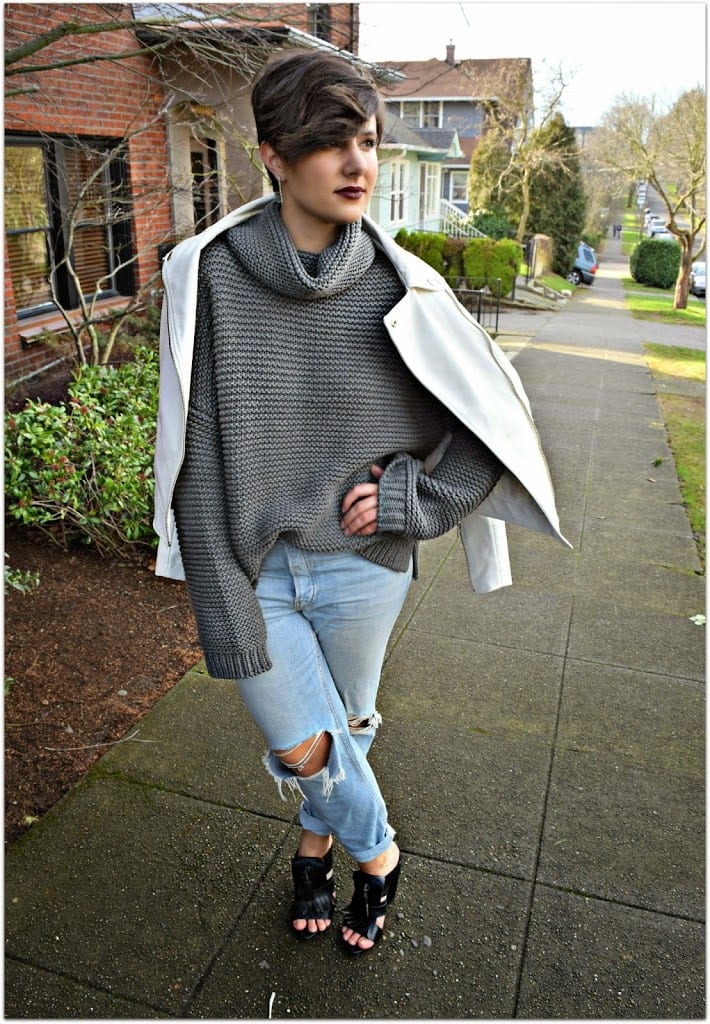 Hayden Boyfriend Jean here, Zara Sweater similar here, White Faux Leather Moto Jacket similar here, Fringe Mule Zara, Lipstick MAC Sin
Get inspired by today's look with similar items below: