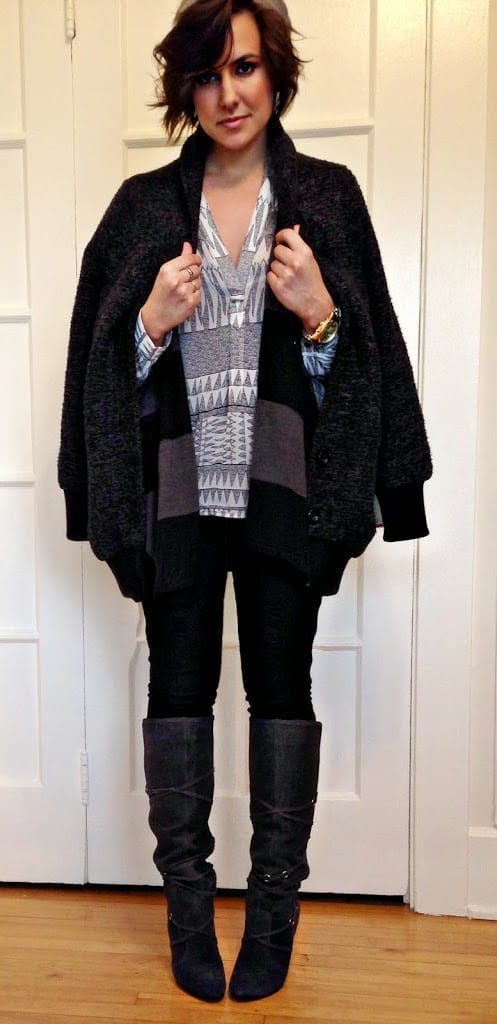 Zara Jeans (here), Coat (old), Shawl (F21-old), Blouse (F21), Boots-ancient
Having lived in seattle most of my life I am aware of the connotation that it brings weather-wise: it rains here, a lot. Honestly, I don't notice it that much it really is relatively seasonal and when it isn't raining there isn't a more beautiful place to be.
Spring just happens to be the season of downpours unfortunately which presents a rather difficult sartorial question: how do you dress in the gloom? Unfortunately in this city the answer is too often 'blend in' aka where black and grey until the sun reappears. I try to buck that trend as much as humanly possible, but this weekend it just didn't happen.
Just because he color palate for the day has to be grey and black doesn't mean it has to be uninteresting, and for this outfit I paired multiple patterns/prints together in the grey/black family to add interest. I strongly suggest that with any monochromatic look as it adds depth with texture and dimension.
The drizzle was light (which means none of us wear raincoats, seriously) which made the beanie a requirement, but other than that I was simply blending in with the dreary clouds ahead. I look forward to more sunshine and colorful looks next week.
A fun coat fact: I have a habit of going to Portland OR and not bringing the proper outerwear because somehow I think that by travelling 6 hours south it is going to feel like California, but it never does. The lucky part of this story is every time I show up sans-outerwear I go to 23rd st and magically find a new great coat, like this one, and them and sufficiently warm for the rest of the trip AND have a fabulous new addition to my wardrobe. Who knows, perhaps my absent-minded outerwear problem will become intentional just so I can test that luck again and hopefully find another treasure.
Cheers!
-Rebecca