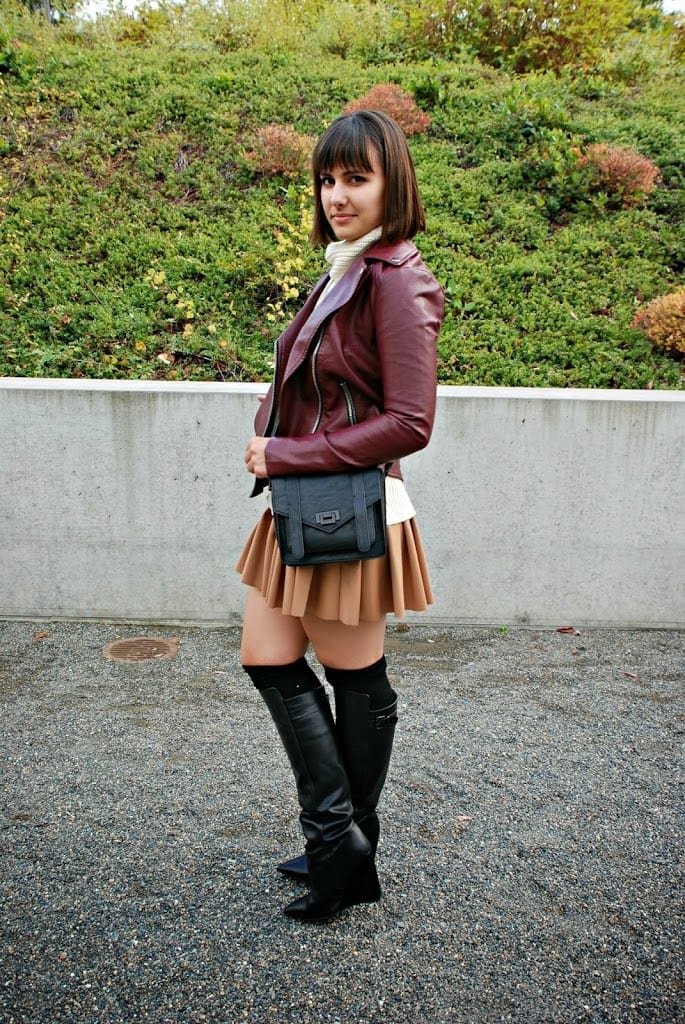 Jacket Forever21, Sweater Zara, Skirt Forever21, Boots Zara, Bag Zara, Necklace Forever21. Shop Links Below:
Transitioning seasons is always difficult: deciding when to pack things up and when to dig the new season's pieces back out. When I started putting together the outfit for today's post the sweater portion of the look was actually a tank top. I quickly realized, however, that I was far too cold to be so uncovered on an ever more brisk Seattle evening. Long story short, the storage space was opened and out came the chunky winter sweaters.
How I like to think about the changing seasons is you don't have to swap out your whole outfit all at once wearing a maxi dress one day and a snow suit the next (unless you happen to live someplace like Minnesota where that kind of change happens all too fast.) Instead I personally start swapping out items, like a sweater for a tank top or adding a chunky scarf to an otherwise neutral weather outfit.
Another easy swap while it's still relatively mild can be done through the colors that you wear. With the heavy 70's influence in fashion this fall dark greens, reds, tans and blues will be my go-to this fall so starting to bring those colors into the wardrobe early in the season tends to set the mood for the weather to come.
Have a wonderful Monday and thanks for reading!Cheers!
-Rebecca