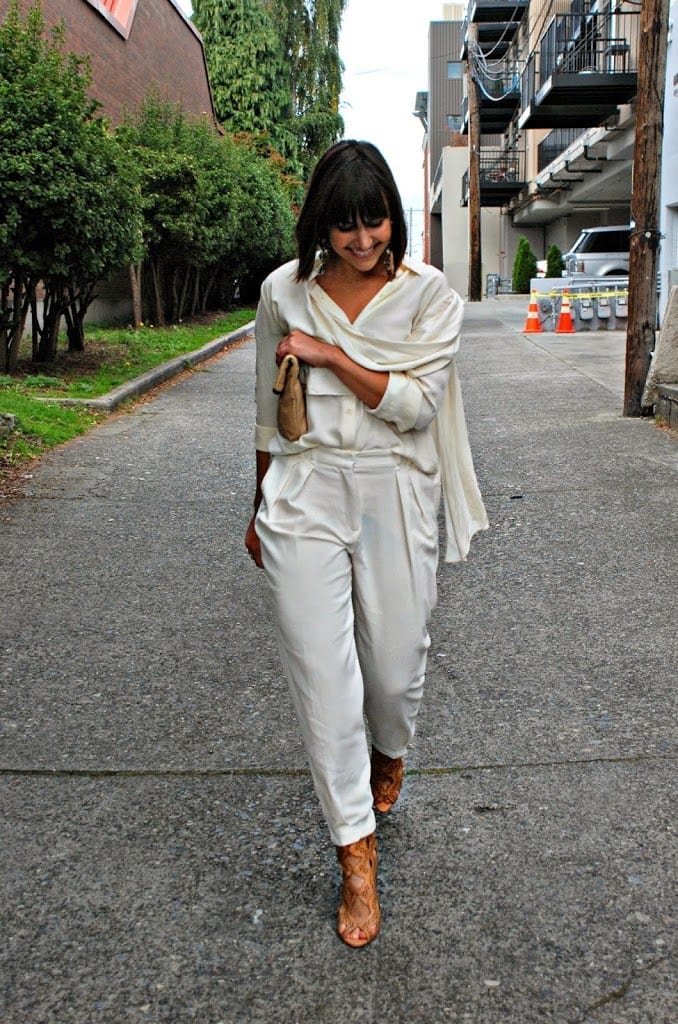 Zara Trousers (old) similar Here, Leith Blouse (old) similar here, French Connection Clutch similar here, Zara laser cut Heels
Ok maybe all white all the time doesn't quite work, but there is something special, ethereal and truly striking about an all white or almost all white outfit. Granted I, like all mortals, must brave the fear of stains/spills/spots etc while wearing this ghostly look but I find that I can slightly minimize this fear with textured fabrics and an off white versus a true pure white. This sartorial choice isn't as scary as you think you just have to use a bit more consideration in your choices than when you flip the coin and do the converse outfit: all black.
The trousers above are a bit sheer (also an issue with white pieces) but they are crepe and really don't show enough to make anyone blush, but the long shirt helps assure. The actual blouse worn is an old silk number from Nordstrom that has just enough class to balance out the drama it carries with it. I find that the texture of these two pieces makes the all white more wearable (the silk is a bit roughed up) so that you don't have to look perfectly pressed while also maintaining your perfect white color.
Also, when you wear all white be aware that people will take notice, but in my experience that attention is almost always paired with a compliment so go boldly into the purest form of monochromatic dressing. After all, everyone at fashion week was doing it (after Labor Day I might add) so why shouldn't we band together as lay-people and rock the look as well?
Thanks for reading and get inspired with some similar items below. Click the image to see full details. Happy Thursday!