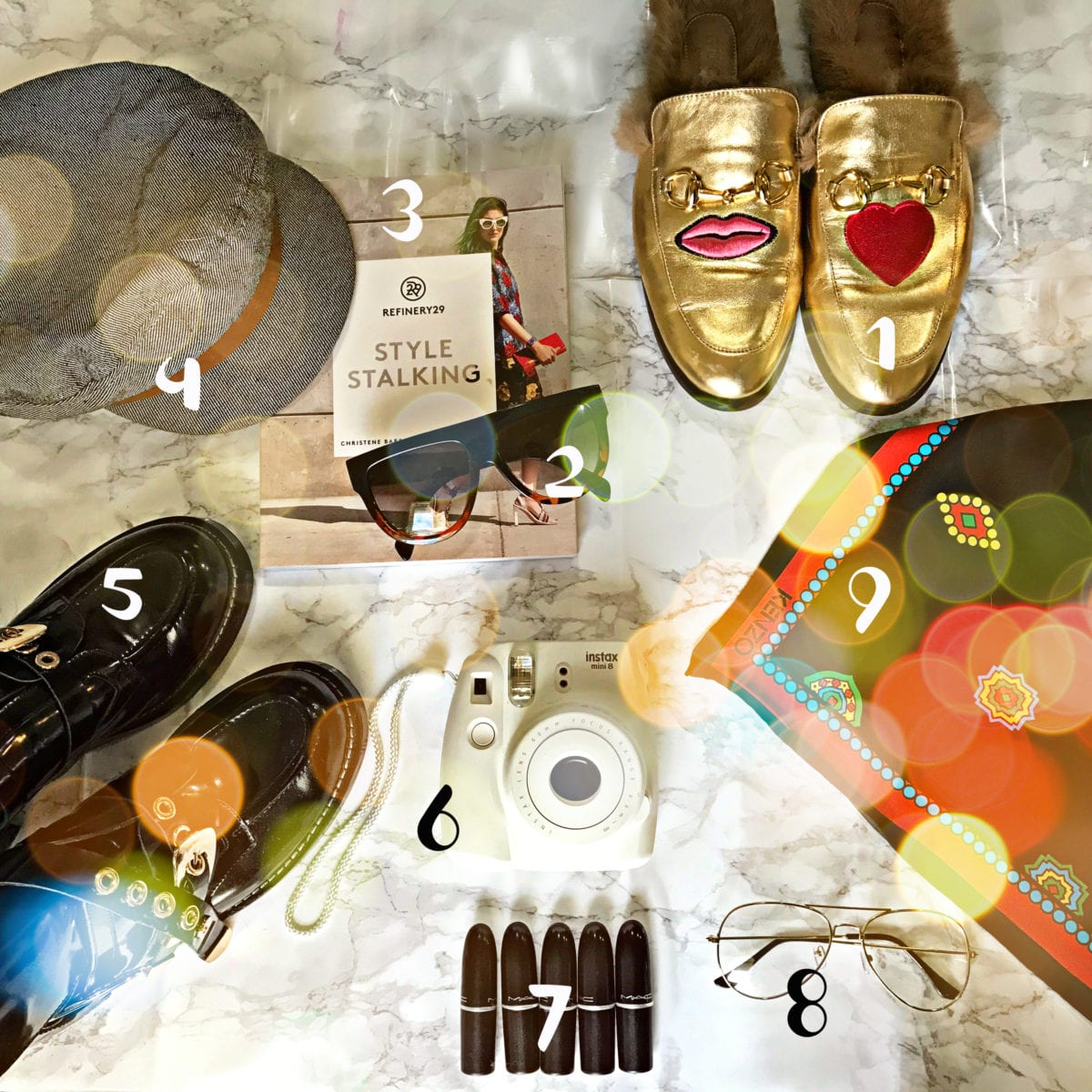 Happy Holidays everyone! While I am not a huge 'gift guide' person I do think that sometimes shopping for yourself or that fashionista in your life can be challenging. This gift guide is specifically for your designer-conscious friend that knows what the hottest Gucci loafer is but doesn't have $600-$900 lying around, she will love all of this. Also the girl who knows exactly what the Celine flat top sunglasses are but has a sunglasses budget capped at $100, these are for her too. This is near and dear to my heart because in some cases I spent hours tracking down some of these items because I too am that budget-conscious fashionista, so whether you are gifting or creating your own wishlist I hope you enjoy this guide for the Fashionista in your life.
) The Gucci Loafer knockoffs: Let's start here. It has taken me over a year to hunt down the PERFECT Princetown loafer knockoff but all of that weird website digging has paid off. From zebra to gold with hearts and lips; classic black to embroidered floral, you can find the perfect pair HERE for under $70. Please do note that shipping takes a while here so this may be a 'wait for a box from me a week after Christmas' type of gift but I promise they are worth it. (Sizing is true to size in my experience as well, I ordered a size 9 and received a EUR 40 which fit very well.)
2. ) Celine Flat Top Knockoff Sunglasses: Okay I will admit, I may have seen these on Kim K but I ALSO saw them on Christine Centenera which makes them a legitimate fashion item. These knockoffs are plastic but well made, they aren't as heavy as the originals but they have the exact same look. As far as knock-off sunglasses go these are some of my absolute favorites and a savvy fashionista would appreciate the Celine styling without the price tag. Find them HERE for under $20. If you fancy a smaller, more classic Celine style with the hallmark three silver screws (a purist might prefer these) check out THIS pair, for under $15. They are on my wishlist too so we will see who gets them first. 🙂
3.) The Fashion Book: Stylestalking from Refinery29: Every Fashionista loves a great coffee table book especially when it provides her with inspiration for her wardrobe, her home or her travel adventures. The Refinery29 Style Stalking book is a good one but this year there are a lot of new and standout books that every fashion lover needs. Fashion books are always a great gifting option because they are one size fits all and you don't have to worry about dry cleaning them. Here are the ones on my wishlist ,guaranteed to be loved by wannabe street style stars everywhere:
4.) The Fiddler Cap: I am OBSESSED with this trend and this hat silhouette, part newsboy and part fisherman's cap. This hat shape is a major upcoming trend that flatters all hair lengths and face shapes and with only 2 sizes its a very easy way to gift wearable fashion without worrying about size and fit.
5.) Knockoff Balenciaga Buckle Boot: Every so often a shoe comes along that creates a frenzy among fashionistas as they clamor to spend a month's rent on the hottest item on the market. For me these boots were that item, but even though Chiara Ferragni was telling me that I needed these boots I wasn't willing do drop over 1k on them. Fast forward 6 months and we have a knockoff under $150 that every bit like the real thing. My only advice on these: size up and gift them with a pair of black socks, they are easier to break in if you start out wearing socks with them.
6.) Fujifilm Instax Mini 8 Polaroid Camera: The BEST toy I have every purchased, this Polaroid camera is adorable, compact and a fashionista's best friend. At under $60 you probably should buy one for yourself and for a friend since you will want to take pictures of each other as you take pictures of each other. Fun fact:this would also be an AMAZING gift for a friend planning a wedding. What a great way to capture prospective wedding dresses, table settings and other wedding ideas in a way that can be kept for future viewing? This also highhandedly was the best accessory I brought to MY wedding. All of the guests loved taking photos and  some of my most memorable wedding moments were captured on these fun little Polaroids. If you are going to buy this bad boy DON'T FORGET THE FILM! And go for the multi-pack, there will be a lot of holiday memories to capture when this gift is unwrapped.
7.) MAC Lipstick: This is always such an easy go-to when purchasing a gift for a friend because who doesn't love a $17 lipstick? Some of my favorites for gifting are reds since a nude color can be tricky to buy for someone depending on their skin tone. Some of my favorite colors include Russian Red for the truest richest holiday red around, Sin for a deep burgundy, Ruby Woo for a cooler red tone and Diva for a more purple undertone. Can't decide on a color? Try a giftset so that they can sample the entire spectrum and see for themeself which color they are going to fall in love with.
8.) Clear Aviators: A trend for only the truest of fashion lovers (and though of us who aren't afraid to say 'yes, these are completely useless glasses BUT don't they look cool?') this isn't hasn't been a widely adopted trend YET so you either have to buy designer shades OR this $8 pair. Tough decision huh?
9.) Kenzo X H&M Collaboration: The coolest H&M collaboration to date in my opinion, the Kenzo x H&M collab is still available on H&M's website and any fashionista would love an item from it. While the clothing is remarkable, the accessories like the scarf shown above are great gifting options both due to how affordable they are and of course it's not an option that can't 'fit'. Accessories are always one of my favorite gifting go-to's and this special limited edition collection is a great way to get a knockout piece they won't soon forget.
Happy Holidays you guys! Have any questions about the items listed above? Let me know in the comments below and I will be sure to get back to you! Happy shopping and thanks for stopping by!-Rebecca
Save
Save
Save
Save