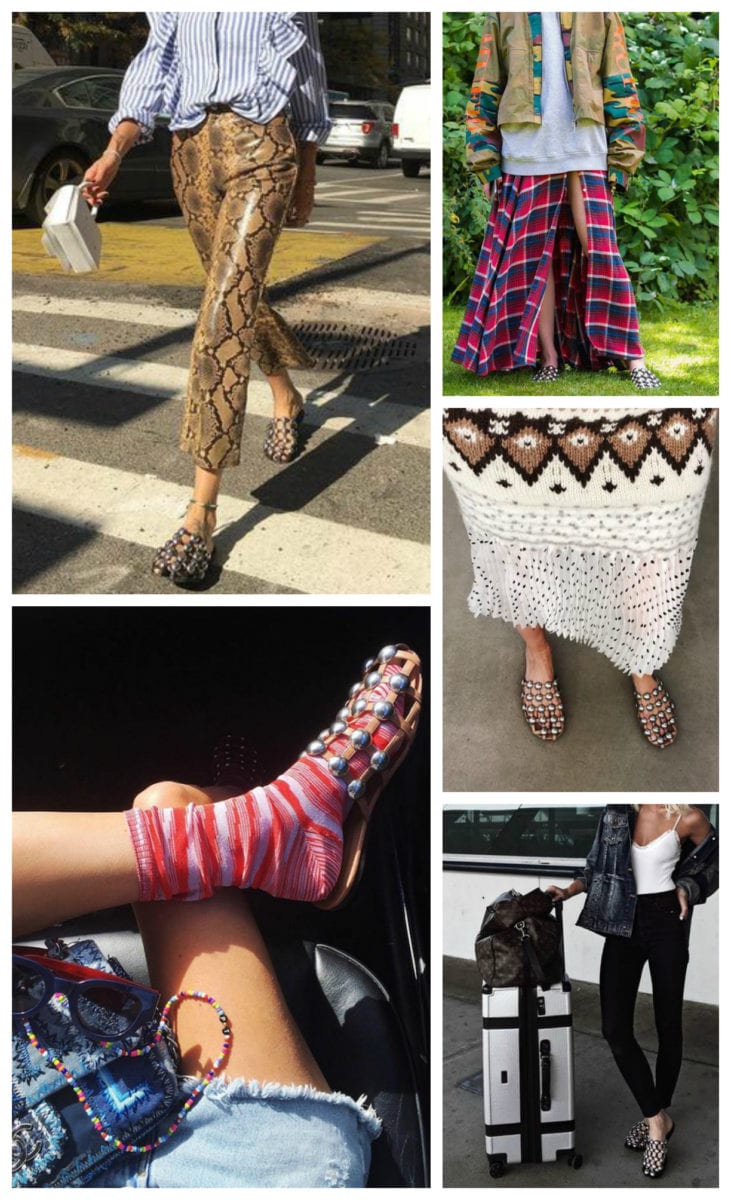 You might call it the summertime answer to the Gucci loafer, or just summer's hottest sandal. Either way Alexander Wang's Amelia slide has become one of the hottest shoes of the moment and it's reign of popularity is just getting started.
First seen on the Spring 2016 runways, Wang took his studded rock/surfer aesthetic and translated it into a shoe that is ready for everything from the beach to the concrete jungle. The style is fairly simple, its a loafer, but the open weave makes it breathable and the studs give it a fashion edge that is irresistible. The Amelia slide hasn't gotten nearly the coverage that it's furry full-covered Gucci cousin has, but make no mistake this bad boy is coming up fast. If you google the Amelia slide you will see a few posts about celebrities wearing them or the prediction that they are going to be making a big splash but you don't see many photos of them. Contrast that with if you scroll through your favorite blogger/style celebrity's instagram and I guarantee these will show up quickly and frequently. So why the disconnect?
These aren't 'wear to a premier' kind of shoes, these are actual (wait for it) PRACTICAL fashion shoes! Like the Gucci Princetown these are meant to be worn on your way to the grocery store, on an airplane, what have you. They are actually comfortable and basically go with anything you could possibly think to wear with them. So no, you aren't going to see these on a red carpet getting major press coverage and you might not even see them that frequently at fashion week. You WILL see them however when everyone takes off their fashion week heels and slips into something more comfortable, and when those influencers travel, go to the beach etc. They are the perfect edgy summer sandal.
So now that you know you too need these shoes here is the bad news, they run about $500 give or take your style or type of stud. The basic version is black with a rounded silver stud but not Alexander Wang has also expanded into different color slides and even jewels over studs, another sign that this style is about to catch fire. If you are in love already and are sure you need them then by all means, grab a pair and have these in your closet for ages. Find them HERE (and hurry, they keep selling out) or click an image below. Not sure you want to or can spend that kind of money? Keep reading.


Back when the Gucci Princetown first came out I wrote a post on finding a good knockoff (HERE) and I still own a pair of those knockoffs while simultaneously accumulating some real ones, but I wanted to do the same thing regarding the Amelia Slide. So HERE is the link.
All three shoe shots above are of me wearing my knockoff Amelia slides and I LOVE THEM. I currently have a waffle-print imprint in the form of tan lines on the top of my foot because I wear these almost every day, especially when it's hot out. I wear them so much in fact that I recently ordered another pair in tan and another pair in white with the jewel studs (verrrry interested to see how these turn out.) They are the perfect shoe for a busy summer running around yet looking chic at the same time and I can't even tell you how many complements I get (it's a lot.)

Pro's and Con's on buying a knockoff:
First cons.
Size: You need to know your size well and be able to pick the size you are ordering based on a CM length rather than your normal shoe size just to be sure. I like my slides a little bigger so I took a 9.5 in these and I usually wear a 8.5/9 and the sizing was perfect.
Faux Leather: The knockoff, while great quality for the price, isn't real leather and is significantly lighter than the real Amelia. The real ones are quite heavy, presumably due to the studs but these knockoffs are light and easy and probably aren't going to last you for the rest of your life.
Shipping Time: Lastly, shipping overseas takes a bit of time so be patient, I think mine took 2 solid weeks to get to me but they were worth the wait.
The Pros:
Bang for Your Buck: These are great shoes to last you several seasons if you aren't looking to have them forever. Like I said I wear them on the daily and they are in amazing shape, I was really impressed with the quality for the price.
Shoe Weight: Secondly, the lightness factor on these I think is actually a benefit rather than a detriment. I LOVE Alexander Wang but heavy shoes can be hard to wear sometimes but these light knockoffs are easy as pie.
Price: Price is a huge PRO here, at under $50 you can buy two pairs and still be at a 1/3 of the cost of the real things. Also I find if a shoes is too expensive I am almost afraid to wear it but at just under $50 you can just live in these shoes and not sweat over it at all
All in all it's a great shoe, and whether you want the original pair or the knockoff it's definitively a must-have for your closet this season. Find the knockoff HERE and the originals HERE. Happy shopping!
Save